Super Eraser – Permanently Wipe All Data on Mac Pro
Perhaps, you are going to sell your Mac Pro to someone else because you already have the new one. If you want to sell your old Mac Pro, you have to make sure that there is no single file left on the hard drive. You may say "I have deleted the whole files on the hard drive of my Mac Pro". In fact, deleting the files will not make your files destroyed permanently. In this case, someone still can recover your lost files with Data Recovery Software.
This can be a nightmare for you if you have some important files that can be recovered. So, how to wipe all data on Mac Pro hard drive permanently? There are so many tools that can be downloaded on the internet, but you must be a smart person in choosing the best data erasing software. Therefore, we really recommend you to choose our software called Super Eraser which is designed to wipe all data on Mac Pro hard drive and other storage devices.
Super Eraser can be the most effective software to destroy any files on your Mac Pro hard drive where there will be nobody who can recover the lost files anymore. Besides, this software is also easy to use and it looks simple. Even though it is simple, but it really works effectively to wipe all data on Mac Pro Hard Drive. After downloading, now it is time for you to practice how to wipe all data on Mac Pro hard drive simply and easily.
Three Options for Wiping Data on Mac Pro
Option 1: Erase Partial Files/Folders on your Mac Pro
In most cases, you don't have to wipe all files on the Mac Pro hard drive. You just need to permanently erase some files or folders that contain your private or sensitive information. Just select the files/folders you want to destroy, then click on "Erase Now" button to permanently wipe the selected files or folders. That's very easy and safe.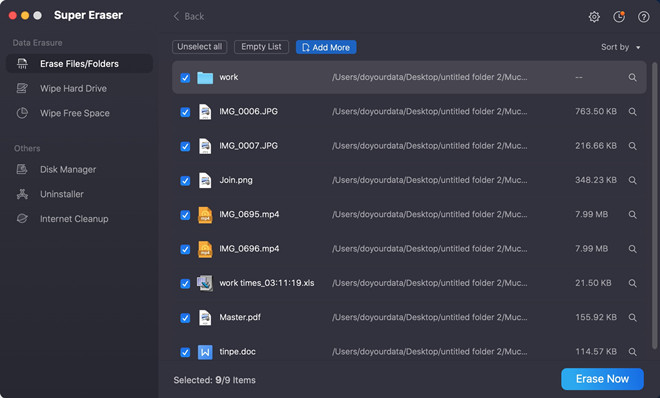 Option 2: Wipe Volume/Device on Mac Pro
If you want to wipe in just one click, so you can choose Wipe volume mode. This mode will allow you to erase the whole files inside the Mac Pro hard drive totally. So, you do not have any chances to select or save your files. The existing files, as well as the deleted files, will be wiped permanently. You just have to choose the storage device of your Mac Pro, and then click "Wipe Now".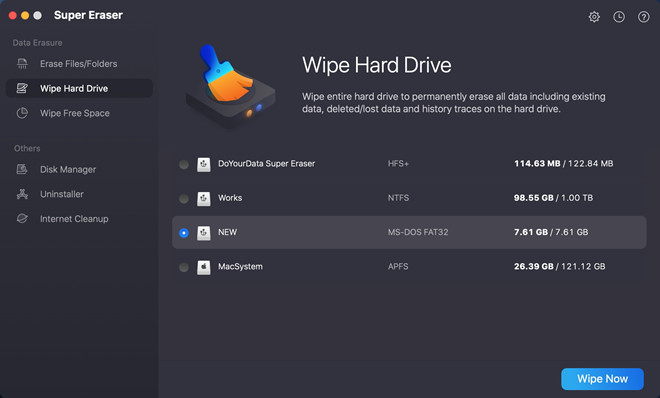 Option 3: Wipe Deleted/Lost Files
If you still keep some existing files in your Mac Pro hard drive, you can choose this third mode. This mode allows you to wipe all of the deleted files or lost files only. So, you can still save the existing files on the hard drive.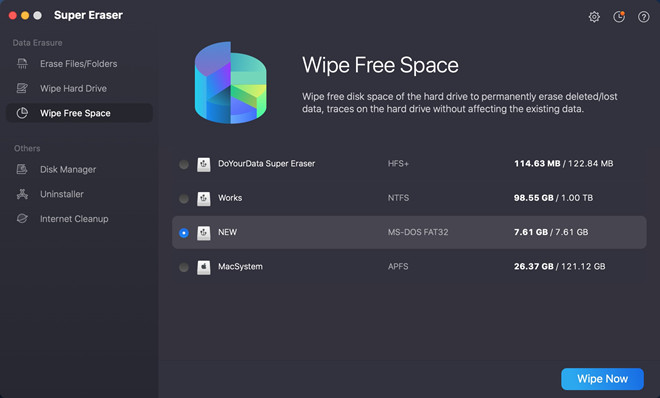 How to wipe all data on Mac Pro hard drive? It is really easy and simple as you see the options above. Therefore, if you really feel impressed and think that Super Eraser is important, so you are recommended to download the program below.