Smart Mac Start Menu to Easily Manage Your Mac
OS X or macOS is a bit more complex than Windows OS for common users. Now, with DoYourData Start Menu for Mac, you can smoothly manage your Mac, just like you are using a Windows start menu.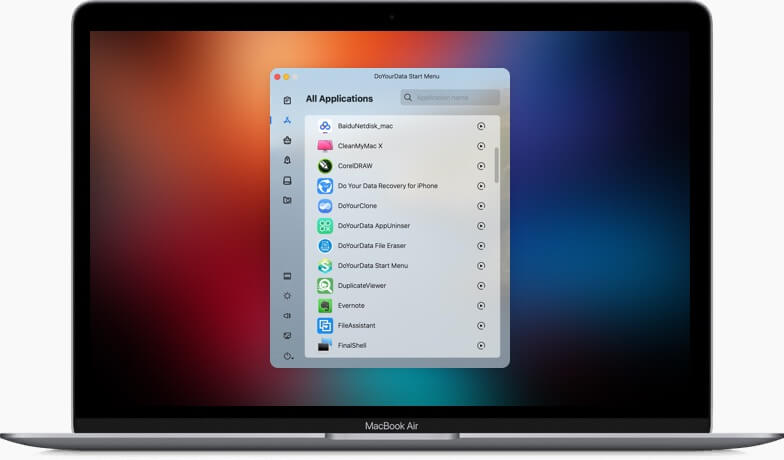 Easily Manage Mac with Start Menu

Applications Quick Visit
Quickly find and visit wanted applications on your Mac.

Task Manager
Check the tasks on your Mac, close unnecessary tasks to free up memory.

Mac Cleanup
Cleanup useless downloads, empty trash bin to free up disk space.

Startup Optimization
Manage your startup items to increase Mac OS boot speed

Disk Manager
Check your disk information, format Mac hard drive or storage media.

Quick Visit
Quickly visit the folders, applications, information, windows you use frequently.
Many Users Love DoYourData Start Menu, You Will Too.

Kevin J.
"I like this amazing start menu. It has many wonderful features like format hard drive, add/remove startup menu, quick vist my folder, etc."

Peter
"I want to an app to replace Mac start menu and dock, this appliation is completely qualified. And it offers 30 days free trial, recommended!"

Lisa Aoris
"I am a newbie. I don't like the macOS, however, this app makes mac OS become easy and simple to manage."
Alex Zsze
"It is a very useful app for those who like use Windows start menu. I will keep it on my Mac."

DoYourData Start Menu for Mac
Support for OS X 10.7 - macOS 10.15 Catalina, 30 days free trial
Recover Deleted or Lost Mac Data
Permanently Wipe Mac Hard Drive
DoYourData AppUninser