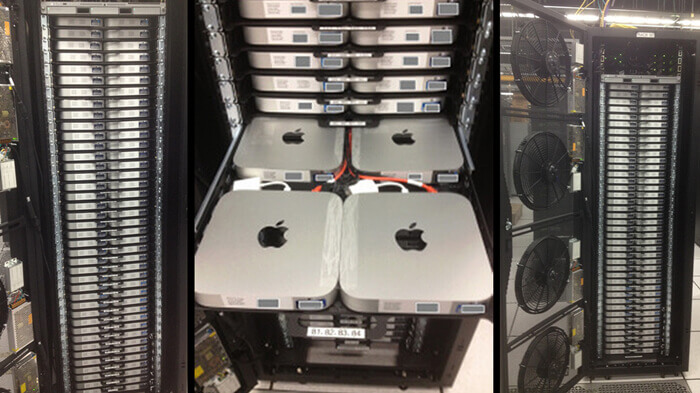 Why Need Destroy and Wipe Mac Server Data?
Before you replace or resell the old Mac Server hard drive, it is strongly recommended to securely wipe the data on the old Mac server hard drive to avoid data leakage. You may only delete your private or business data on the Mac server hard drive or format the hard drive. It seems like you have cleaned up the hard drive. But it is not true, the deleted or formatted data is still in the hard drive and can be easily recovered by Mac data recovery software. It means other people including the cybercriminal, hacker or even your competitor have golden opportunity to get your private or business information by recovery the data from the old Mac server hard drive.
Therefore, destroying and wiping Mac server data are very important so that the data will be erased permanently without a chance to be recovered. In order to destroy and wipe Mac server data, you need to use our sophisticated tool.
Super Eraser for Mac is one of the best tools in the world that can be used to destroy and wipe Mac server data completely and permanently. If you really want to give your own Apple computer to your friend or resell, donate the old Mac server hard drive, you can use this software first to destroy your data. Please note that this tool will permanently wipe the data on your Mac server, so just back up your important files to other place before using it to wipe your data.
After downloading the software, you must need some instructions in order to destroy and wipe Mac server data easily. Here are three modes that you can perform when dealing with destroying Mac server data permanently.
Three Modes for Mac Server Data Wipe
Mode 1: Erase Files/Folders on Mac Server
If you only want to erase some files or folders rather than wipe the entire hard drive, this option is suitable for you. It will only permanently erase the selected files or folders on your Mac Server. The steps are very easy: select the files/folders you want to erase – click on
"Erase Now"
button.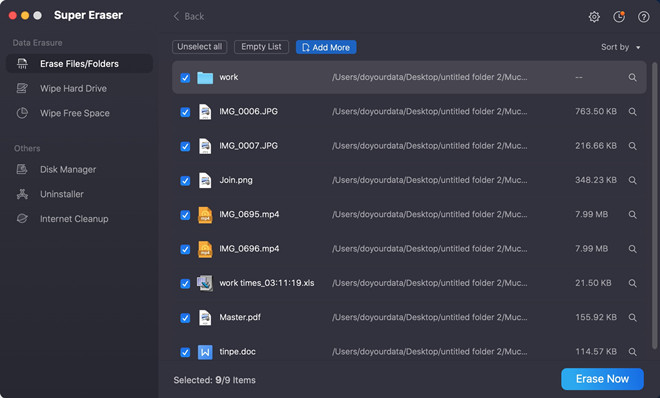 Mode 2: Wipe Hard Drives in Mac Server System
This mode will permanently wipe data on the selected hard drives in Mac Server system. It will permanently wipe the existing data and the deleted/lost data on the Mac server hard drive.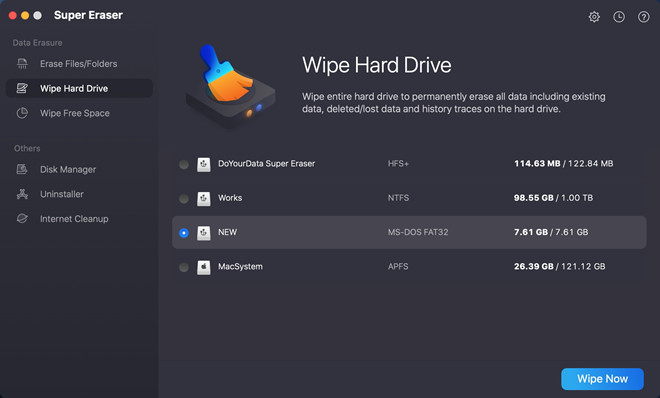 Mode 3: Wipe free Space of Mac Server
If you only want to erase the deleted files or lost files, so you can choose the third mode. The third mode will let your existing data stay in your storage, but the deleted data or lost data will be erased or destroyed permanently. You just have to choose the volume and then click "Wipe Now".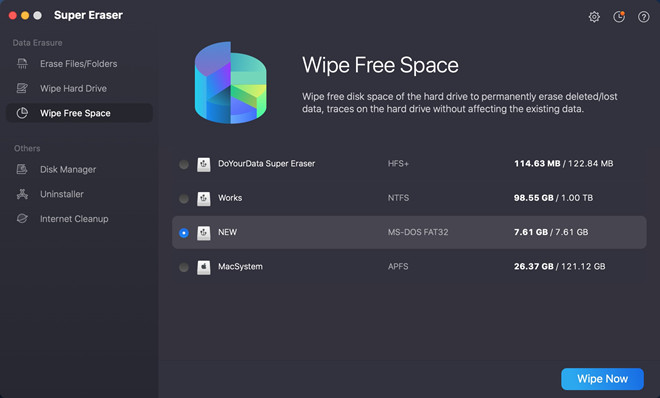 How to destroy and wipe Mac server data is not that difficult if you choose the best tool ever. Super Eraser for Mac can be the best choice for you who want to make sure that all of the files destroyed permanently. If you think that the tool is important, you can download the program below and try it whenever you want to erase your files permanently.
Format hard drive on Mac OS Server with Super Eraser for Mac
The 'Wipe Hard Drive' mode can help you securely and completely format the Mac OS Server hard drive. Once the hard drives has been formatted, all data on the hard drive will be erased forever. However, in some cases, you just only want to quickly format a hard drive on Mac OS Sever. DoYourData Super Eraser for Mac offers another tool - Disk Manager to help you quickly format a hard drive on Mac OS Server.
Run DoYourData Super Eraser on your Server, then click Disk Manager, it shows all hard drives on your Mac OS Server. Then choose the hard drive which will be formatted, and click on the Format button.