Quick Navigation:
Your Mac's data is probably gone if its hard drive has crashed. The thing you should do if your Mac's hard drive suddenly stops working is research methods for retrieving lost data. Data recovery from a failed drive is a major undertaking because it requires skills you may not yet possess. If the data you placed on the disk were crucial, you would want to recover it on your Mac as soon as possible.
Here you can find instructions for four distinct methods that can be used to retrieve information from a dead MacBook Pro. The two methods for recovering lost data from a Mac that are detailed in the guide each employ different approaches. If that moment has arrived, you must do this to recover your information. After recovering data from the dead Mac, you can store the data on your new Mac or a new hard drive.
Transfer data when Mac isn't booting up:
Your Mac starts up and appears to be starting, but it either shuts down or stays on the Apple logo. Data can be transferred to a fresh Mac even in this seemingly lifeless condition. Nonetheless, a few caveats are included.
Utilizing an Apple silicon Mac or an Intel-based Mac will determine the procedure. Additionally, you should be able to enter Recovery Mode on your Mac.
Method 1: External hard drive to recover data from a dead Mac hard drive
If your Mac's hard disk has failed, it likely won't be able to boot up since it lacks the necessary operating system data. If your Mac's hard disk has died, you can remove it, place it in an external drive enclosure, and use a different computer to access its data.
If that sounds complicated, don't worry; we'll break it into manageable chunks below. If your MacBook has died, don't worry; you can still get your data back by following the instructions below.
If your Mac's hard disk has died, follow Apple's recommended procedure for removing it. You can get instructions on taking a hard drive from a Mac on the maker's website.
Put the dead hard drive into an external enclosure after extracting it from your Mac.
Use the appropriate cable to link the external drive to a functional Mac.
If you're using a Windows PC: Double-clicking will open the drive in Windows File Explorer, where you can examine its contents.
Double-click the disk icon on your Mac's dock to see if you can access the hard drive and its contents.
If you can access your Mac's hard drive, you may choose which files to save and where to keep them.
Method 2: Software to recover data from dead Mac hard drive
When your Mac's hard drive has crashed, failed, been corrupted, or been damaged, you don't have to go through dozens of things to get your files back; all you need is a professional piece of software like Do Your Data Recovery for Mac.
Do Your Data Recovery for Mac
Recover deleted or formatted data on M2 MacBook Air.
Export inaccessible data to your M2 MacBook Air or external device.
Recover lost data from crashed or damaged M2 MacBook Air.
Step 1. Open Do Your Data Recovery for Mac and then find the crashed hard drive. Select it to start data recovery.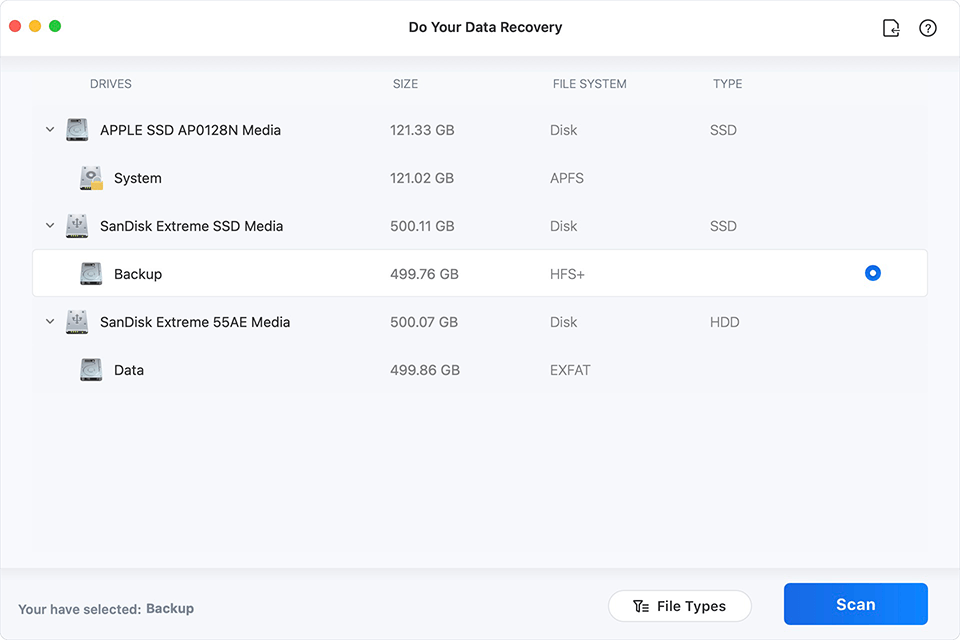 Step 2. Click on Scan button. Do Your Data Recovery for Mac will find all existing files, deleted or lost files on the hard drive.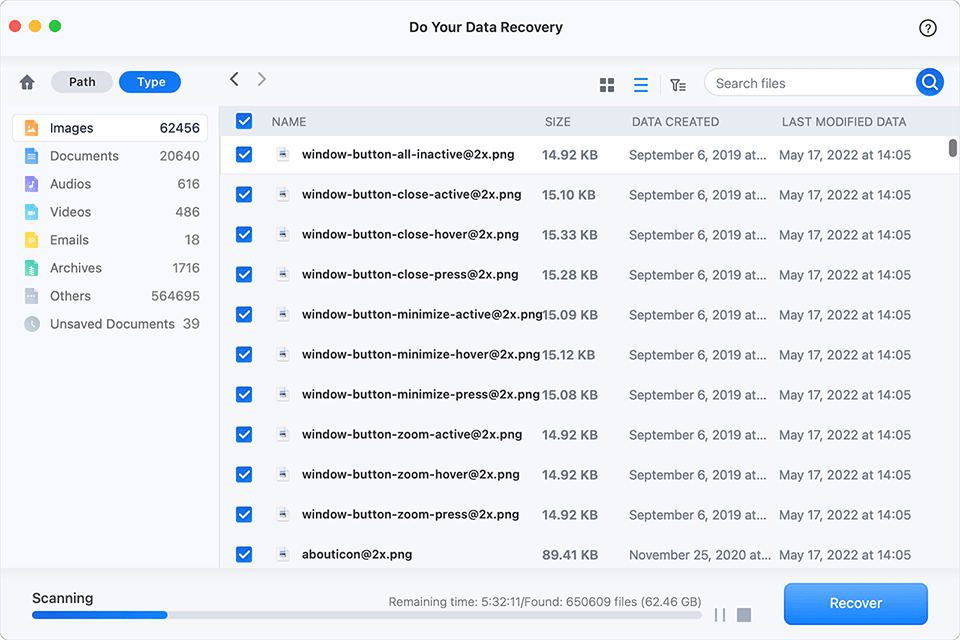 Step 3. Preview the recoverable files. Then select the wanted files and save them.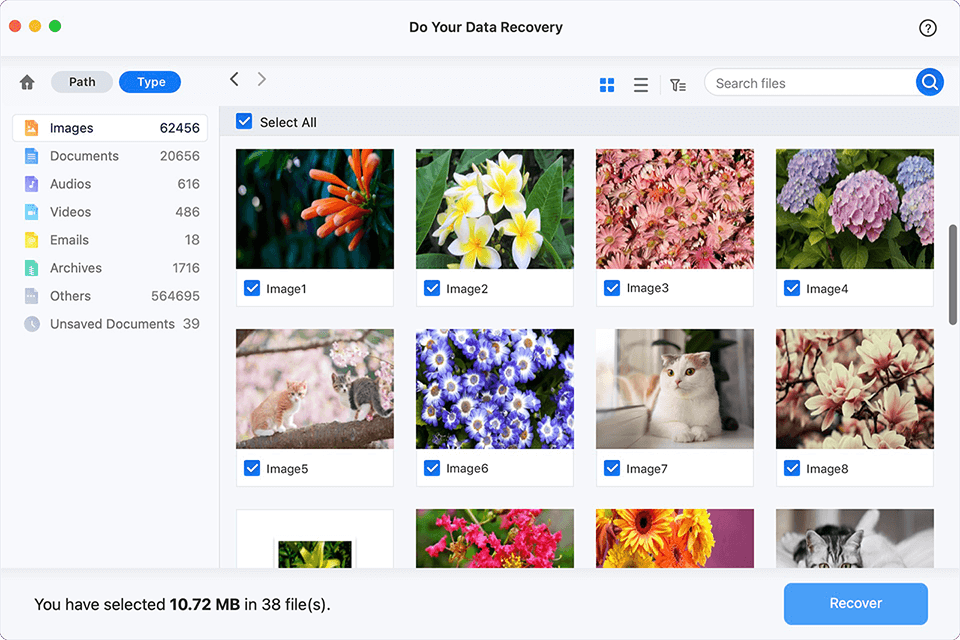 Method 3: Transfer Intel Mac files using Target Disk Mode
The disk-sharing option is not available on Intel Macs. Instead, the Target disk mode can be found here. Restarting your Mac while holding T will put it into Target disk mode. Alternatively, as a recuperation aid.
Select Startup Disk from the Apple menu.
Target Disk Mode.
If you need to restart, you will be asked to do so.
Select Restart.
Connect your old Mac to the new one using the appropriate cable once you've entered Target Disk Mode, and then:
Click Network.
From the list, choose the destination Mac.
Select the Link in the upper right corner.
Select → Guest.
Click → Connect.
After the two devices are linked, the older Mac will function as a portable hard drive, making data migration a breeze.
FAQs about macOS Sonoma:
First of all, you can try data recovery software to check if it could recover files from the crashed hard drive. If not, you can send the hard drive to a data recovery store, the experts will help you find lost files in the crashed drive.
Wiping the hard drive will fix logical errors on the crashed hard drive. If the crashed can be recognized by your Mac, just open Disk Utility and use first aid tool to help to erase and fix the crashed hard drive.
Restart your Mac, hold on Power button and enter into recovery mode. Select the startup disk, click Continue. Then select
Disk Utility > First Aid
to
repair the startup disk of the Mac
.
Conclusion:
You should never assume that your Mac will never experience any problems. Anyone is susceptible to such occurrences. That's why it's crucial to be prepared for anything, including the worst. The best strategy to prevent data loss in a Mac malfunction or failure is to perform regular backups.