Disk cloning software is essential and import for users to keep the data/system safe in case of data disaster. Cloning software can create duplicate copy of your drive and keep of the data identical. In case of data disaster, you can set up the cloned drive to clone your data/drive back. Or you can just use the cloned drive directly to continue your work.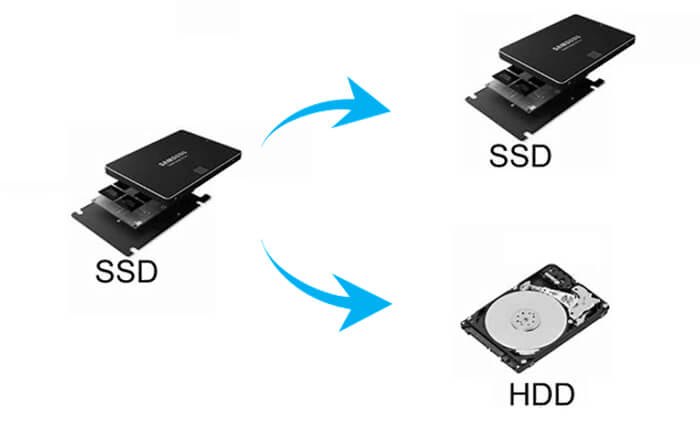 Besides the traditional HDD, there are many users use SSD in Windows 11/10/8/7. So you also need to clone SSD disk if you are using SSD. There are many disk cloning software in the market. If you want to clone SSD effectively, it's needed to find the best SSD disk cloning software for Windows 11/10/8/7.
Best SSD cloning software for Windows 11/10/8/7
To clone SSD successfully, we suggest you try the best disk cloning software DoYourClone. The software is reliable to clone SSD and create duplicate copy. All the data will be copied completely and it can ensure to create a bootable copy of the SSD if it's a system drive.
With the software, it's able to clone an SSD to another SSD, or clone an SSD to a HDD. If you need to replace an overused SSD, the easy way is to clone it to a new one. Then you can continue using the cloned drive just as the original old SSD.
To keep your data safe on SSD, you can also use this software to clone your SSD to HDD. Normally, HDD has larger size and can keep more data. It's an effective and easy way to back up your SSD. If your SSD is crashed or data loss happened on SSD, then you can find the needed data on the cloned drive.
The software DoYourClone is also very easy to use. With understandable interface and intuitive interactions, it's very easy to clone your SSD by using this tool. Besides, the software can do more other than cloning SSD. If you want to clone HDD, USB flash drive, memory card, etc, the software can also help you.
Moreover, the software provides sector level clone option. It can clone any type of drive regardless the file system. It will clone each sectors on the drive to ensure all the existing or lost data. It's very useful if you encounter data loss on a drive. You can clone the drive sector by sector and then recover data from the clone drive without touch the original drive where you lost data. If you have bad sectors on a drive, you can also use this option to clone your drive.
How to clone SSD with the tool in Windows 11/10/8/7?
To ensure you can clone SSD successfully in Windows 11/10/8/7, we will show you a simple guide about how to use the software as below.
Step 1. Connect the drives and run the software.
First, please ensure to connect the SSD and destination drive to your computer. Install the software and run it on your Windows 11/10/8/7 machine.
Step 2. Choose the source and destination drive.
Choose the SSD as source drive and choose another drive as destination. Please check and ensure to choose the drives correctly. Otherwise, it will cause data loss if you clone the drive wrongly.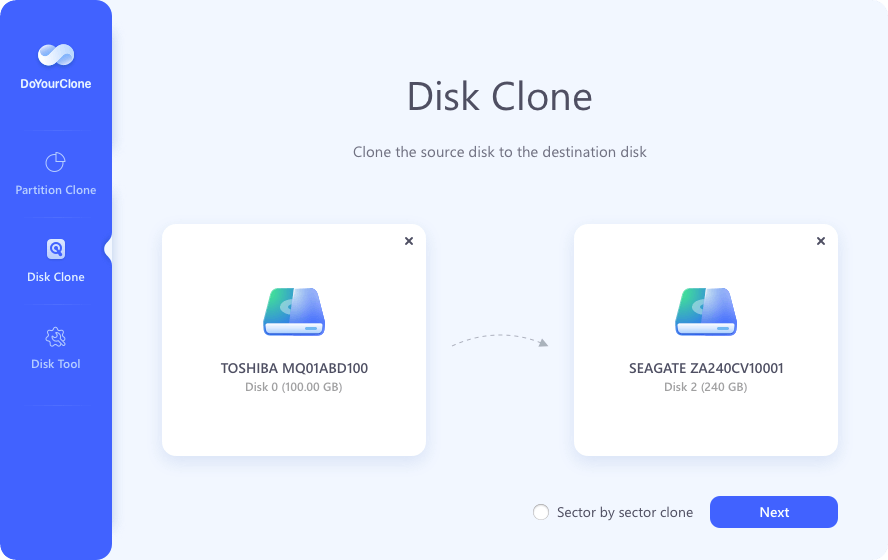 Step 3. Edit the layout before you clone SSD.
If you clone the SSD to a disk with different size, you may want to edit the layout to fully use the space on the destination disk. There is the option for you to resize the partition(s) on the destination disk before you process the clone.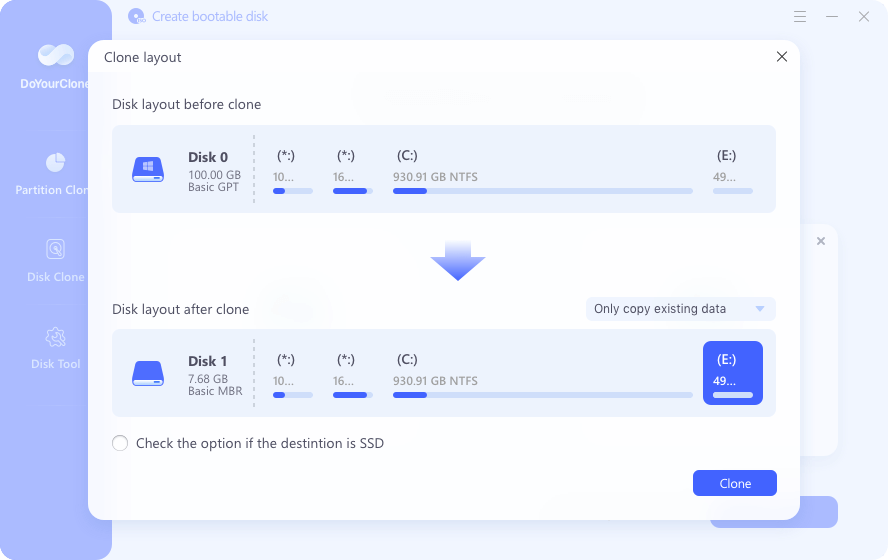 Step 4. Clone the SSD and check the drive after cloning.
After you check and ensure the drives are selected correctly, you can then clone the SSD directly. It will take some time to accomplish. Once the clone is done, you can check the clone drive to ensure if the clone is successful.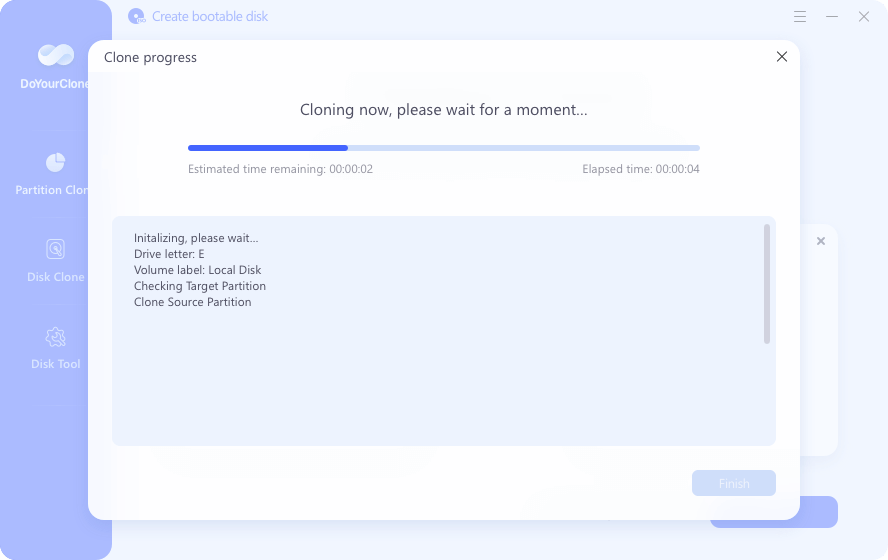 Tips:
1. If you clone the SSD to another SSD, please ensure to enable option to optimize for SSD during the clone process.
2. If you want to clone all the data, including the loss data on the SSD, you can enable the sector level clone option.
As a professional disk cloning software, DoYourClone can achieve your goal in different cases. No matter you want to update your old disk, clone system drive, back up data/drive, or clone the disk in sector level for data recovery purpose, you can download this software to clone your drive securely.
With method above, you are able to easily and securely clone HDD on Windows 11/10/8/7. DoYourClone also provides a Mac version to help in cloning SSD on Mac. It can help Mac users quickly copy Mac SSD to another HDD/SSD/external hard drive or USB flash drive, and it also supports create a disk image of the Mac SSD.
DoYourClone - Clone SSD
Easily and securely clone SSD on Windows and Mac OS.
100% safe SSD disk cloning software.