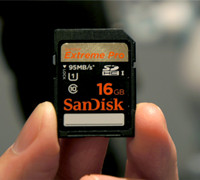 The use of SD cards or some other storage devices has been very familiar to many computer users around the globe. Most of them must love the idea of carrying their files anywhere they like with ease and more comfortably. However, using this kind of mobile device also comes with some problems. "The SD card is not formatted, do you like to format it now?" would be the most common messages that pops up by the time we plug our memory card onto our personal computer. Many users choose to format their SD cards to fix this problem and end up with questioning where their files have gone after the formatting process. DoYourData has allowed you to deal with the format error and you can recover SD card data after format error. It will bring you data back to life after formatting or not formatted error.
Recover SD Card Data after Format Error with DoYourData
Obviously, there are many companies that provide you with file recovery software to help you recover SD card data after format error. However, that does not mean you can trust one of them without any consideration. It would be best if you trust a powerful recovery software tool from a reputed software developer. DoYourData has turned out to be a reliable computer software provider that has come up with an array of powerful applications.
When you have to lose your data from "Not formatted error SD card", Do Your Data Recovery Professional can be a reliable and more convincing solution. Not only that this recovery software is well equipped with complete features, it also comes with more user friendly interface. You will find it very easy to recover all the lost files from your SD card after format error / not formatted error.
There are many recovery software tools in the market and some of them are only designed to recover certain types of files due to some data loss situations. Choosing the kind of less versatile recovery software can be very costly since you have to equip your personal computer or laptop with more than one recovery software. Do Your Data Recovery Professional turns out to be a versatile program that is designed for many different data loss scenarios.
You can rely on this software to recover any kind of file including your videos, images, documents or even program files from your SD card or some other storage media devices. More convincingly, you can restore your lost data caused by unexpected deletion, formatting process, virus attacks or even some OS crash. In short, Do Your Data Recovery Professional is all you need for all your data loss situations.
Formatting your SD card seems like the most common solution when the "The SD card is not formatted, do you like to format it now?" keeps popping out on your screen. However, this simple solution might keep you from accessing your important files stored in the SD card. Thankfully, Recovery Professional from Do Your Data will get rid of all your worries as it has the power to restore your lost files due to the formatting process.
Step 1: Download and install Do Your Data Recovery.
Click the download button below to download Do Your Data Recovery Free Trial version. Then install it on your PC or Mac computer.
Step 2: Choose the SD card.
Just click to choose the SD card. Do Your Data Recovery even can find the unrecognized SD card.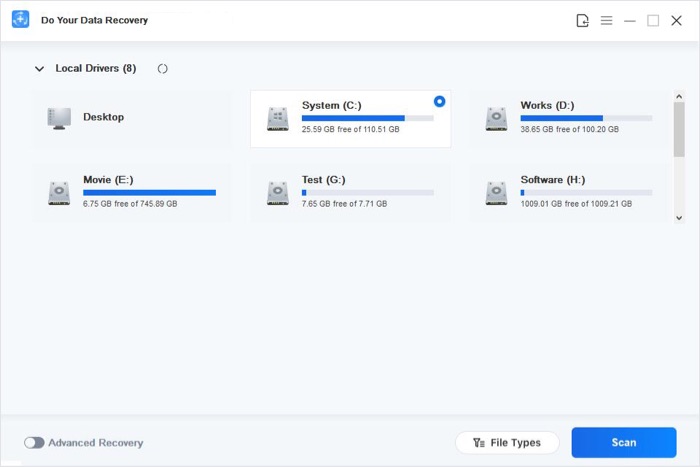 Step 3: Scan the SD card.
Select the file types you want to recover. Then click on Scan button to scan the SD card to find all existing and lost data on the SD card.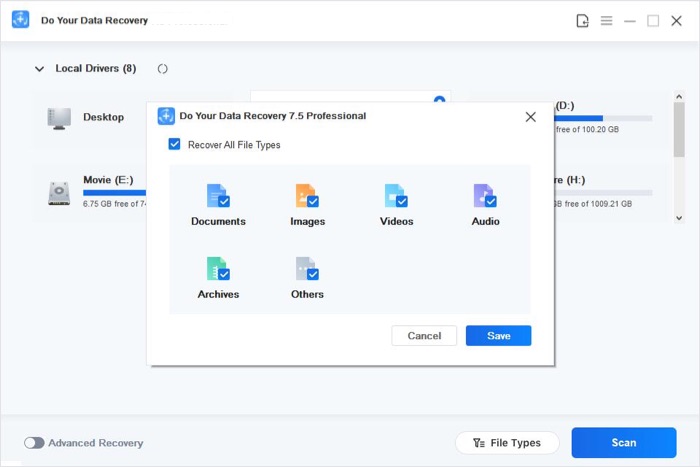 Step 4: Preview and recover your data.
After scanning, you can see all recoverable files. Just select the wanted files and recover them.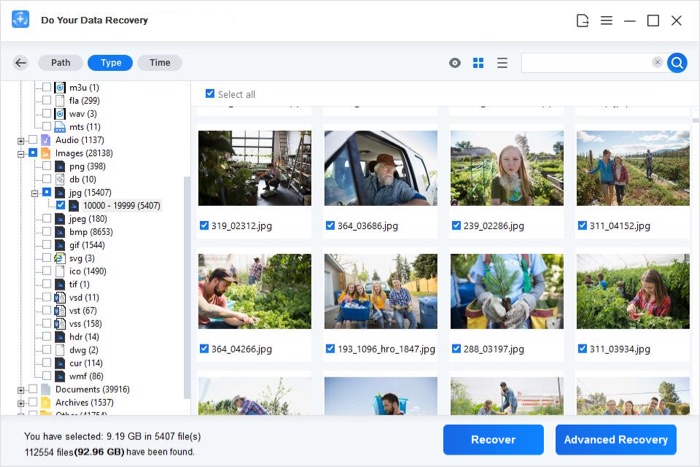 Once the scan is completed, you can preview all the files. If you can't find the lost files, just try advanced recovery mode to find much more lost files. After data recovery, you can fix the format error SD card by formatting the SD card. Guide: Fix SD card format error >>