Quick Navigation:
SD cards are a popular way to add extra storage to various devices. You may inadvertently delete files from an SD card before transferring them to longer-term storage. Fortunately, when these files are logically erased from the card, they are not permanently lost. They can be recovered until their storage space is overwritten with new data. This article will show you how to use data recovery software to recover deleted or lost files from an SD card.
What is an SD Card, and where is it used?
A Secure Digital Memory Card, or SD card, is a flash memory card that can be used to expand the storage capacity of a device. They're most commonly found in mobile and portable devices like digital cameras (Sony, Nikon, Canon, Fujifilm, and others), handheld computers, camcorders, and smartphones. SD cards allow users to swap cards on the fly to provide the amount of storage needed to complete a project or photoshoot.
Panasonic, SanDisk, and Toshiba first introduced them to the market in 1999. NAND flash memory is used in SD cards. The SD Card Association is in charge of SD card standards. They have established Speed Class ratings to aid in the standardization of data transfer speeds.
Is it possible to recover deleted/formatted data from SD card?
There are currently three main types of SD cards, each with its default file system and storage capacity. They are as follows:
SD Cards - The primary SD card has a storage capacity of 128MB to 2GB and uses the FAT16 file format.
Secure Digital High Capacity (SDHC) cards have storage capacities ranging from 4GB to 32GB. As a default, they use the FAT32 file format. They are incompatible with devices that only accept SD cards.
SDXC Cards - Secure Digital Extended Capacity – offer storage capacities ranging from 64GB to 2TB. They use the exFAT file format and are not backward compatible with devices that only accept SD or SDHC cards.
The data on the SD card is not safe all the time. With the hectic and complicated schedule we run, it is easy to delete mistakenly important files. However, thanks to the data recovery software, you can be assured that the data on the SD card will always be safe with a fallback recovery option. It means you can recover deleted or formatted data from SD card.
Here are the steps to restore deleted/lost files from an SD card, micro SD card, memory stick, or any other type of external storage that can be connected to your Windows or Mac machine.
Recover lost data from SD card
For this article, we'll use DoYourData Memory Card Recovery - Do Your Data Recovery as our data recovery software. Why? Because you can get it for free trial and use it to recover all lost files from your SD card.
Now follow the steps below to recover lost data from SD card:
Step 1. Attach the SD card to your computer.
This can be accomplished using a card reader or connecting the card-containing device to your machine. If your card reader only accepts standard SD cards, you'll need to use an SD to microSD adapter, which is essentially just a plastic shell with pins and can be found for next to nothing at your local electronics store.
Step 2. Launch Do Your Data Recovery.
Double-click the Do Your Data Recovery desktop icon to start it. Mac User Account Control will prompt you to allow Do Your Data Recovery to make changes to your device; click Yes to proceed. Do Your Data Recovery must be able to modify your device to use its advanced data recovery algorithms to locate missing files. But don't worry: it won't make any changes without you explicitly telling it to do so.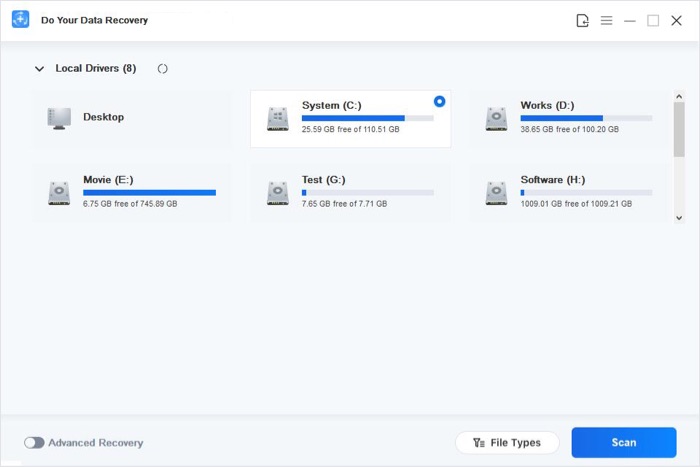 Step 3. Scan your SD card to find lost files.
Then, locate and select the SD card or external storage from the list of available disks. If you don't know the name of the SD card, you should be able to identify it by its size, which is conveniently displayed in the Size column. You can also navigate the Info tab to learn about any selected storage device. With your SD card selected, click the Scan button to begin Do Your Data Recovery's scanning procedure.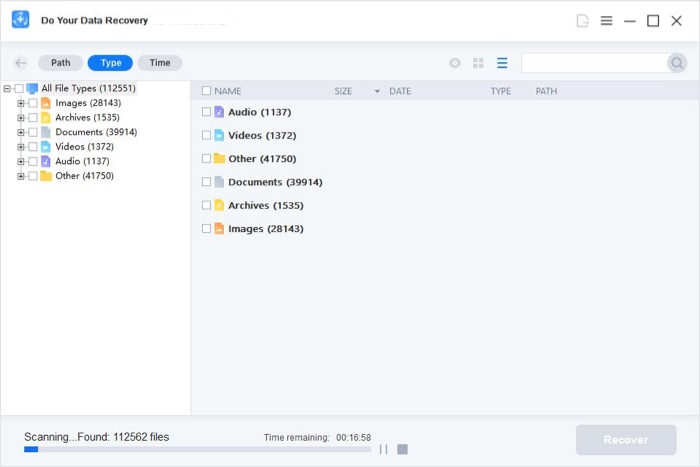 Step 4. Review and select found files.
Do Your Data Recovery will likely find hundreds or even thousands of recoverable files, including files you no longer need. That is why you must go through the files that Do Your Data Recovery has discovered and select those you want to recover.
Fortunately, Do Your Data Recovery's scan result filters (located on the left) and a handy preview feature make this very simple (displayed on the right). Click the checkbox next to a file to select it. You can also choose to select entire folders.
To recover the selected files, click the Recover button and specify the recovery location. You don't want to recover your SD card files to the same SD card. All your other storage devices, including your system drive, are completely secure.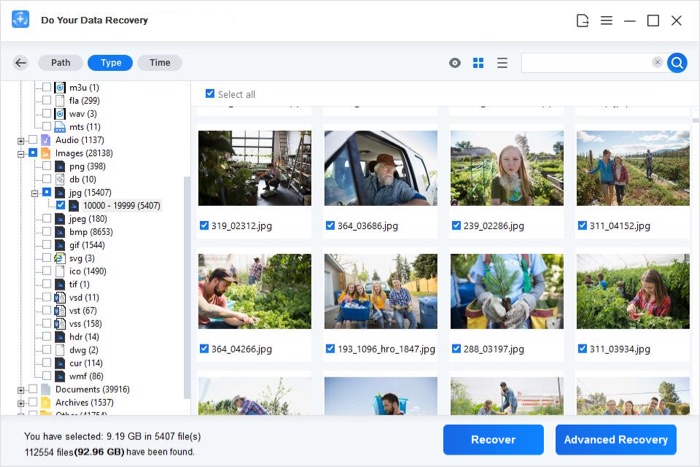 SD Card Recovery Software for different data loss situations
Do Your Data Recovery can recover files from SD cards in various data loss scenarios. Here are some examples of data loss scenarios that the software can handle.
Accidental Data Deletion
If you have accidentally deleted important files from your memory card, this data recovery software tool can help you recover them quickly and easily.
Formatted SD Card
The wrong SD card format can destroy your valuable data. The software scans your card and recovers the files that appear to be lost after formatting.
Corrupted SD Card
A corrupted SD card can cause missing files. Scanning the card with Do Your Data Recovery will recover those files, allowing you to save them to another device.
File System Problems
If the file system on your card suddenly changes to RAW, making it impossible to view your files, Do Your Data Recovery can scan the device and safely recover its data.
Virus Infection
Data loss can occur as a result of virus or malware infection. Do Your Data Recovery can recover if malicious software has deleted your important files.
Damaged SD Card
Do Your Data Recovery may be able to recover slightly damaged cards. To recover heavily damaged cards, a data recovery service will be required.
Conclusion
Recovery from SD cards can be highly beneficial. Most mobile users do not back up all their store cards, making it easy to delete images or format the incorrect ones. As a result, once-in-a-lifetime photos may be lost due to a simple accident. Do Your Data Recovery can help you easily and completely recover lost files from SD card, just try it.