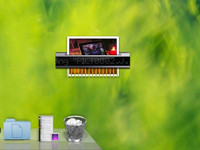 Photo is one of the most commonly used file types on Mac. The photos record important information about our life and work. So, some of the photos should not be exposed to strangers, especially the hackers/criminals. That's why we need Mac photo eraser to permanently shred private photos before selling or donating our old devices. It means we should permanently shred those private photos, prevent them from being recovered by other people. File deletion or disk formatting tool can't get the photos permanently lost, only Mac photo eraser or shredder can permanently destroy the private photos on our Mac.
Shred Photos on Mac with Mac photo eraser
Mac photo eraser is designed for securely erasing photos and other documents from Mac hard drive or storage media device. It will shred the photos, erase the traces and overwrite the disk space. So, the erased photos will permanently lost, even the most powerful Mac data recovery software can't retrieve them anymore. Here, you can download the best photo eraser for Mac.
This Mac photo eraser / Mac photo shredder is combined with powerful data erasure and ease of use. Meanwhile, it supports to erase photos from any kind of hard drive including HDD, SSD, USB flash drive, memory card, digital camera, SD card, external hard drive, even the phone card, etc.
How to use photo eraser for Mac?
Mac photo eraser offers three modes to erase photos.
Mode 1: Selectively erase Mac photos.
This mode can help you erase specific photos or folders from your Mac hard drive or storage media. It only erases the photos or folders you've selected. It is the best solution when you only want to destroy partial photos on your computer/device. You just need select the photos and folders you want to destroy, then click on erase now button, Mac photo eraser will help you permanently erase the photos you have selected.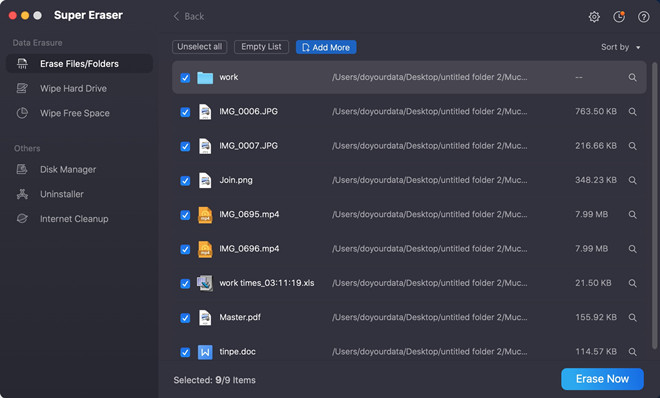 Mode 2: Wipe entire hard drive/device.
This mode can help you wipe an entire hard drive or device to shred all existing photos and history stored photos. For example, it can wipe a digital camera and erase all the photos and traces on the camera. All the data on the erased hard drive will be permanently erased.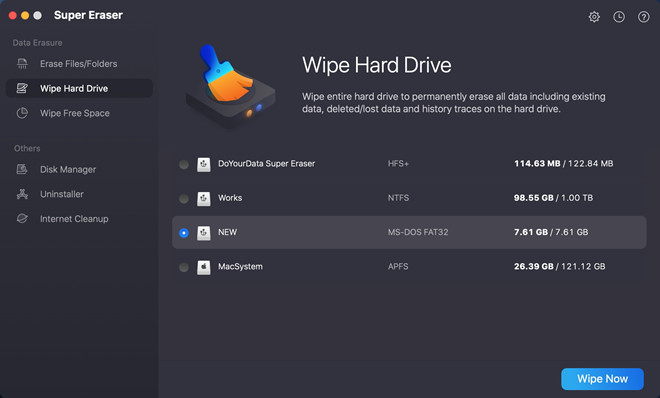 Mode 3: Only erase deleted/lost Mac photos.
This mode only wipes the free disk space of the Mac hard drive/device. It will not erase the existing photos. It only erase the already deleted photos/formatted photos on your hard drive. For example, if you have deleted some photos and emptied the trash bin, you can use this mode to permanently erase those deleted photos to avoid deleted file recovery.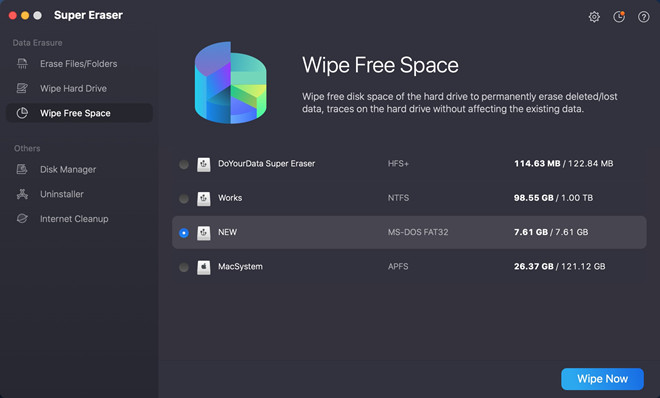 Mac photo eraser can help you securely erase private photos from Mac hard drive or other device without leaving any traces. It is very useful when you want to sell or donate your device. Once the photos are erased by photo eraser for Mac, it will forever disappear from this world. It also can erase other types of files, such as emails, videos, audio, archives, etc.