In order to avoid data leakage, you must destroy sensitive data before you resell or give away your old Mac computer or even portable device. Data Recovery Software is very powerful. Most free data recovery programs can easily recover formatted, deleted data from your hard drive/storage media. So your data may be recovered by other people. To permanently destroy sensitive data and avoid data recovery, you need Mac file shredder. In this article, we will introduce a very powerful Mac file shredder and show the steps to permanently shred files, destroy data under Mac OS.
Best File Shredder for Mac Download
Whether you delete files, emptying Mac trash bin or erase the entire Mac hard drive, you can't permanently destroy your data, leaving a big room for data recovery. File shredder for Mac is designed for destroying and erasing files under Mac OS. DoYourData Super Eraser for Mac is the best Mac shredder. This award-winning Mac shredder software can permanently erase files or data under Mac OS and overwrite the disk space of the erased data. With certified data erasure standards, DoYourData Super Eraser for Mac can securely destroy selected data from your Mac hard drive or storage media, beyond the scope of data recovery.
Why DoYourData Super Eraser for Mac is the best file shredder for Mac? Because it not only provides secure data erasure solution to permanently erase data, but it also offers three modes to meet various data erasure needs under different situations. Here are the three modes to shred and destroy data in Mac OS.
Mac File Shredder Mode 1: Selectively Erase Files/Folders
This mode is very useful when you are going to erase specific files or folders from your Mac-based hard drive or storage media. You just need add the files or folders to the list and click on "Erase Now" button. This Mac File Shredder will permanently destroy and erase the selected files/folders.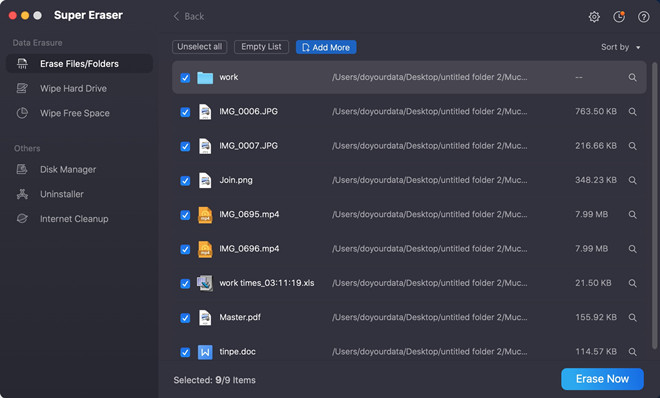 Mac File Shredder Mode 2: Wipe Entire Hard Drive
How to get all data on your hard drive permanently lost? This mode is the answer. It will help you wipe entire hard drive to completely erase all existing data and history data on the disk drive. After that you can resell your Mac to other people without any worry.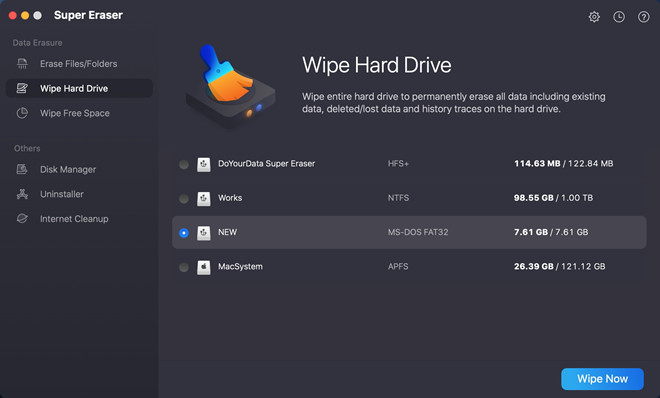 Mac File Shredder Mode 3: Erase Deleted/Lost Data
How to erase the deleted data or history data on your hard drive without affecting the existing data? This mode will help you erase free disk space to destroy deleted/lost data on your Mac hard drive. It will not affect the existing files or data.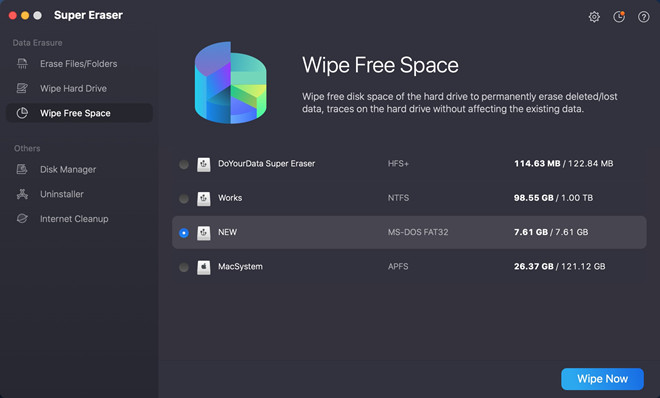 Mac file shredder is very powerful for permanent data erasure under Mac OS. Once the data erasure process gets finished, your data disappears from the world, can't be recovered by any data recovery software. So please back up useful files to other hard drive before you run file shredder for Mac to destroy your data or erase your Mac hard drive. Here you can easily free download the best file shredder for Mac.
A Mac file shredder makes it so easy to permanently erase a file or confidential data inside your system. Although removing them manually may work however there will still be traces of data that can be used to retrieve the files again. In previous articles, we pick up best file shredders for Mac OS. And we rated DoYourData Super Eraser for Mac as the best Mac file shredder.
It is necessary to wipe sensitive data before you sell or donate your Mac computer. The Mac file shredder is the best tool for quickly destroying your files/folders to avid potential data recovery. DoYourData Super Eraser for Mac also can help you format hard drive on Mac, fix corrupted USB flash drive, uninstall unwanted applications and clean up all browser's cookies and histories.