Quick Navigation:
Sometimes you'll need to wipe your Mac before sending it in for repair or handing it on to someone else. In addition, professionals generally advise cleaning out your Mac when you've tried everything else, and the problem remains persistent. This nuclear, also known as a radical answer, is usually effective at resolving the situation. To that end, learn to completely uninstall macOS 14 macOS Sonoma and restore your Mac to its factory settings.
Users can more easily erase all of their data before selling their Macs because the process of resetting a Mac has been simplified in macOS Sonoma and other macOS systems including Ventura, Monterey, Big Sur, etc.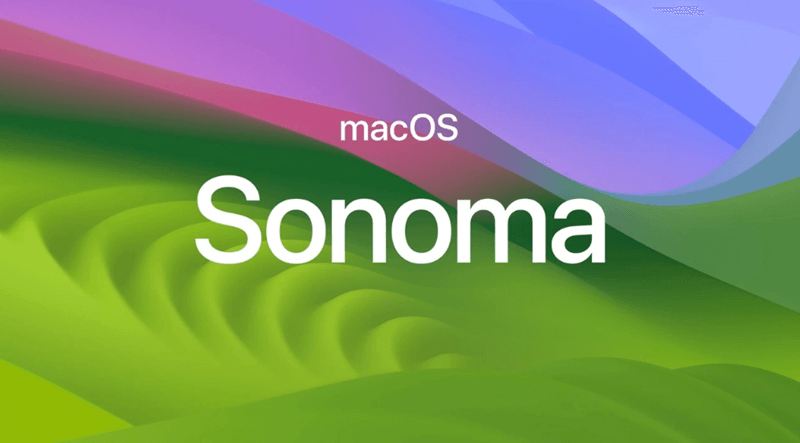 How is deleting all content and settings easier?
We had a lot of trouble finding a way to completely erase everything on the Mac in case of a system failure or the sale of the computer. You may, however, easily return your Mac to its original settings. In contrast, wiping a Mac in the past necessitated disk formatting and OS reinstallation. If you don't have a way to speed up the procedure, it could take up your entire day.
Remove the "All Content and Settings" option on a Mac, like its iOS and iPad OS counterparts, and delete all data and settings without interfering with the active OS.
What to do before you wipe your Mac?
Always ensure you have a full macOS backup before performing a factory reset. The OS gives you the choice to create an iCloud backup. If you don't use that, files like documents, images, and movies can be backed up manually to an external hard disk. You will lose all of your data if you begin the reset process. The Erase Assistant on macOS will help you return everything to factory settings.
If you want to make a bootable clone backup, you can download a disk cloning application - such as DoYourClone for Mac. This software can help you create an exact clone backup for Mac and make it be bootable.
What does Erase Assistant do?
The functions of Erase Assistant on a Mac are as follows:
Removes your Apple ID from all services.
Removes your identity from the Mac you're wiping by disabling the Find My and Activation Lock.
That will delete everything of your data, including settings and apps.
Removes all volume settings, not just the one you're currently using. The BOOTCAMP disk is removed if Boot Camp Assistant is how you get Windows running on your Mac.
This feature deletes all user accounts and associated information, not just your own.
How to delete everything on macOS Sonoma using Erase Assistant?
These methods wipe all files and settings on your Mac, giving it a fresh start without deleting the OS. This guide requires macOS Monterey or later (macOS Sonoma supported). These procedures only work on Macs with Apple silicon or a T2 Security Chip. Simple steps to utilize Erase All Content and Settings:
Step 1. Select System Settings from the Apple menu in the top-left corner.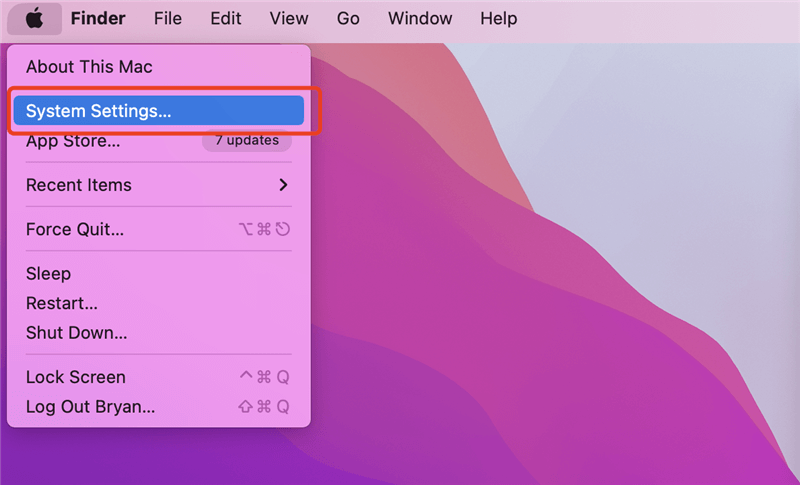 Step 2. Click General > Transfer or Reset.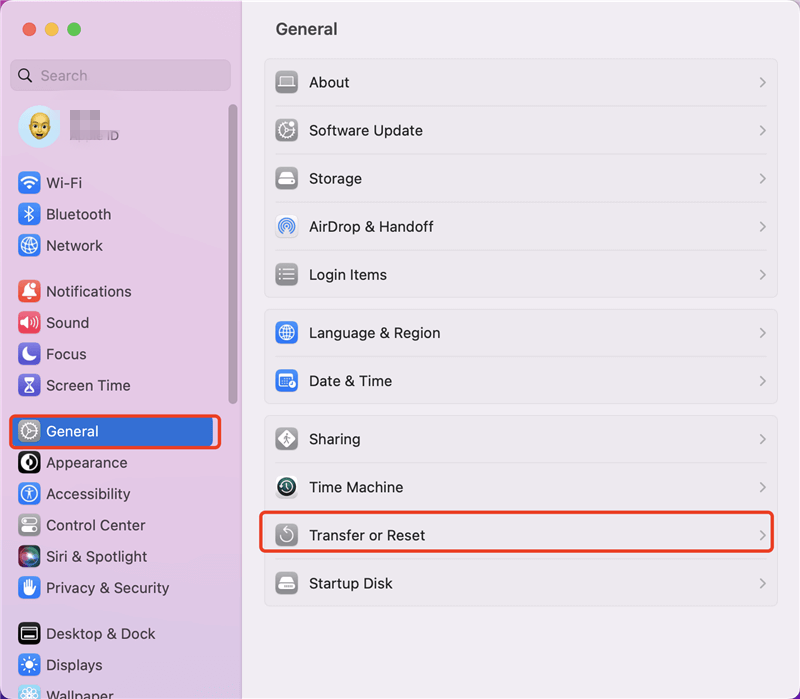 Step 3. Click Erase All Contents and Settings...enter your login password to all this procedure.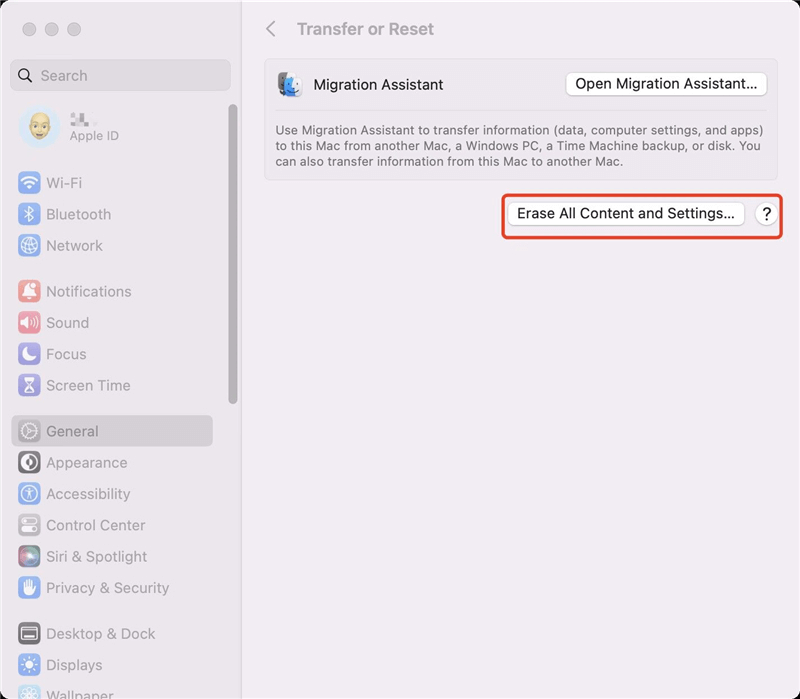 Step 4. You can back up your data with Time Machine, then go to the erasure step. Click on Continue button.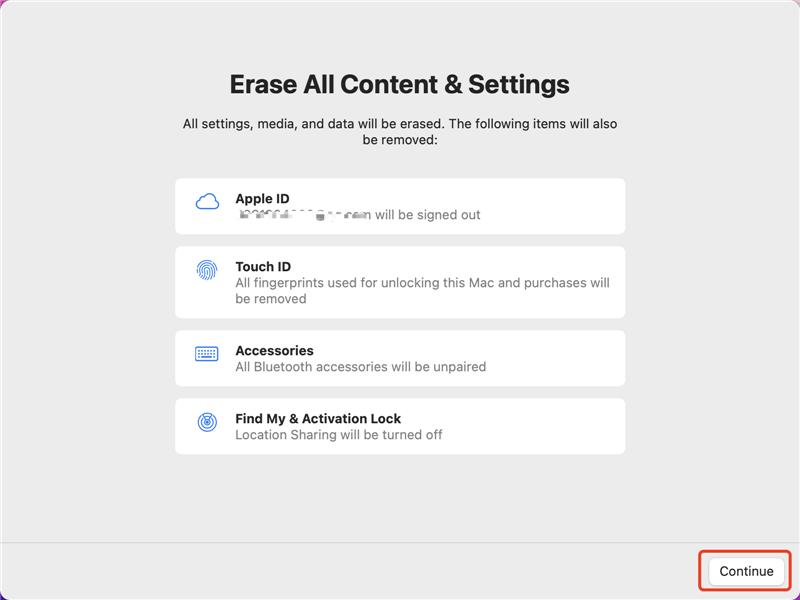 How to permanently erase data on macOS Sonoma?
The Erase Assistant will wipe all data from your Mac, but the erased data is not lost forever and can be recovered by data recovery software. If you want to permanently erase data from your Mac, you should use a data erasure application - such as DoYourData Super Eraser for Mac.
This software is fully compatible with macOS Sonoma and can help you wipe all sensitive data from your Mac or external storage device, beyond the scope of data recovery. It offers three data erasure modes.
Erase Files - Permanently shred files and folders on macOS Sonoma.
Wipe Hard Drive - Wipe all data from a hard drive on macOS Sonoma.
Wipe Free Space - Wipe free disk space to permanently erase deleted files on macOS Sonoma.
After erasing all contents and settings on your Mac, you can open DoYourData Super Eraser for Mac, select Wipe Free Space mode. This mode will wipe free disk space of your Mac and permanently wipe all previously deleted/lost data on the Mac.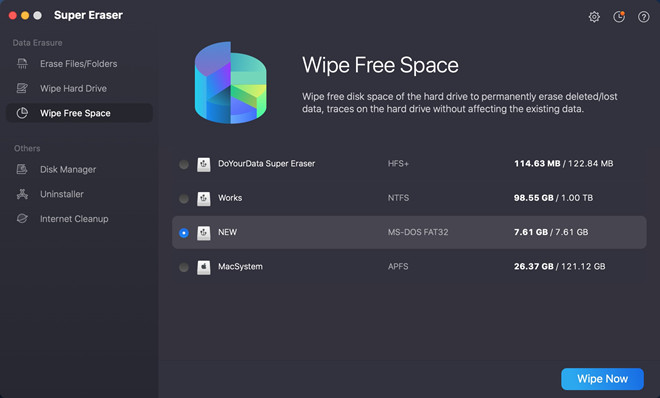 Select the Mac startup disk and click on Wipe Now button.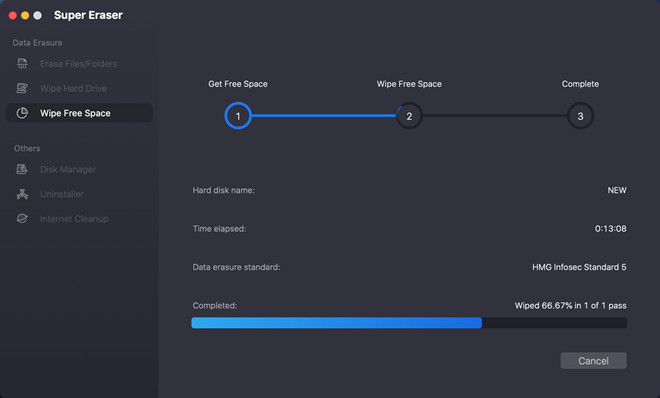 FAQs about erasing everything on macOS Sonoma
Yes, you can download and install a Mac data recovery application, then run it to scan the Mac hard drive. It will find all or some of the erased files on your Mac. If you want to permanently erase files on your Mac, just try DoYourData Super Eraser for Mac.
The Erase All Contents and Settings option may not function properly for some Mac users. If you have this problem, you should verify the system requirements for the feature on your Mac model and macOS version.
In addition, you can delete all data and Settings by performing a factory reset on your Mac if you cannot use Erase All Content and Settings for any reason, such as having obsolete hardware or having forgotten your Apple ID password. It's a longer route, but it'll get you where you need to go.
Restart your Mac.
Press and hold Power button till enter into macOS recovery mode.
Select Options, click Continue.
Choose Reinstall macOS Sonoma.
Then follow the wizard to reinstall macOS.
Open DoYourData Super Eraser for Mac, click Add to add the file to the erasure list. Then click on Erase Now button to permanently erase the deleted file.
You can enter into
macOS Recovery mode
and then select Disk Utility, then erase the startup disk. After that, you can reinstall macOS Sonoma on your Mac.
Conclusion:
The newfound convenience of the Erase All Content and Settings options in macOS Sonoma, Ventura and Monterey is appreciated. Suppose you've been putting off wiping content and Settings on your Mac because of the lengthy, inconvenient process that older macOS versions require. In that case, you can rest easy and try the brand-new macOS Sonoma, Monterey and Ventura capability. If you will sell your Mac, you can download a data erasure application to help you wipe the data permanently to prevent data recovery.