Erasing all types of data, including ZIP/DMG/RAR archives, has become something common, but it is necessary to make a permanent deletion if you really want to make them disappear completely. But how can you destroy this information in a permanent way? In his case, it is a great idea to look for a reliable data erasure software. Most of them offer particular features and sometimes better than others. One of these programs is DoYourData Super Eraser, which is highly recommended and very reliable. It can help you permanently delete all types of information, such as photos, videos, archives, word documents, audios, PDF files, music files, images, contacts, emails, notes, and more.
Easy way to completely destroy ZIP/DMG/RAR archives
People often have diverse reasons to completely destroy ZIP/DMG/RAR archives. Some of them just need to free some space on hard drive, but others could be interested in protecting their information after selling, getting rid of or giving it to another person. When that happens, it is a good idea to make a data backup and then find a professional software to permanently delete archives and so prevent them from being used by others. One of the best programs to erase data in a permanent way is DoYourData Super Eraser.
DoYourData Super Eraser is very reliable and easy to use. It is useful for wiping all types of information from different devices, including laptops, desktops, USB flash drives, camcorders, digital cameras, memory cards, and others. Permanently deletion is a very easy process and you can erase photos, archives, audios, PDF files, music files, etc. Just download and install the software on your computer. After running this program on the computer, choose one of the three modes it offers:
Mode 1: Selectively delete ZIP/DMG/RAR archives.
This first mode allows users to permanently delete a previous data selection. Here, people select all the files they want to erase and add them to the erasure list. Then, DoYourData Super Eraser will destroy them completely, so they cannot be restored by any data recovery software. Just click on the Erase Now button. You should make a data backup before deleting information permanently.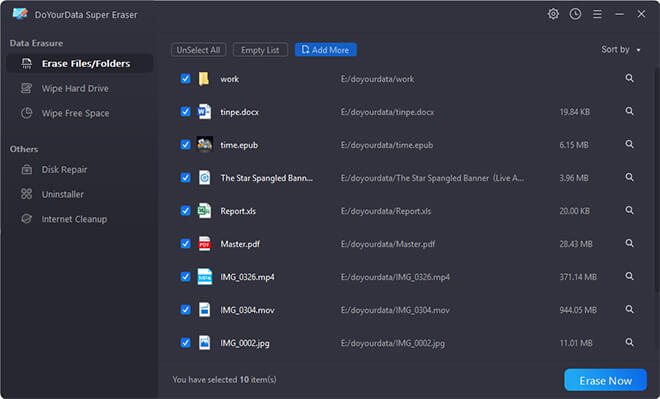 Mode 2: Wipe all ZIP/DMG/RAR archives.
This mode is good to destroy all archives. Here, you have to click on the Wipe Now button and DoYourData Super Eraser will permanently destroy all data including ZIP/DMG/RAR documents on your hard drive.these files in the future.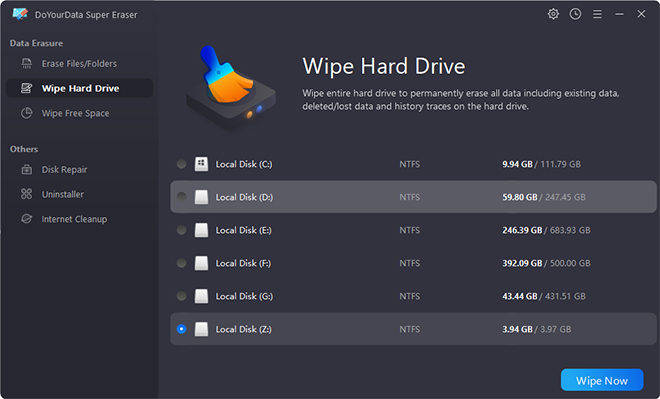 Mode 3: wipe already deleted ZIP/DMG/RAR archives.
If you only need to wipe already deleted ZIP/DMG/RAR files, just try this mode. It will wipe all deleted data including deleted ZIP/DMG/RAR files.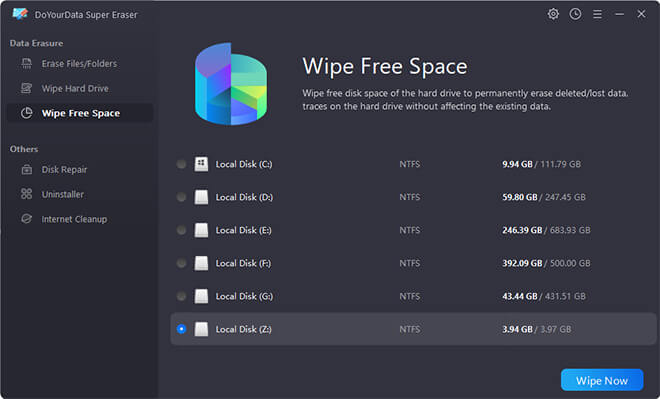 Data recovery software is able to easily and completely recover lost ZIP/DMG/RAR documents after deletion or format. If you want to permanently erase ZIP/DMG/RAR documents, just download DoYourData Super Eraser. Once the ZIP/DMG/RAR documents are erased by DoYourData Super Eraser, the erased documents will lost forever, can't be recovered by any data recovery software.
DoYourData Super Eraser also can help you erase photos, videos, audio files, PDF, Word, EXCEL, and other files. It can help you permanently erase data from any hard drive or digital device without causing any physical damage. Download this powerful data erasure software here: