When you delete files and empty the trash bin, the files are not really lost. The operation only removes the entrance of the deleted files and makes the disk space of the deleted files be available for new data. Before the disk space is overwritten by new data, you have a good chance to get them back with Mac data recovery software. If you only want to free up disk space by deleting useless files on your Mac, emptying the trash bin is the eventual step. However, when you are going to permanently destroy the deleted files, these operations of deletion are not enough to get your files lost forever. Fortunately, there is a good way to wipe emptied Mac trash and permanently erase deleted/lost files.
When the files are deleted/the trash bin has been emptied, they are stored into the unused disk space of the Mac hard drive. So wiping the emptied trash bin equals to wiping the unused disk space. In order to prevent the deleted files from being recovered by data recovery software, the unused disk space should be overwritten by zero/random data (not take up disk space). It sounds complicated but Mac data erasure software provides an easy way to do all the work.
Easy Steps to Wipe Emptied Mac Trash Bin
Before wiping emptied Mac trash bin, please download this Mac data erasure software – DoYourData Super Eraser for Mac. It is very easy-to-use. Any of us can use it to wipe emptied Mac trash bin to permanently erase deleted/lost data on the Mac hard drive.
Follow these steps to wipe emptied Mac trash bin:
Step 1: Launch DoYourData Super Eraser for Mac on your Mac, select the mode "Wipe Free Space".
Step 2: It will list all the drives on your Mac, just select the hard drive where you delete your files. In most cases, you just need to select "Mac HD".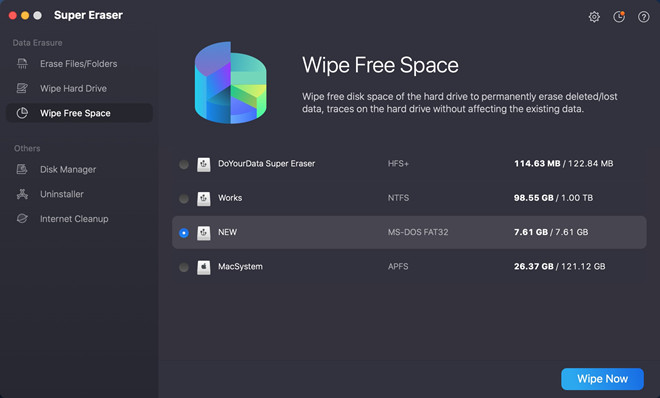 Step 3: After selecting the hard drive, click on "Wipe Now" button to completely wipe the unused disk space. When the process gets finished, all the deleted/lost data and history traces will be lost forever.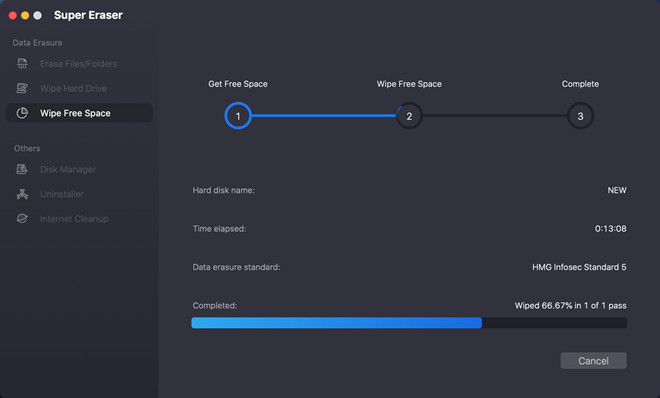 Benefits of Wiping Emptied Mac Trash Bin
The deleted/lost data will be lost permanently after wiping Mac trash bin. Now you can safely sell or give away your Mac to other people. Nobody can recover your deleted/lost data even with the most powerful Mac data recovery software.
Clean up all deleted/lost data and traces, improve the performance of your Mac.
It will not affect the existing data on your Mac and will not expend any of disk usage.
DoYourData Super Eraser for Mac offers secure and easy way to wipe emptied Mac trash bin. It is the best tool to destroy and erase the deleted/lost data on your Mac. It also offers other Mac data erasure solutions, such as:
Selectively erase existing files or folder on Mac.
Wipe entire hard drive or storage device.
Format or reformat Mac hard drive and storage media to permanently wipe all data.
Erase data from external hard drive, digital camera, USB flash drive or other storage device.