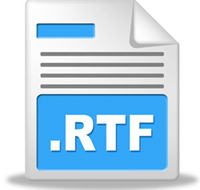 RTF stands for Rich Text Format and it is a type of word processing document. This format is compatible with diverse operating systems; it means, you can create a RTF file using one program on a particular operating system, like for example Windows, and then open it using Linux or Mac. Mac users always use RTF files to replace Word documents.
In some cases, you need to permanently shred some RTF files which contain very sensitive data information. For example, before you sell your Mac computer, you'd better permanently erase your private RTF files and other documents.
Easy way to permanently delete RTF files on Mac
Maybe, you have a lot of RTF files on your Mac computer and if you are planning to let somebody else use your Mac, it is better to make sure your personal information is deleted permanently. In case you want to permanently delete these files on Mac, you should use a reliable data erasure program, like DoYourData Super Eraser for Mac. There are different reasons, which may you consider erasing your files in a permanent way, like for example:
Give your computer away. You can give it to a third person, like a friend or a relative.
Get rid of your device. Maybe, it is damaged or useless and you need to be sure nobody else will recover your private information. It is good to emphasize that there are many data recovery programs useful for retrieving lost, formatted or deleted data from a wide variety of devices.
Sell your Mac. This is possibly one of the main reasons. Before selling it, you should create your own data backup and then permanently erase all the information stored on your Mac.
DoYourData Super Eraser for Mac is considered as one of the best programs to wipe data from your Windows or Mac computers. The best thing you have to do is downloading and installing the software on the Mac and then choose the mode you need to use:
Mode 1: Selectively shred RTF files on Mac.
If you choose this mode, you have to select all the RTF files you want to permanently delete on Mac. Then, click on the Erase Now button to let DoYourData Super Eraser carry out this task.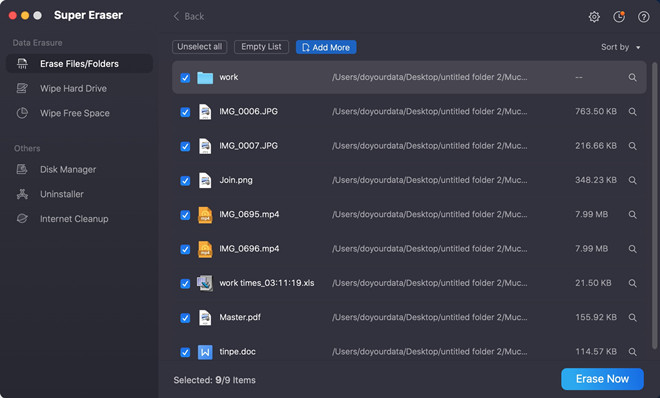 Mode 2: Wipe hard drive to destroy all RTF files on the hard drive.
Here, DoYourData Super Eraser for Mac will wipe the entire device or hard drive. Just choose a location and click on the Wipe Now button. All files including all RTF files will be permanently erased from the hard drive.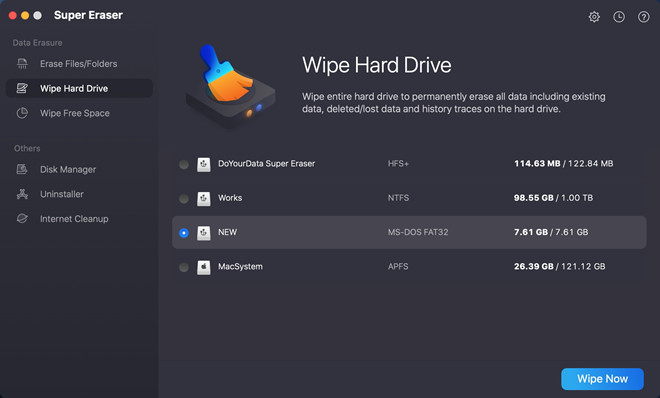 Mode 3: Erase deleted RTF files on Mac.
The third mode allows you to wipe already deleted data. This software will wipe free space of the hard drive to permanently erase deleted data on the hard drive without affecting existing data. Just click on the Wipe Now button.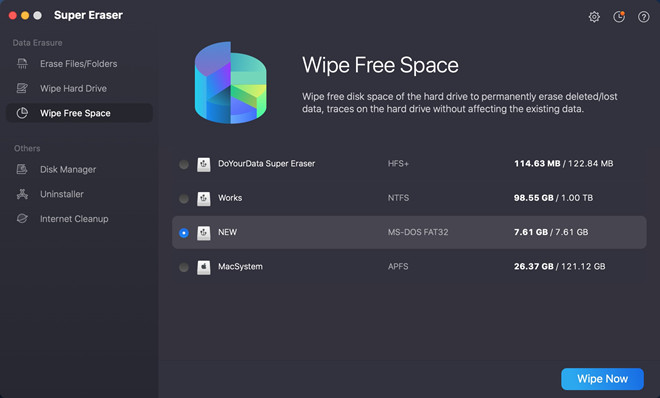 It is important to note that deleted documents can remain on the hard drive, though we cannot see them and that is why it is a great idea to use a good data erasure program to permanently delete files on the hard drive and DoYourData Super Eraser for Mac is one of your best options. It can help you securely and permanently erase RTF files, Word documents, PDF files, photos, videos, audio files and other types of files on Mac. Download it now: