In most cases, when you want to clean up your MacBook Air, you only need delete the useless files to the trash bin and empty it (the deleted or formatted files can be recovered by Mac data recovery software. But in some situations, you must permanently erase the data on your MacBook Air to protect your privacy. For instance, when you are going to resell, give away, donate, discard your MacBook Air orwhen you are sharing your MacBook Air with other people, you should permanently erase your private & sensitive data on the MacBook Air. How to permanently erase MacBook Air data? You should find the secure and effective way to wipe your MacBook Air data, given all of the possibility of data recovery. Here are some good solutions to help you permanently erase MacBook Air data.
Solution 1: Use Disk Utility to Erase MacBook Air Data
We all know that when you delete a file & empty the trash bin, the file still can be recovered easily by Mac data recovery software. Mac OS provides a built-in tool – Disk Utility to help you erase the hard drive. Open "Disk Utility," and then click on "Continue." Select your Mac's Startup Disk in the sidebar on the left, and then click your mouse pointer on the "Erase" tab on the right-hand side of the window.
Please note that:
Some of the files that erased by Disk Utility still can be recovered by Mac data recovery software. And it doesn't allow you selective erase your files or erase the deleted files.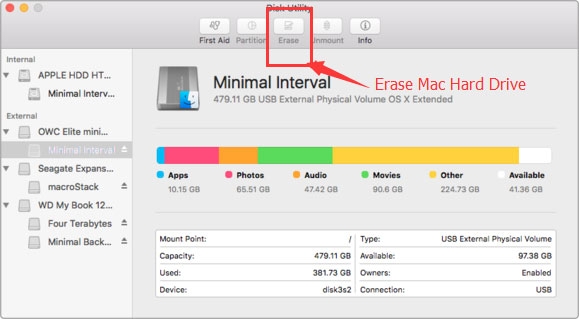 Solution 2: Permanently Erase MacBook Air Data with Super Eraser
Super Eraser is a powerful tool that is designed for permanently erase data from Mac devices (MacBook, MacBook Air, MacBook Pro, Mac Pro, iMac, Mac Server, Mac Mini) and storage media. It can help you permanently wipe MacBook Air data, and make data recovery impossible. Moreover, it offers three options to help you permanently erase MacBook Air data.
Option 1: Selective erase files or folders on MacBook Air.
If you don't want to erase the entire hard drive, this option is good for you. Just select the files or folders that contain your sensitive data, then click on Erase button, Super Eraser will help you permanently erase and destroy them, beyond the scope of data recovery.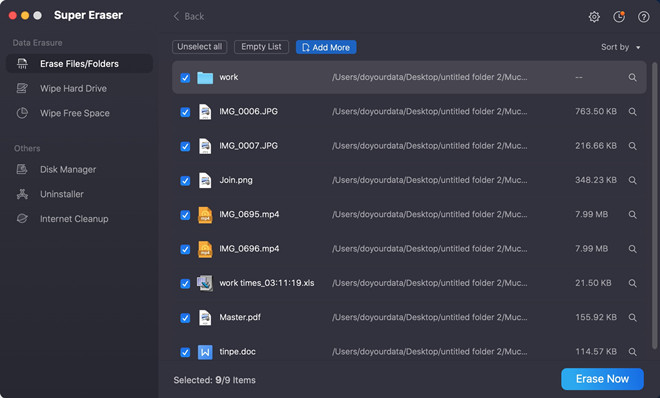 Option 2: Erase the entire hard drive.
This option is designed for wiping all the existing and deleted data on your hard drive or storage media. Please be careful when you choose this option because it will erase all the existing data and history data on the hard drive. After the process gets finished, all the data can never be recovered.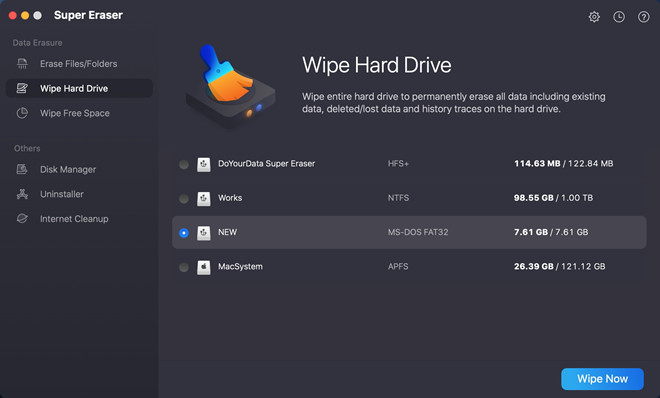 Option 3: Wipe unused disk space.
This option will help you wipe unused disk space to permanently erase the deleted/formatted/lost data on the hard drive. It will wipe all the history data and traces. At the same time, it will not erase the existing data.
Please note that:
Super Eraser will permanently erase the data and you can never recover the data by any data recovery software or service after using Super Eraser erases your MacBook Air. It is recommended to back up your important files to iCloud before you erase them.
And when you want to complete uninstall your Mac applications, you can use this tool – DoYourData AppUninser. This Mac Uninstaller will completely remove the Mac app and associated files.