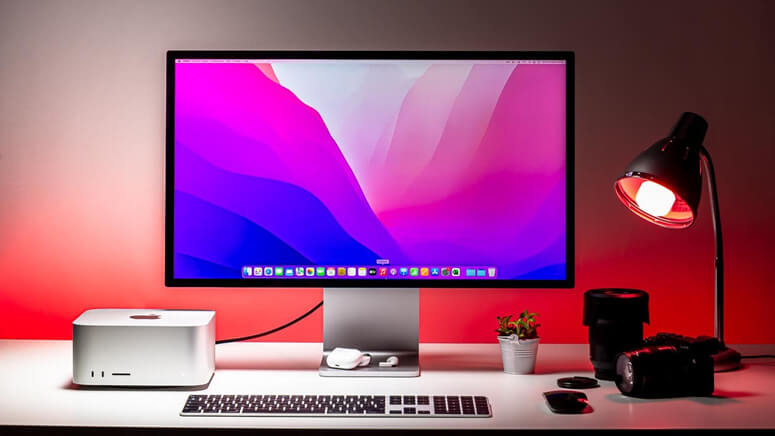 Apple offers a variety of products in the computing segment of its ecosystem. That includes MacBook as well as Mac Mini and now, the latest entrant, Apple Mac Studio.
No matter which Mac computer you own, there can always be a search to erase the data for some reason.
For example, you own the new Mac Studio; you used it and for some reason decided to sell it. But before you do that, you must be looking to delete your personal data from your Mac Studio to safely hand it over to the new buyer. That can be one reason for you to erase your Mac.
Moreover, if your Mac Studio has started to crash or hang, it can make you desperate to get it to work again normally and for that sake, you may need to erase your computer.
Also, while selling your Mac, it would be your top priority to hand it over to the buyer in clean condition, especially on buyer's demand just as you would have liked if you were the purchaser.
OR you just want to erase the data on your Mac to clean install macOS.
So many reasons, yet you may not be aware of how to erase the data on your Mac Studio. Surprisingly, the older macs are supposedly trickier to reset. While the newer macs, ones with macOS Monterey and M1 chipsets i.e., Mac Studio, offer a rather convenient method to erase the data. Here is a guide mentioning how to erase data on Mac Studio.
Note that if you face any abnormality while trying the below-given methods, stop and hand it over to some expert. Get it erased by someone who knows stuff (maybe under your supervision) to erase the data effectively.
Before you Erase…
Are you looking to reset your Mac Studio? If yes then before you proceed, make sure that you have backed up your important files. Since there can be some files that you may not want to lose, it is always a good idea to back up your Mac running on an M1 chip.
Now you would say that there is no need to make a backup since your Mac has iCloud, it backs everything up. Unfortunately, that may not be the case as some 3rd party data may not get backed up in this official app for macOS.
Therefore, you should manually make a proper backup using Apple's in-house backup tool, Time Machine. You can also use some suitable 3rd party software that promises to back up all those things that you require.
In comparison, a backup made with Apple's Time Machine might be easier to restore once you are done erasing your Mac. So, it seems to be a good idea to prefer Time Machine over other products for this process. Time machine uses an external storage device to make a backup (more info about Time Machine available on Apple's support page).
In case, you face any complications backing up or restoring your Mac Studio using Time Machine, ask for expert help from Apple Support or from someone who knows his job, to avoid any mishap.
On the other hand, you can also try to manually make a backup of your files. To do that, connect an external drive with your Mac and copy the required content to it. Keep it safe so that you can use it later when needed.
Method to Erase Data on Mac Studio
Since Mac Studio also uses the latest M1 chips from Apple, running on macOS Monterey, the procedure should be similar to that used with the Apple Mac Pro.
Here is how you can erase your Mac Studio. This method is derived from the guide available on Apple's official page, for Mac computers running macOS Monterey. The company itself asks its users to use this official guide (if applicable) instead of other methods.
Please note that this method will specifically work for Mac computers running on Apple's in-home-produced chipsets such as the M1 series. Since Mac Studio runs on an Apple Silicon i.e., M1 Max or M1 Ultra, therefore, this method should also work for this newly launched device.
To start with, in the top left corner of your Monterey running Mac screen, there must be an option called 'System Preferences', right next to the Apple logo. Clicking on it will bring a drop-down menu on the screen. From this menu, select the 'Erase All Content and Settings' option.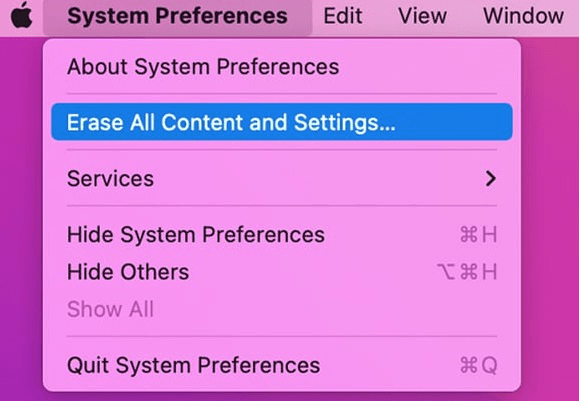 After you have chosen the required option, it might ask you to sign in using administrative credentials such as password, etc. After successfully passing this step, by putting in the right information, you will be directed to another screen asking you to make a backup before you erase the data.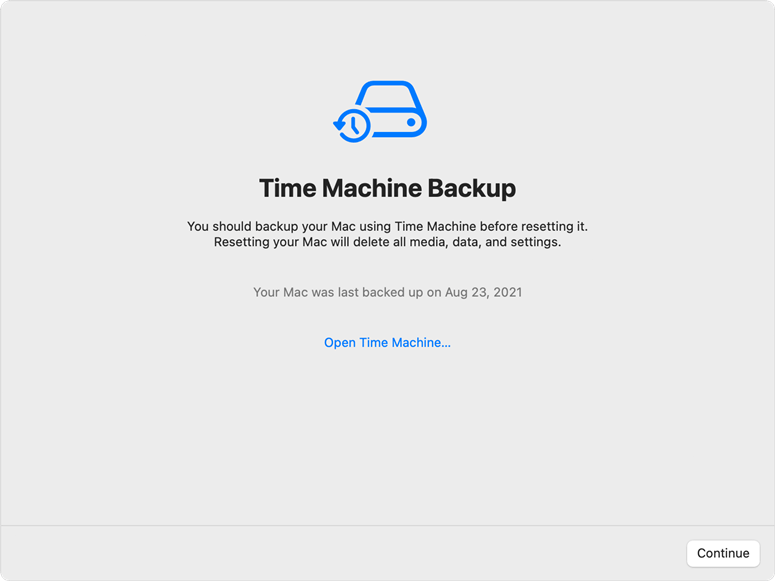 If you want to make a backup, you can click the 'Open Time Machine' button and follow the rest of the steps to make a backup first. Time Machine uses an external device to make a backup.
However, if you want to skip this step, click on the 'Continue' button. Here, you will see another screen where it will ask you about erasing your data such as settings, media, etc. Click 'continue' to further move ahead.
At this point, your device should ask you to sign out of your Apple ID. Follow the procedure to remove it. Now, one more tab will open presenting the text 'You are about to erase all content and settings from this Mac'. If you want to cancel the process, select 'Cancel' otherwise move on with the reset.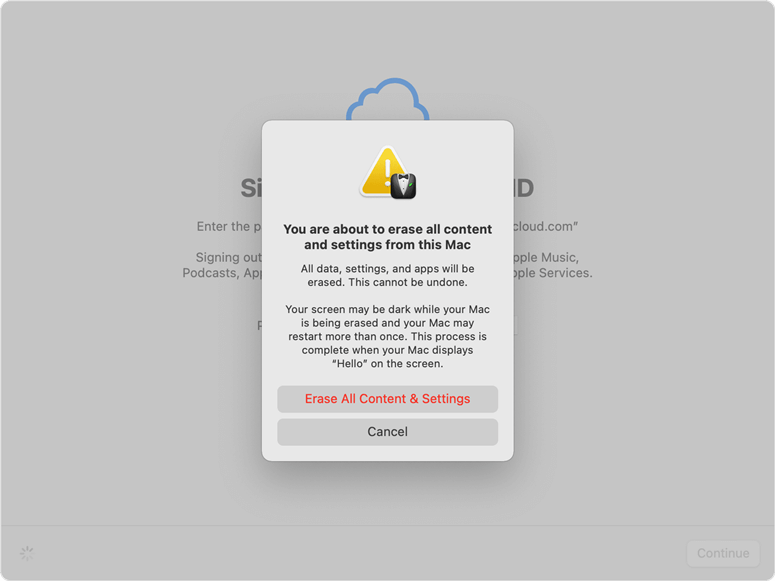 After this, Mac Studio can ask you to connect your Wi-Fi address. You may also need to connect your Bluetooth keyboard or mouse if you use one. With this step done, your Mac will ask for a restart.
After the restart, you will be directed to a setup page just like the setup you faced on the first startup of your Mac. As your will is to sell it, thence, don't proceed with the setup and just turn it off by using the Power button.
Please note that the method above can help you erase your data, but the erased data still can be recovered by data recovery software. For example, Do Your Data Recovery for Mac can help you easily recover lost data on Mac Studio. If you want to permanently erase data on your Mac Studio, just try data erasure software method.
Permanently Erase Data on Mac Studio with Super Eraser
DoYourData Super Eraser for Mac is a powerful & easy-to-use data erasure software. It can help you securely and permanently erase data from Mac machines or external devices. Once your data is erased by this software, the data is gone forever, can't be recovered by any data recovery software.
Three flexible data erasure modes.
Certified data erasure algorithms, such as HMG Infosec Standard 5 (1 pass), Peter Gutmann's algorithm 2 (2 passes), U.S. Army AR380-19 (3 passes), DoD 5220.22-M ECE (7 passes), Peter Gutmann's algorithm 35 (35 passes).
100% safe, no damage and will not shorten the service life of SSD.
Whether you want to shred a document on Mac Studio or wipe entire hard drive, just try DoYourData Super Eraser for Mac.
Mode 1. Erase Files.
Just add files/folders from Mac Studio to the erasure list, then click on Erase Now button. This mode will securely and permanently erase the selected files and folders.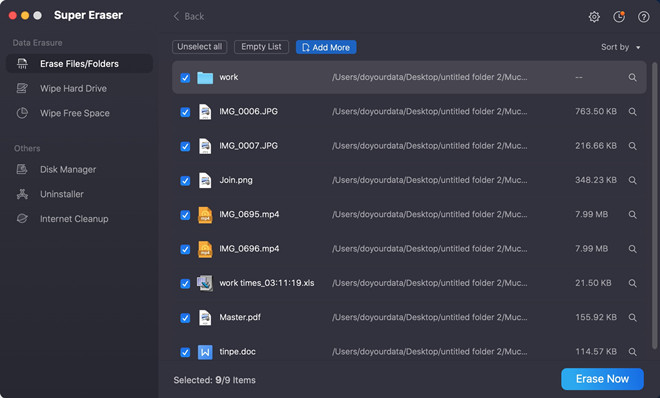 Mode 2. Wipe Hard Drive.
This mode can help you wipe all data from a hard drive or device. All data on the selected hard drive will be permanently erased.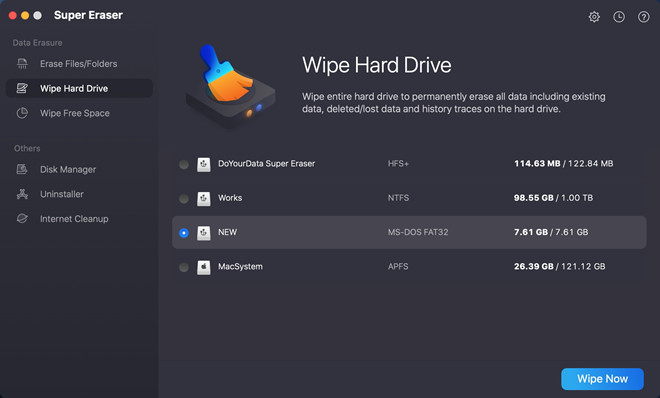 Mode 3. Wipe Free Space.
This mode will wipe free space of the Mac Studio hard drive, and permanently erase all deleted/lost data. It will not erase the existing data on your Mac Studio.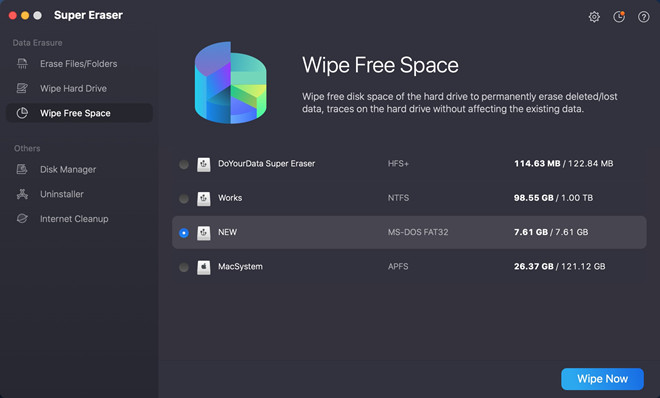 Conclusion
With this article, we tried to present the method to erase data on Mac Studio. We hope that this guide will help the owners of Mac Studio. If you will sell or donate your Mac Studio, you'd better download DoYourData Super Eraser for Mac to help to permanently wipe all sensitive data.