Deleting all information and settings without a complete reinstall is a feature built into iOS and iPad. Macs have also been given access to this function because of Apple's release of macOS Monterey.
The new Erase All Content and Settings function in macOS Monterey is one of the most time-saving additions. Without reinstalling macOS, this function may be used to completely clear a Mac of all user data and software installations.
Mac administrators can save time in various scenarios, including offboarding staff and securing sensitive data in the event of a stolen or lost Mac. Let's take a closer look at the latest improvement.
At What Point Should Erase All Content and Settings Required
You'll need to reset your Mac to factory settings in several scenarios. Some typical causes of erasing all content and settings are as follows:
You've decided to sell or donate your Mac to a new owner.
Major malicious software infestation.
You want to start again.
You should erase all the content and settings from your Mac before transferring it to someone else. If you don't, the individual who just bought your company might potentially access your sensitive information.
Securely wiping the device in macOS erases all content and settings but does not affect the operating system so that the Mac may be handed over without further preparation.
The built-in security mechanisms in macOS have become extremely reliable over the years. However, there are situations when malware proves to be difficult to eliminate. The issue may be eliminated by deleting all data and configurations in this situation.
Over time, our Macs may get fairly crowded, and cleaning up can become a chore. If your computer is operating slowly and you don't care about the information stored on it, you may delete everything and start again.
While this isn't something we often suggest doing, there are times when it's the simplest approach.
The Precise Method to Erase All Content and Settings
If you have a Mac running macOS Monterey or later and it has Apple Silicon or a T2 Security Chip, you can erase all of your data with a few clicks in System Preferences. You may launch Apple software by selecting the company's logo from the menu bar. The "System Preferences" menu item will appear.

Ignore the pop-up box that appears when you click System Preferences and return your gaze to the screen's upper-right corner. In the menu, choose "System Preferences," then "Erase All Content and Settings."
When you click the button, a program named "Erase Assistant" will launch and prompt you to provide an administrator's login details. In this field, please provide the username and password for an account with Administrator access on your Mac.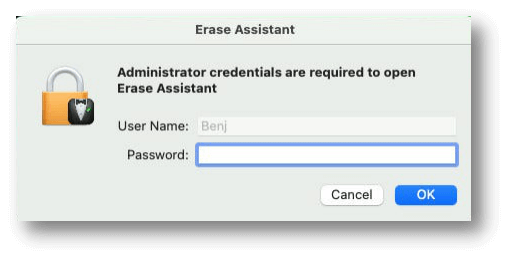 A Time Machine backup should then be performed, which is the following step and is completely optional. If that's the case, launch Time Machine and follow the on-screen directions to create an external disk backup. When you are finished, proceed to Erase Assistant by selecting "Continue."
The Erase All Content & Settings box will come after the Time Machine dialog (optional and may not be displayed on all PCs). When you put your mouse pointer next to your account name, the Erase Assistant will show you what it plans to do. In order to go further, please click the "Continue" button.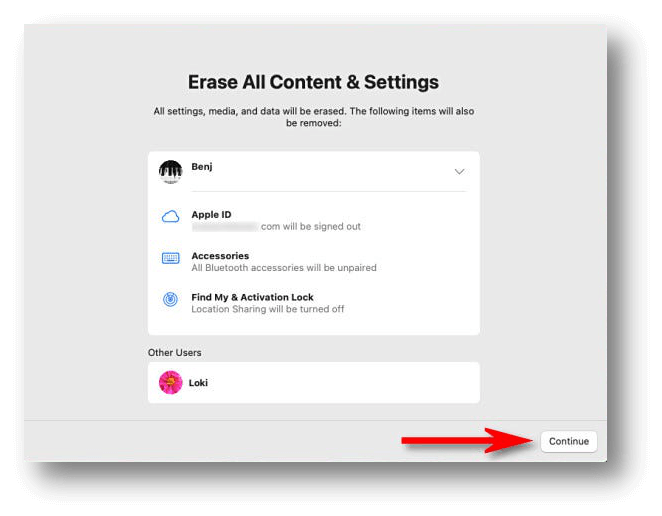 To sign out of Apple ID, enter your Apple ID and password. Next, a caution screen will appear.
Warning:
Before wiping your Mac, you should make sure you have copies of all of your data elsewhere. Everything on the Mac, including programs, settings, documents, images, and videos, will be erased.
Don't touch "Erase All Content & Settings" unless you're ready and sure you have a backup. You cannot reverse this action, so beware.
When you click the button, your Mac will restart and display a progress bar while it deletes everything on its hard drive. After it's finished, you'll be prompted to set up your Mac again, just as if it were a brand new device, so feel free to start from scratch if you'd like or pass it along to someone else to configure at a later time.
The erased data still can be recovered by data recovery software.
Permanently erase data on Mac
Erase All Content and Settings function can help you wipe all data from your Mac, but the erased data is not lost forever, and can be recovered by data recovery software. Check this guide: how to recover lost data after erasing Mac disk using Disk Utility >>
Before you sell or donate your Mac, you'd better permanently wipe all your data to avoid information leakage. Data erasure software - DoYourData Super Eraser can help you permanently wipe data on Mac. Once the data is erased by DoYourData Super Eraser, the data is gone forever, can't be recovered by any method.
DoYourData Super Eraser for Mac
Permanently shred files, wipe disk, erase deleted data on Mac.
Certified data erasure standards.
The erased data is lost forever.
If you have erase all contents and settings on your Mac, just try Wipe Free Space mode to help you permanently wipe all deleted/lost data on your Mac. Then all your data on your Mac is gone forever.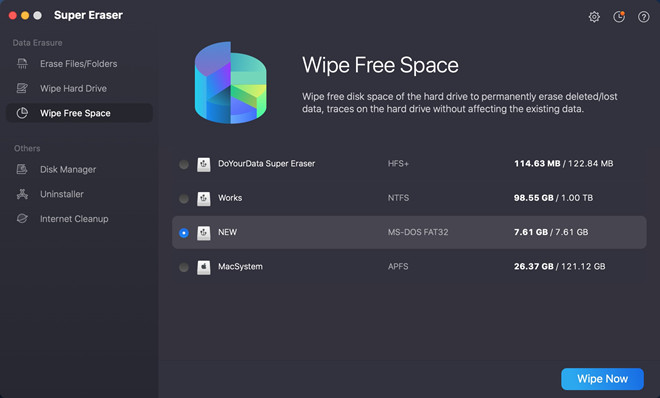 Conclusion
A new feature in macOS, the ability to delete all data and configurations without first accessing the recovery disk, may seem like a little change. Still, it may save a lot of time and frustration in practice. Apple made a good step by recreating a function that iOS users are already acquainted with, and the new approach is far more straightforward than the previous one.