You may wish to erase all the data on a hard disk or a solid-state drive and start from scratch at some point in your computer's life. Once the drive has been formatted, it may be used as a storage device again by mapping out faulty sectors, building address tables for finding the data on the disk, and more.
In the same way, you may have bought a new drive that was already set up for Windows when you bought it. In order to use it with your Mac, you must first reformat the hard disk. The technique for formatting a drive to be used as your Mac's startup drive is a little more complicated than the procedure for formatting a drive to be used as a secondary storage device.
How Can I Format My Mac's Startup Disk?
All data on the Mac startup disk will be permanently deleted if you erase it. Make sure that you have a copy of all of your important data. Even though the location of buttons and background color vary somewhat across operating systems, the basic method stays the same.
This is how you can format your Mac's starting disk:
Step 1. Boot your Mac into the macOS Recovery mode
Since the drive cannot be formatted while in use, you must first boot your Mac into the Mac Recovery mode, it's important to know that M1/M2 Macs and Intel-based Macs have different methods for entering macOS Recovery mode.
Apple Silicon Chip: Hold power button when restarting the Mac and enter into macOS Recovery mode.
Intel-chip Mac: Press Command + R keys when restarting the Mac and enter into macOS Recovery mode.
The starting process is complete after the Utilities window appears. You'll be prompted to choose a user whose password you know, so choose the one you are familiar with and type it in.
Step 2. Launch Disk Utility
When you're in the macOS Utility window, choose Disk Utility and click Continue.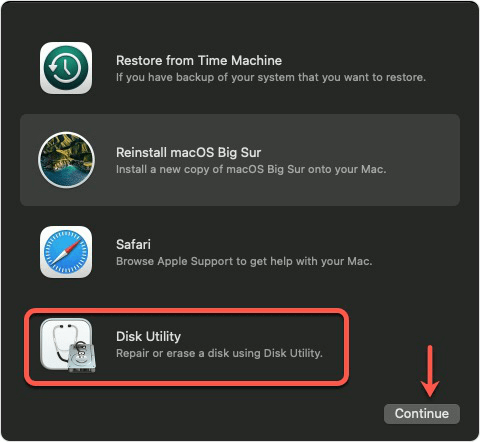 Step 3. In Disk Utility, Choose the Starting Disk
Click on View, then See All Devices. A list of all presently attached drives may be seen in the left-hand sidebar.
Macintosh HD, Home HD, or a custom name are common choices for the startup disk. The Mac hard drive includes two volumes, one for the operating system and one for the user's data, on macOS Catalina and later, which are occasionally included in an APFS container.
As a result, you must first wipe Macintosh HD - Data by pressing the delete volume button (-). Do the same for any additional internal volumes. Otherwise, the reinstallation will generate a new disk titled "Macintosh HD-Data," and you may run into a variety of problems.
In the top-right menu, click Erase after selecting Macintosh HD as the startup disk.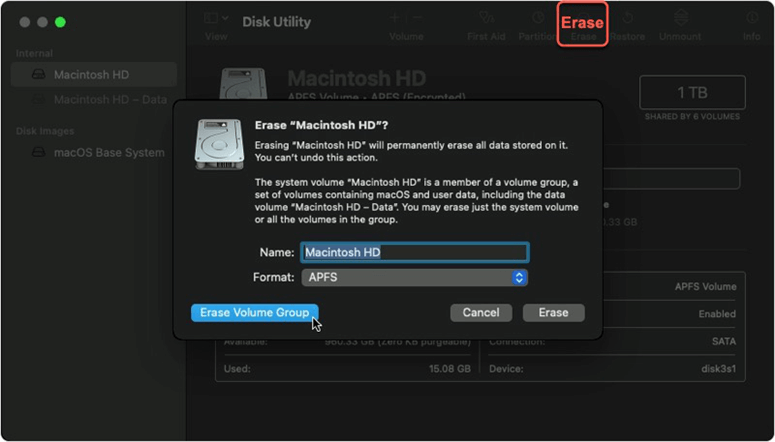 Keep in mind that the macOS Base System disk image includes critical data for your Mac's seamless operation.
Step 4. Name and Format
You can modify the default name of the starting drive, Macintosh HD, in the dialog box that appears. If you want to pick a file system, click the Format drop-down option.
There are a variety of file systems to choose from depending on the operating system. Check out the following list to learn about file system settings.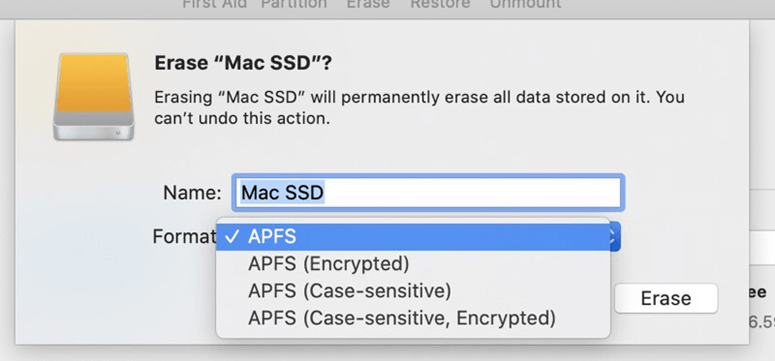 If you're using a Mac with macOS 10.13 or later:
APFS: As the default file system, APFS is used. You may leave it unchecked if you don't want encryption or case sensitivity in your format.
APFS (Encrypted): This option provides an additional layer of protection.
APFS (Case-sensitive): As long as you're acclimated to case-sensitive file systems, this is the one for you. Video and video are separate directories for this choice.
APFS (Case-sensitive, Encrypted): Allows for the highest level of security and case sensitivity for files and directories.
If you're using a Mac with macOS 10.12 or earlier:
Mac OS Extended (Journaled): If you don't require an encrypted or case-sensitive format, this is the best choice for you to use.
Mac OS Extended (Journaled, Encrypted):  Improve your safety by using this method.
Mac OS Extended (Case-sensitive, Journaled): If you want case-sensitive files and folders, choose this option.
Mac OS Extended (Case-sensitive, Journaled, Encrypted): A case-sensitive system with additional security is available with this option.
Choosing whether or not to use the default file system is entirely up to you. Once you've completed naming and formatting the starting disk, click Erase to wipe it. If requested, enter your Apple ID.
Step 5. Close Disk Utility
To return to the Utilities window, choose Disk Utility from the menu bar in the upper-left corner of the screen and hit Quit Disk Utility. Closing Disk Utility is as simple as clicking its red cross. To exit recovery mode, press Command + Q, or choose Reinstall macOS and hit Continue to start Mac afresh with the formatted startup drive.
Tips:
The formatted data on Mac startup disk can be recovered by data recovery software. It means you can recover lost data from the startup disk after erasing it with Disk Utility.
If you want to permanently erase data on Mac's startup disk, check this guide: permanently erase data from Mac startup disk >>
If you want to format system drive on Windows, here is the guide: how to format C drive on Windows >>
Conclusion
In this article, you've learned almost all you need to know about using Drive Utility to format your Mac's startup disk. You may also utilize data recovery software if you accidentally or unintentionally delete an essential file.
DoYourData Products
Clone HDD, SSD, Mac OS, external disk, USB drive, and more under Mac OS.
Free Trial