Quick Navigation:
Using NTFS external hard disks on a Mac has never been simple. Macs can read files saved in the Windows-based NTFS format, but it can not write data to NTFS drives or change the contents stored on the NTFS drives. To solve this NTFS drive read-only issue, you need to install a NTFS for Mac tool or NTFS driver on your Mac.
Furthermore, Apple has altered the kernel architecture of macOS, beginning with Ventura, which impacts how NTFS operates. Even if you've had an NTFS driver for Mac before, it won't work with current macOS versions.
Does NTFS function on a Mac? And if so, what are the best methods for mounting Microsoft NTFS devices on a Mac, writing to NTFS on a Mac, and other related tasks?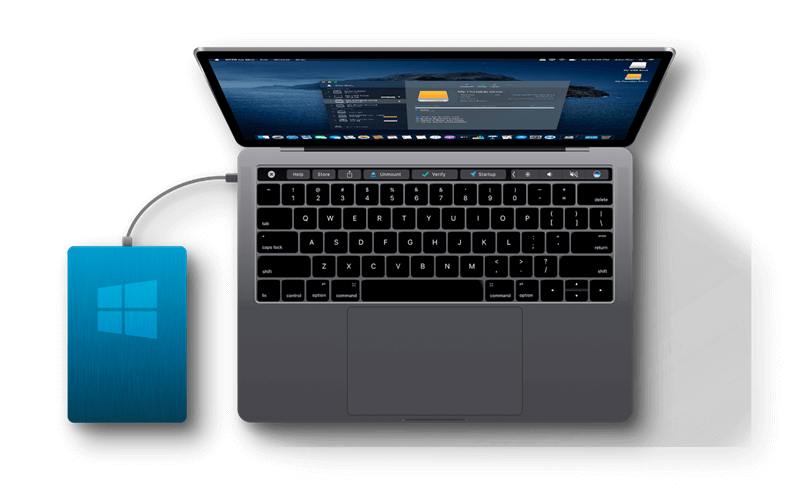 What is NTFS for Mac, and why would a Mac user require it?
The third-party program NTFS for Mac makes NTFS drives completely read-write on Mac. Macs read-only NTFS. Thus, Macs cannot write to NTFS disks, including moving, deleting, and editing files.
Thus, a third-party NTFS for Mac utility lets Mac users read and write NTFS drives like Windows users. Mac NTFS is that tool. Some developers called it NTFS Mounter for Mac, NTFS File Explorer, Disk Mounter, NTFS Driver for Mac or similar.
Terminal usage is also not advised. Why? This function is experimental and may cause Mac and NTFS drive data loss. Running Terminal command lines is difficult. Any mistake will destroy macOS and the NTFS drive.
Overall, NTFS for Mac is the best way to read and write NTFS volumes on Mac securely and reliably. Seagate NTFS driver for Mac, Samsung NTFS driver, Toshiba NTFS drivers or WD NTFS drivers for Mac provide full write and edit capability for any NTFS hard disk. Without reformatting and relocating files, it saves a lot of time.
What is the Mac NTFS driver?
The term NTFS driver for Mac or NTFS for Mac refers to software that enables Macs to save data to NTFS drives, such as those manufactured by WD and Seagate. Files stored on NTFS disks can be directly managed from Mac computers using an NTFS for Mac software application to copy, create, edit, and delete files. The NTFS drive can be used without being converted to an APFS or HFS+ format, which is required for use with a Mac.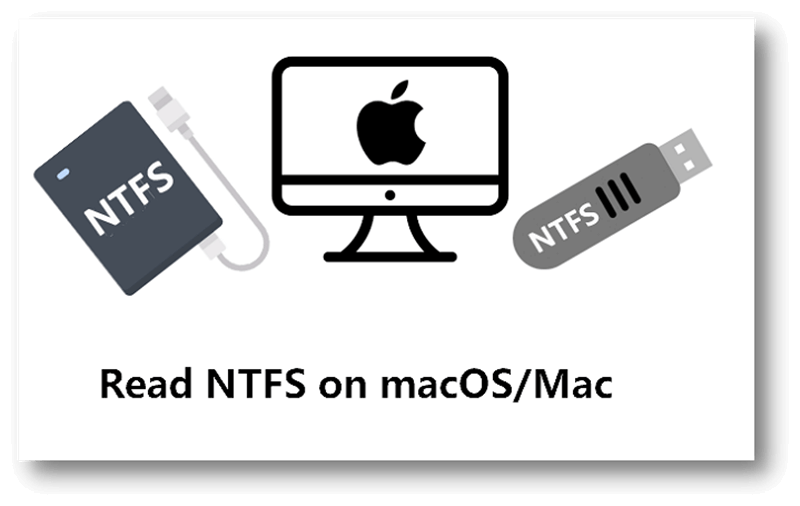 Can NTFS files be read on a Mac?
Since NTFS is a Microsoft-exclusive technology, any other company interested in natively supporting it on their operating systems must obtain a license.
Apple does not have an active NTFS license. Instead, Macs use a modified version of FreeBSD's read-only NTFS implementation. There have been attempts to implement NTFS writing rights on Mac, but the code was never stable and continued to produce bugs that would cause the operating system to crash.
Before Apple's architecture change for macOS Ventura, installing NTFS drivers was viable for getting around kernel constraints. So, what are the advantages for Mac users of using USBs and external disks formatted with NTFS?
Best NTFS drivers for Mac
Several NTFS for Mac software options are available. However, not every one of them has great performance and compatibility. Be wary of any software that claims to be a free alternative to the official NTFS Writer for Mac or NTFS Reader for Mac.
Here, we recommend the best NTFS for Mac if you have no idea what to look for when selecting.
This NTFS for Mac tool is highly recommended because of the ease of use and powerful features. It supports the latest macOS and Apple silicon Macs. Download it here:
After downloading and installing this NTFS for Mac tool on your Mac, just connect the NTFS disk to your Mac. Then select the NTFS disk, click Enable Writable. It will quickly grant full read-write access to NTFS drives on Mac. Than you can use the NTFS drive on your Mac as you use it on a Windows PC.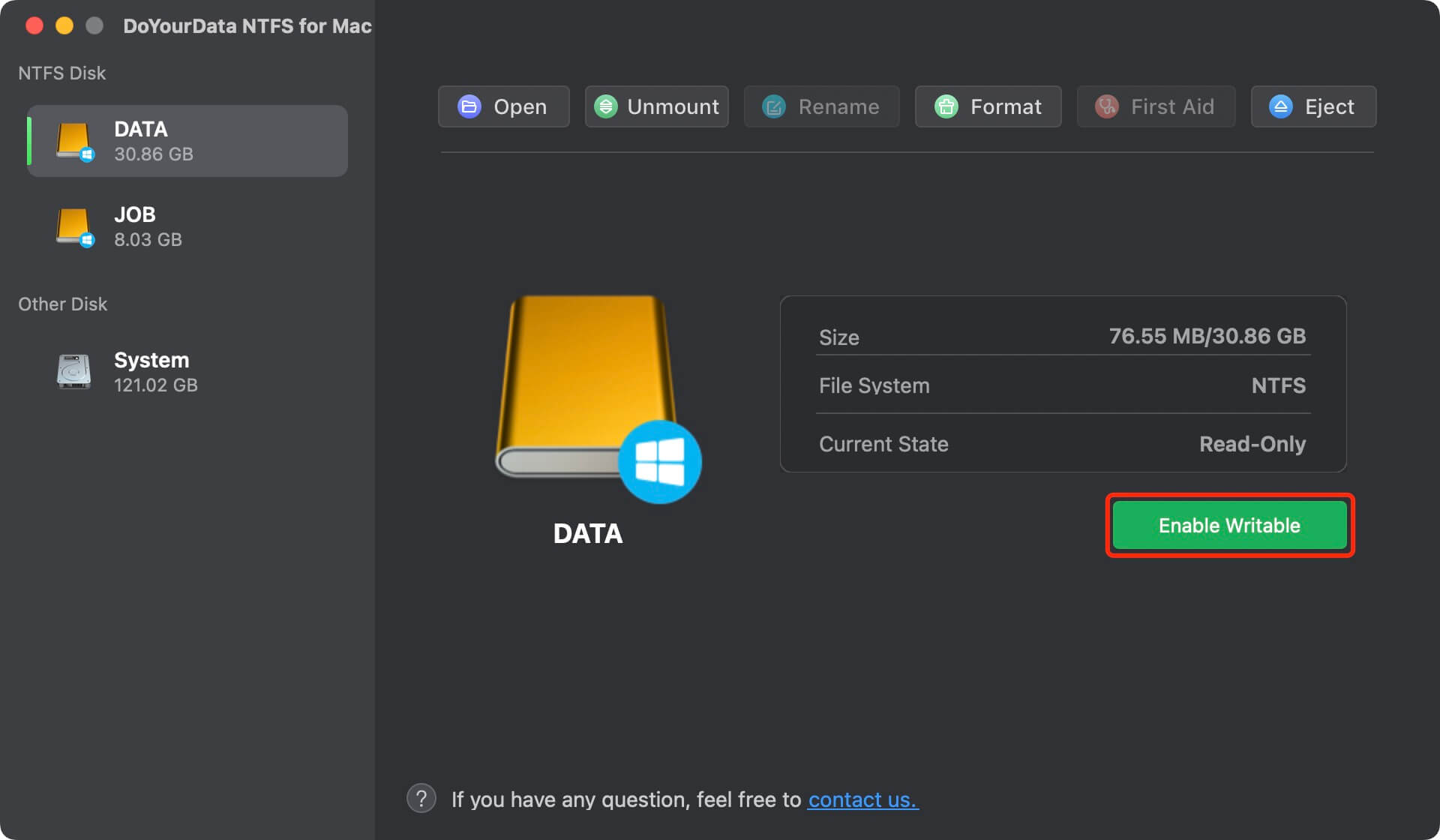 DoYourData NTFS for Mac supports all brands of hard drives such as Apple, Microsoft, Seagate, Toshiba, Western Digital, Samsung, HP, Huiwei, Xiaomi, G-drive, LaCie, etc. It also can help you open drive, mount/unmount drive, repair drive, eject drive, rename drive on Mac.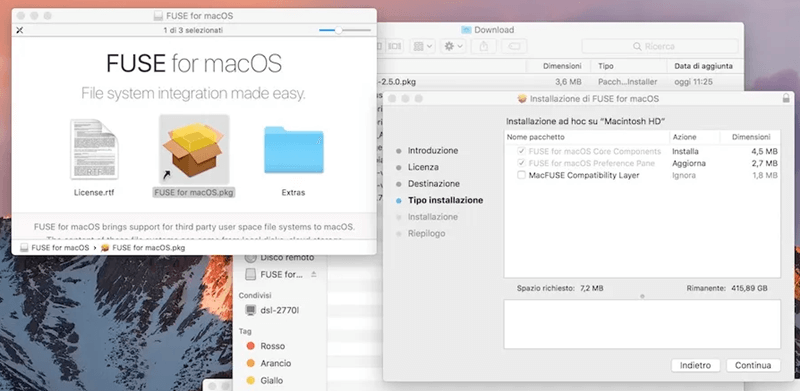 This option is cost-free but time-consuming and insecure. Mounting NTFS volumes on a Mac requires temporarily disabling System Integrity Protection and replacing one of Apple's built-in tools with a more susceptible attack binary. This approach is, therefore, unsafe.
If you don't mind using the Terminal, you can manually mount NTFS volumes in read-write mode using FUSE. More effort is required, but the security is higher.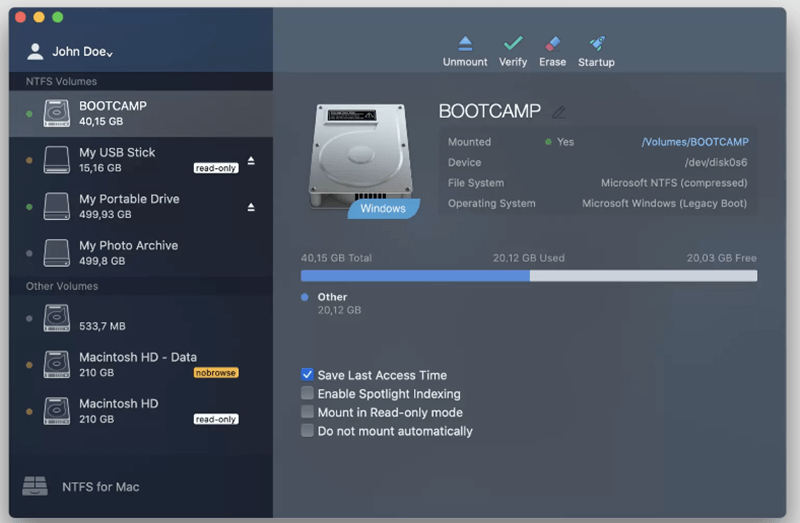 Paragon NTFS for Mac is another option that provides you with the greatest NTFS for Mac performance and access to compatibility and utility. A file system driver lets your Mac read and write to storage devices formatted in Windows's NTFS file system, such as hard disks, solid-state drives (SSDs), USB flash drives, and thumb drives.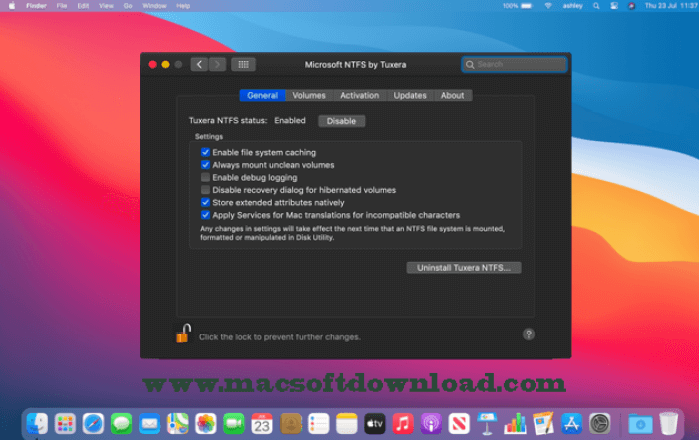 When it comes to giving a higher quality experience simply and straightforwardly, Tuxera is another useful tool at your disposal. This application is a commercial implementation of the NTFS file system, and it may be used to read and write files on a Mac OS computer. The software is based on NTFS-3G technology, providing an excellent experience accessing all the data stored on an NTFS disk.
Conclusion:
If you need to access a Windows NTFS drive from your Mac, NTFS for Mac is among the best options available. Using NTFS for Mac software should be necessary if you intend to continue switching back and forth between PCs and Macs.
Given its many benefits, DoYourData NTFS for Mac seems ideal. You only need to try it once to realize it's superior to nearly all other options. This NTFS driver for Mac is fully compatible with the latest macOS and Apple silicon chips. Just 1-click away, you can enable full NTFS support on your Mac. Then you can write data to NTFS drive or modify contents on NTFS drive without any limitation.