Deleted or Formatted Data Can be Recovered on SD Card
When you have to permanently erase your SD card data? Every time when you want to keep you personal information safe, you'd better destroy or erase your SD card data. For instance, before you resell your digital camera, lend out your SD card, share your SD card with other people, it is recommended to erase your SD card data.
Some of us have known that we can't get data permanently lost by deletion or formatting your SD card. Whether deleting your files or formatting the SD card, the data is not permanently lost. There should be a good chance for you or other people to recover the data from your SD card with data recovery software or manual data recovery service after deletion or format. If you just delete your data or format the SD card, you are still facing issues of data leakage. Other people can easily recover your data with free data recovery software like Do Your Data Recovery Free.
If you want to permanently erase SD Card data, you have to find a solution that can destroy, shred the data and overwrite the disk space of the data.
Permanently Erase SD Card data with Data Erasure Software
If you very understand the principle of data recovery, you will find your way to avoid data recovery on your SD card. But for common users, the best way to permanently erase SD card data is turning to professional data erasure software.
DoYourData Super Eraser is a very powerful yet easy to use data erasure tool that can help users permanently erase data from SD card. With advanced data erasure technology, Super Eraser can destroy, shred and overwrite your data or files on the SD card to make it permanently lost. After erasing data with Super Eraser, the data can't be recovered by any data recovery software, even the manual data recovery service can't recover it.
Two Steps to Permanently Erase SD Card with Super Eraser
First of all, please download and install Super Eraser on your PC or Mac. When you want to erase data, just launch it on your computer. The following two steps can help you permanently erase data on your SD card.
Step 1: Connect your SD card with your computer
Step 2: Choose the files from your SD card to erase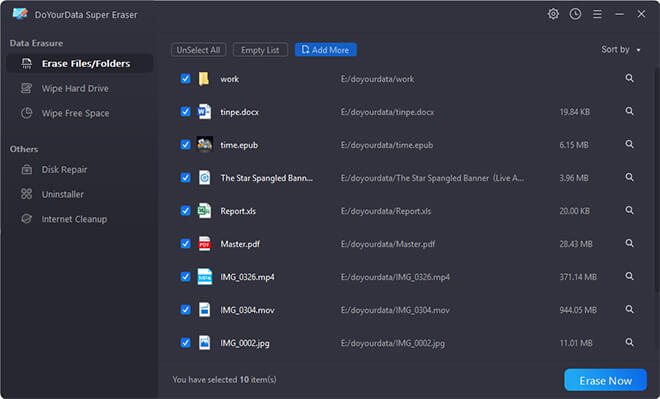 Step 3: Permanently erase files from SD card.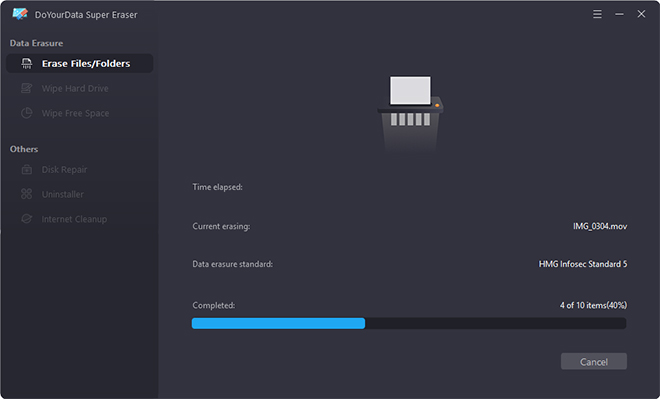 When you are using DoYourData Super Eraser, you should know that after erasure, the data is permanently lost with no chance of data recovery. So please think carefully before erasing your files. It is recommended to back up your data to another place in case that you will need it in the future.