CBL Data Shredder is a small free disk wipe software for Windows. When the data should be permanently erased, you can download CBL Data Shredder to wipe your entire hard drive. It is free disk wipe software, but it only offers one mode to help you erase data: wipe hard drive. And the interface is not user-friendly. If you want to a more powerful CBL Data Shredder, just download the best CBL Data Shredder alternative for Windows/Mac OS.
Why need CBL Data Shredder?
As most of deleted/formatted data can be recovered by data recovery software, so it is unsafe when we dispose our old computer or digital device. Other people is able to easily recover our deleted data from our computer hard drive, memory card, USB flash drive, digital camera, etc.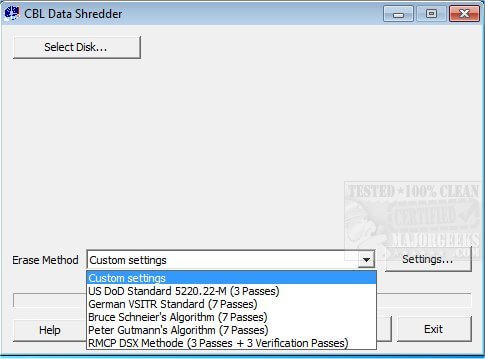 Before we sell, donate or dispose our computer or digital device, we should permanently erase all data on the hard drive or device. CBL Data Shredder is a tool which can permanently wipe data information on disk drive and external device. The CBL Data Shredder program implements the method he devised based on his findings, erasing data with several series of passes to minimize data remnants on drives using any current techniques of encoding data on the disk.
Best CBL Data Shredder alternative
Data erasure software is the good tool for wiping data on targeted hard drive or digital device. Here, we introduce a reliable CBL Data Shredder alternative tool - DoYourData Super Eraser. It is very easy-to-use and offers three flexible data erasure modes & outstanding system tools. First of all, let's see the three data erasure modes.
Mode 1: Erase files and folders.
This modes can help use permanently erase files/folders. We just need to add files/folders to the erasure list, then permanently erase the added files and folders. Very simple.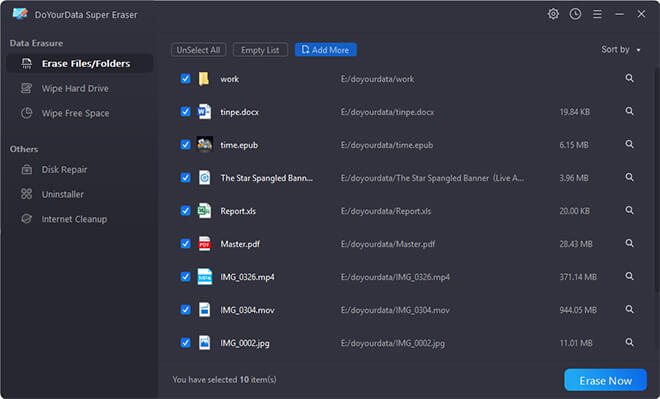 Mode 2: Wipe hard drive.
Wipe Hard Drive mode can help us wipe an entire hard drive. All the data on the selected hard drive will be permanently erased.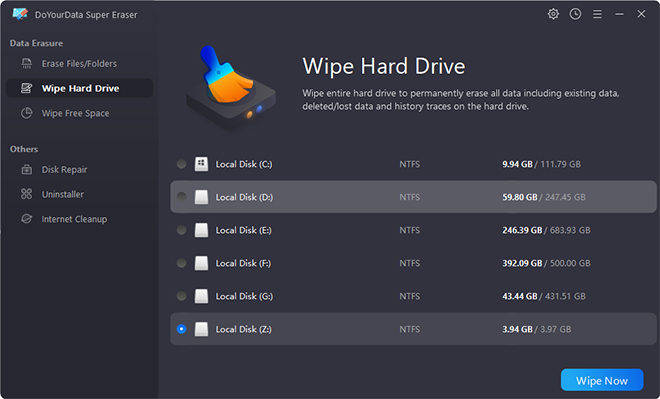 Mode 3: Erase free disk space.
The deleted data is stored on the free disk space. Just run this mode to wipe the free disk space to permanently erase all already deleted data.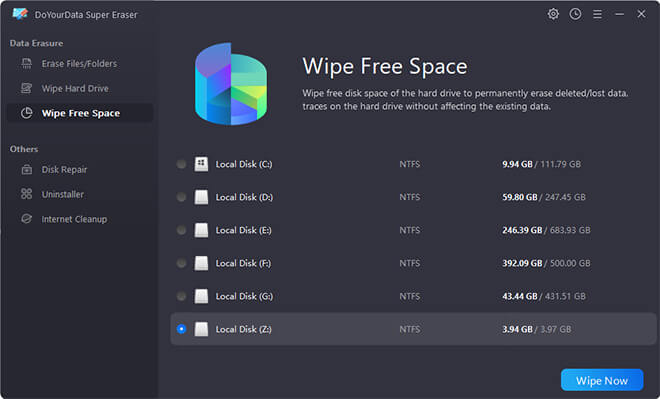 Once the data is erased by DoYourData Super Eraser, the data is gone forever, can't be recovered by any data recovery method. This CBL Data Shredder offers certified data erasure methods, including HMG Infosec Standard 5, Baseline, DOD 5220.22-M, U.S. Army AR380-19, Peter Gutmann's algorithm. It can be installed on both Windows computer and Mac computer. As you've seen, it is much powerful than CBL Data Shredder, most of users choose this data erasure software for permanently erasing data.
And more, DoYourData Super Eraser also offers other tools. The uninstaller can help us securely uninstall unwanted programs on our computer and clean up all leftovers including software junk, caches, register files, useless data, etc. The internet cleaner is able to remove all useless browsers' histories, cookies, passwords, etc.
Run CBL Data Shredder alternative to erase your data before you sell, donate, or dispose your computer, digital device. And you also can run this software to reset your computer to factory status.
DOWNLOAD CBL Data Shredder alternative for Windows and CBL Data Shredder alternative for Mac: