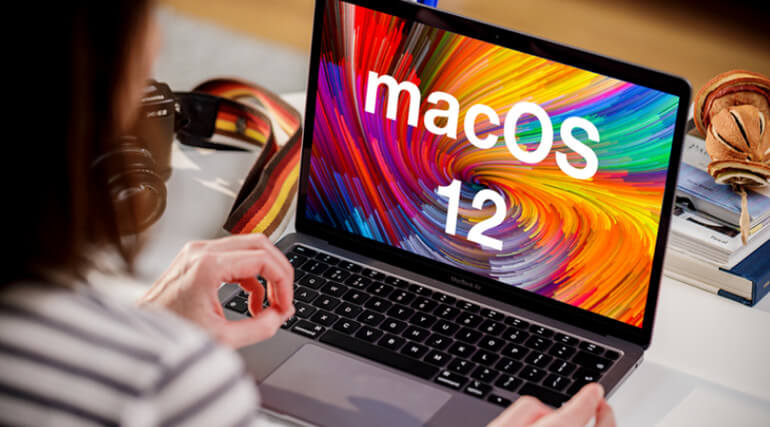 Cloning your Mac is an option that you may wish to use frequently. However, although the built-in Time Machine utility in macOS performs the job, it does have certain limitations and isn't very customizable. Using disk cloning software on a Mac, you may clone or back up your hard drive. In this article, we will show you how to clone SSD to an external hard drive after upgrading to macOS Monterey.
An external hard drive may be used for a variety of purposes. Disk Utility is a function that makes it simple to sync data between a desktop and a laptop, extend storage, or create a bootable backup of your system. For cloning hard drives after updating to macOS Monterey, you'll need to obtain software that is compatible with the new operating system.
To ensure that you can recover data from a failing hard drive, it is advisable to have a clone of your Mac SSD. Instead of continually updating and replacing earlier versions, clones act as a snapshot of your Mac. They may be kept for as long as you choose. In contrast, incremental backups are becoming more popular.
macOS Monterey users may use the following techniques to safely and quickly clone their startup disks or other storage devices to external hard drives.
Why is it necessary to clone your hard drive?
You may want to back up your macOS Monterey SSDD. At some point when using a Mac, you must have had this thought. Cloned hard drives safeguard your essential data from being lost, damaged, or corrupted in any way.
Your hard disk can't be guaranteed to last for eternity if it fails or crashes. There is a real danger of losing any of your data if you continue to utilize an old hard disk.
It's also complicated to recover any critical documents or data that were misplaced in the process. That is why knowing how to clone your Mac's hard drive might help you prevent data loss in the first place.
Prepare Your External HDD
Suppose you wish to install macOS on an external drive successfully. In that case, the disk you choose must be capable of doing the operation. As a particular requirement, it must be at least 64 GB in size and formatted using the GUID partitioning method and APFS file systems.
To ensure that your external hard drive has been newly formatted according to the specifications, we suggest that you take the following preparatory steps:
Step 1. Connect your Mac to the external HDD.
Step 2. In Applications -> Utilities, find Disk Utility and open it.
Step 3. To see all of your devices, go to View > Show All Devices.
Step 4. Choose your external hard drive (not just a single partition).
Step 5. Select Erase from the menu that appears.
Step 6.The partition scheme should be "GUID Partition Map" and the disk format "Mac OS Extended (Journaled)." Give the external hard drive an appropriate name.
Step 7. To prepare your external drive, click Erase and wait for the Disk Utility to complete the process for you.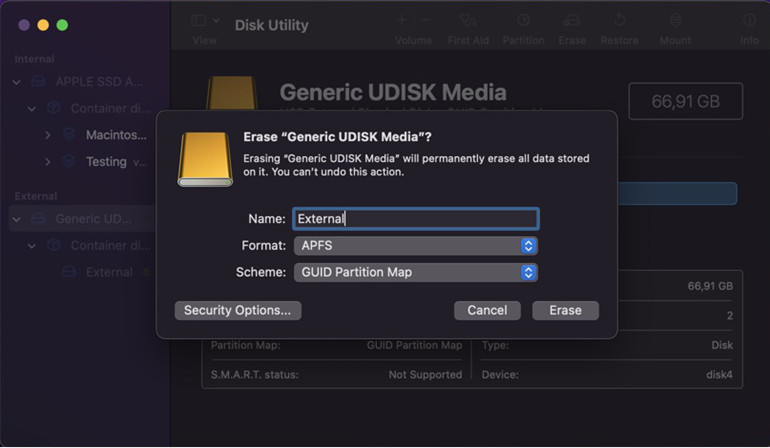 Because of the size and speed of your drive, it may take some time to complete the operation thoroughly. Please be patient and refrain from interfering.
Quickly clone your Mac Monterey SSD to an external hard drive
The quickest way to clone Mac SSD to an external hard drive on macOS Monterey is using disk cloning tool. For example, DoYourClone for Mac is a powerful tool which is able to quickly clone Mac SSD to an external hard drive after upgrading to macOS Monterey.
DoYourClone - Mac Disk Cloning Software
Clone SSD, HDD, Memory Card, USB Drive, External Disk on macOS Monterey.
Two disk clone modes: disk copy and create disk image.
Three simple steps to complete the clone.
Now follow the steps below to clone your SSD to an external hard drive on macOS Monterey.
Step 1. Open DoYourClone for Mac, and then you'll see first disk clone mode - Disk Copy.
Step 2. Choose the Mac SSD as the source drive and choose the external hard drive as the destination drive.
Step 3. Click on Copy Now to clone the Mac SSD to the external hard drive.