"Hi, My name is Sara. I have an old Mac and I am selling it on eBay.com. Someone has placed the order that he wants to purchase the Mac. But before delivering the Mac to him, I want to delete all the files on the Mac (and I hope the files can't be recovered by Mac data recovery software). It is too much trouble to delete the files/folders one by one and I don't believe the files are permanently lost. I download your software – Super Eraser for Mac, it is so amazing. Just one click, it wipes all files on Mac at once. It just wipes the Mac hard drive and makes all the files eased. I have tried Mac data recovery software to check the results. That's excellent! The Mac data recovery software recovers nothing! It means my files are lost forever. Thanks so much! " – from Sara
There are many reasons why people want to quickly and permanently delete files on Mac hard drive. But it is particularly worth mentioning that before you resell/donate/discard your old Mac, you'd better wipe all the data on it. Nowadays, other people can easily get our privacy by recovering our data from old devices. If you don't want to become a victim of cybercrime, you should be carefully. The best way to keep your privacy safe is destroying the files that including your personal information permanently.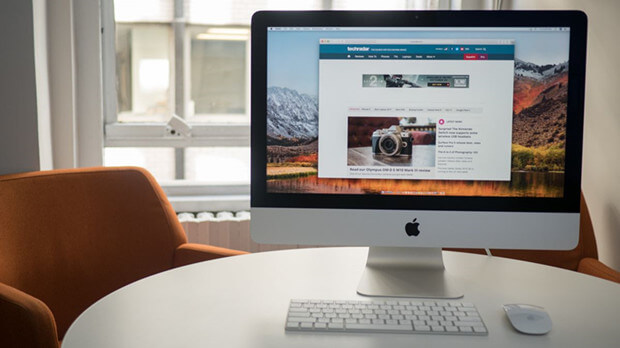 Wipe All Files on Mac at Once with Super Eraser for Mac
It takes much time to delete files one by one, and that can't make your files lost permanently. When you delete a file into trash bin and empty the trash bin, the file is not lost forever. It is still on your Mac. With Mac data recovery software, you or other people can easily recover the deleted file. And it is so difficult to delete all files when there are thousands of files on your Mac. You need a one-click wipe solution to will all files on Mac at once.
DoYourData Super Eraser for Mac can meet your needs. It not only deletes all your files on your Mac hard drive, but also overwrites the disk space with zero data and makes data recovery impossible. It is pretty simple to use. With the help of Super Eraser for Mac, you can wipe all files on Mac at once. When you launch it on your Mac, it will list all the hard drive or device on your Mac, just the drives or devices you want to wipe. It will help you permanently wipe the data.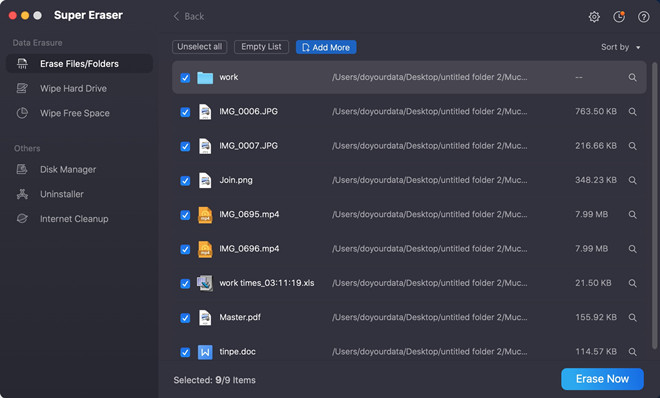 Wiping data...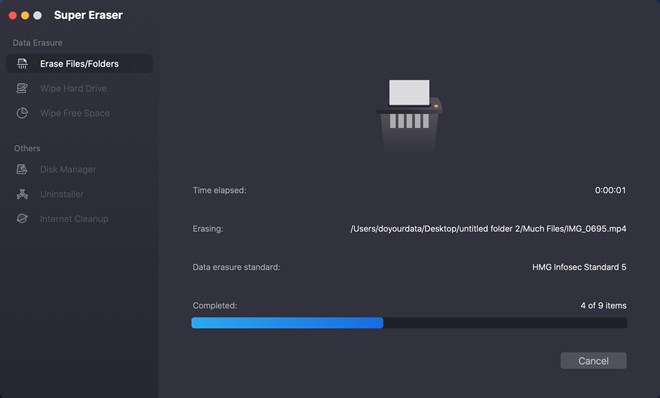 After you wipe all files on Mac with Super Eraser for Mac, you can sell or give away your Mac to other people. The secure solution makes sure all the wiped files permanently lost from your Mac hard drive. Nobody, even the most experienced data recovery expert, can't recover your data. Super Eraser for Mac has destroyed the data and overwritten the disk place. Now your Mac is as new as when you bought it.