What if someone buys your old MacBook but there are some important files in the MacBook, and you don't want to other people see it? You may copy the data to another storage device and then delete the files in your MacBook. But deleting files in your MacBook is not enough yet. Since you need to permanently wipe the MacBook data before someone can recover the deleted data. How to permanently wipe MacBook data? In order to permanently wipe your MacBook data, you can use our special tool which is designed specifically to erase any files on your storage forever without having a chance to recover it back.
Permanently Wipe MacBook Data Permanently with Super Eraser
You must know that other people can easily recover the deleted or formatted files from your device. For instance, people can easily recover all the deleted/formatted files with Mac data recovery software. So they can easily get your private information by recovering the data from your old devices. The best way to avoid data leakage is permanently destroying the data. Before you sell, donate, give away your MacBook, you should permanently wipe the data on it. Here you can a special tool to permanently wipe and destroy existing and history data on the MacBook hard drive.
Let us introduce you a sophisticated software tool to wipe your MacBook data permanently. Now, you can download DoYourData Super Eraser for Mac in order to wipe your data totally and permanently. So, you are no longer afraid of someone who may have a chance to get your data back. Super Eraser is really effective to destroy, erase, or wipe any files you want to erase permanently. It is also easy user interface which can be used by anyone without any guide. However, if you still need some instructions how to use the software to permanently wipe MacBook data, you can follow some instruction below. It offers three options to permanently wipe MacBook data.
Option 1: Erase Selected Files/Folders on MacBook
In this mode, you will be given a chance to select some files/folders that you want to permanently wipe from your MacBook. This option is very effective for those who do not want to delete the whole files. After choosing some of the files, you can just click "Erase Now".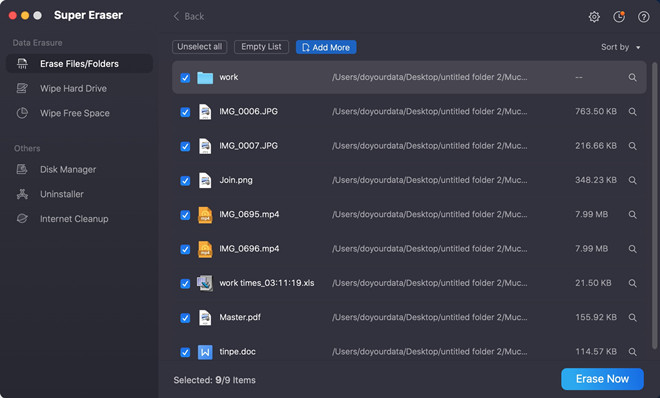 Option 2: Wiping All Data from MacBook Volume
This mode is an instant way to erase the whole existing data and deleted data from your MacBook Hard Drive without having a chance to select some of the files. So, if you are sure that you want to erase the whole data, you can select this mode, but if you still have some files that you do not want to erase, you can ignore this mode. This mode is quite easy, you can just select the volume on your MacBook and then you can click "Wipe Now".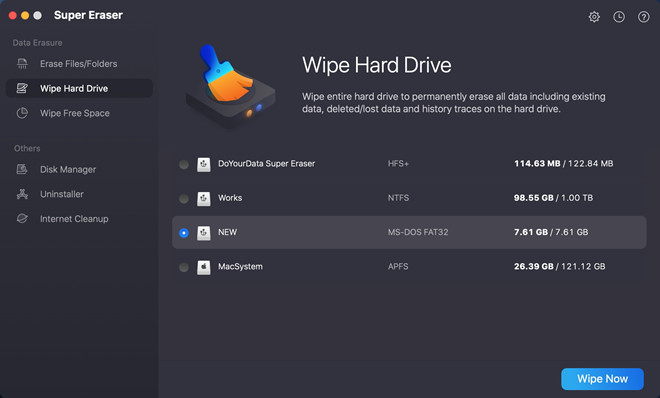 Option 3: Wipe Free Space on MacBook
The third option to permanently wipe MacBook data is by choosing the wipe unused space mode. For those who want to wipe the deleted files or history traces only, this option is perfect. Choosing this mode, it means that you still have a chance to save your existing files in your MacBook because this mode only will erase the lost data or deleted files permanently. You can just select the storage of your device and then click "Wipe Now".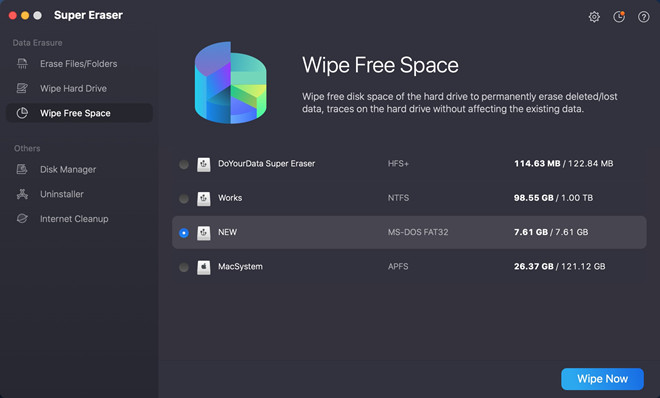 Once the data is erased by DoYourData Super Eraser for Mac, the data is gone forever. There is no way to recover the erased data. Before you sell or donate your MacBook, you can quickly and permanently erase your sensitive data.