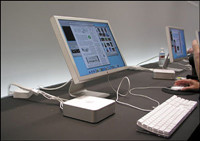 Do you have a Mac Mini? Before you lend your Mac Mini to your friend or you may want to sell your Mac Mini, you have to make sure that the data is erased permanently. You have to remember that deleting your files from your Mac Mini does not mean that the data is deleted forever. Since the data can still be recovered using a special data recovery tool. In order to prevent any miss uses of your data, you are recommended to permanently erase data on your Mac Mini using a special software as well. By erasing data on Mac Mini permanently, there will be no chance anymore for someone to recover the data.
One of the best tools to permanently erase data on Mac Mini is Super Eraser that has been developed by DoYourData Software specifically to wipe any data - permanently. Super Eraser is a very effective tool which is designed simply and easily so that it can be used by anyone. If you are looking for the best software to permanently erase data on Mac Mini, so you must choose Super Eraser. This program runs on Mac OS as well as on Windows OS. So, you can download according to your device OS. You can follow some steps below if you are still confused to use this software to erase data on Mac Mini permanently. Please, download the Super Eraser for Mac OS through the link below.
Three Modes to Erase Data on Mac Mini
In erasing data on Mac Mini, you actually have three modes. Here are some of the modes that you have to know.
Mode 1: Erase Files/Folders on Mac Mini
This mode is available if you want to select some files that you want to erase on your Mac Mini. So, you can permanently erase some files that are not so important and let some existing files stay in your Mac Mini. You can just select some of the files and then just click "Erase Now".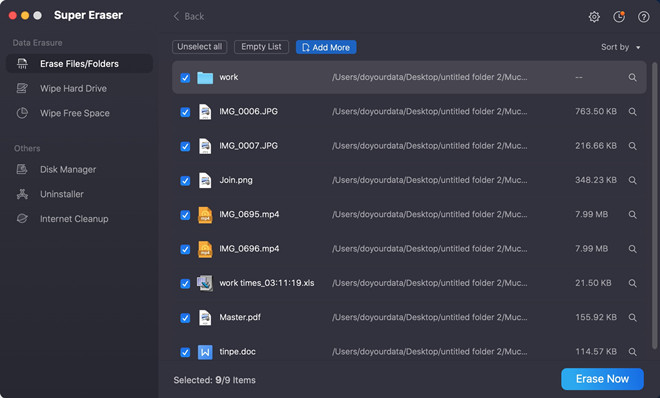 Mode 2: Wipe Volume/Device on Mac Mini
Choosing "Wipe Hard Drive" mode means that you are ready to lose your whole existing files as well as the history data forever without having a chance to recover them. If you are quite sure to choose this more, you can just simply erase the data fast without choosing the files. You just need to choose the volume or storage device that you want to erase and then just simply click "Wipe Now".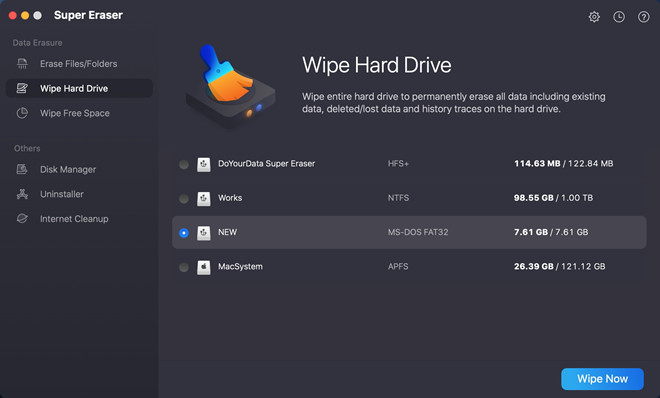 Mode 3: Wipe Unused Space on Your Mac Mini
If you only want to wipe the history data such as the deleted files permanently from your Mac Mini, so you can choose this mode. This mode will only erase some unused files or deleted files and let the existing files stay in the storage. After you wipe the deleted or unused data permanently, so you will not be able to recover them anymore.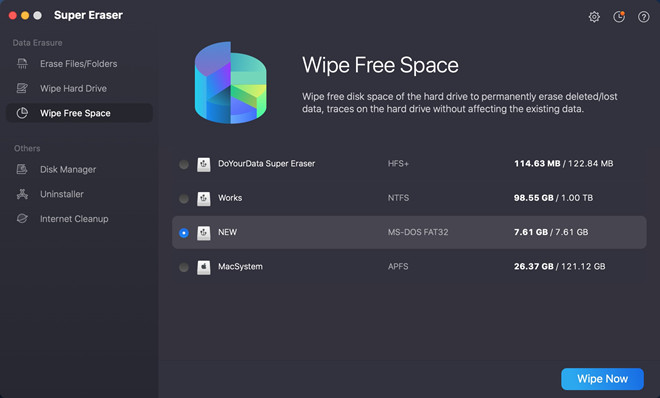 Erasing data on Mac Mini is not a difficult thing anyway. Now, you can use Super Eraser to wipe any files permanently from your Mac Mini. So, the storage will be totally cleaned from any data history. Before you donate, giveaway or discard your Mac Mini, it is strongly recommended to permanently erase the sensitive data on it with Super Eraser.