In the Mac system, there is nothing like a collection of files instead you are given the option to erase files. The difference between erasing and deleting the files is that the actual file and data remain on the Mac hard drive unless overwritten. However, the overall working of the Mac file eraser is similar to that of the file deletion function in Windows.
So if you want to permanently delete data from a Mac hard drive you have to understand the process of overwriting which will help in securing our data by complying with the eraser standard such as the DoD 5220.22-M, Peter Gutmann's algorithm, etc.
3 Methods to permanently delete Mac files
Various methods help you in securing your data by raising it and deleting all of its related information permanently. The most commonly used methods are.
Let's proceed with these methods one by one and see how they can help in the deletion of Mac files permanently.
#1 How to remove Mac files permanently with a disk utility method
Step 1. Open the Launchpad on the Mac system, you will see various options. Go to the utility option and open the Disk Utility.
Step 2. Here you will see the option of adding the volume of the file that you want to erase permanently.
Step 3. Choose the hard drive volume that you want to remove.
Step 4. After adding the volume of the required file, look for the Erase option on the top.
Step 5. Now you will be asked to fill the blanks in which you have to enter Volume, Name, Format, and Security options. Fill up this form and click on the Erase button.
While choosing the security option, make sure to choose the most secure one because it removes every bit of information from your Mac hard drive and ensures the maximum safety and security of your data.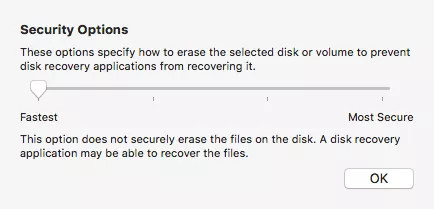 Here it is worth mentioning that in some cases, the disk utility fails to remove various Mac files permanently. So at this stage when you have to remove all the required files, you should use disk utility Terminal Command which is also a method to securely remove files from the Mac hard drive.
#2 Method to permanently delete files on Mac OS with the terminal command
Before proceeding with the terminal command method, you should remember that it does not require you to remove a particular hard drive volume, instead, it removes the entire disc. So this matter is particularly helpful if you want to increase the storage space on the Mac hard drive.
Let's proceed with the particle steps.
Step 1. Go to the Mac application and open the Utility option. In the utilities, find the Terminal app.
Step 2. Type diskutil list. This is a command that connects the hard disk and the volumes. So by inputting this command, the volume will automatically be connected with the hard disk. The command will appear on the screen that you have to copy or type in the required box.
Step 3. In the terminal app, you will also see the option to add another command. In this step, you have to type diskutil secureErase 2 disk# which is another command.
Step 4. Replace # with a hard disk number. Now add the command. In this way, you will be able to remove the particular file which you have selected.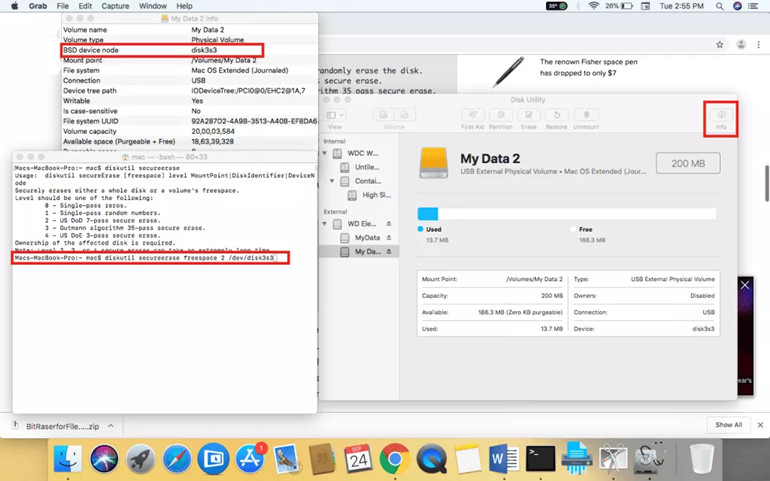 Here's how you can proceed with the removal of files from the Mac hard drive using the terminal command.
Now let's have a look at the simplest and the security method of removing the files from the Mac hard drive.
#3 Method to permanently delete files on Mac with Data Eraser
The two methods above can help you erase data on Mac, but it can not remove all traces permanently. With data recovery software, you still can recover partial erased data. If you want to permanently erase data on Mac and 100% avoid data recovery, you can try data erasure software, such as - DoYourData Super Eraser for Mac.
Now let's see how to remove and permanently delete files on a Mac hard drive in simple and easy steps.
Step 1. Download, install and launch the DoYourData Super Eraser for Mac on your Mac. It is fully compatible all macOS and OS X versions.
Step 2. Open DoYourData Super Eraser on your Mac, you will see three data erasure modes, just choose a right mode to help you securely and permanently erase your data.
Mode 1 Erase Files

- selectively shred files and folders on Mac.

Mode 2 Wipe Hard Drive

- wipe all data from a hard drive on Mac.

Mode 3 Wipe Free Space

- wipe free disk space of the hard drive and permanently erase the deleted/lost files on Mac.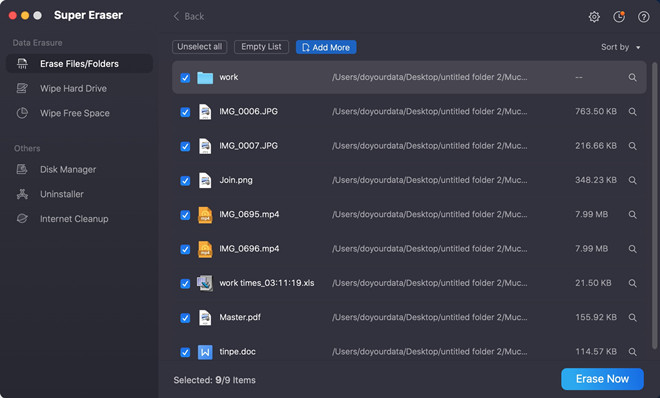 Step 3. Select the files or drive you want to erase, then click on Erase Now button.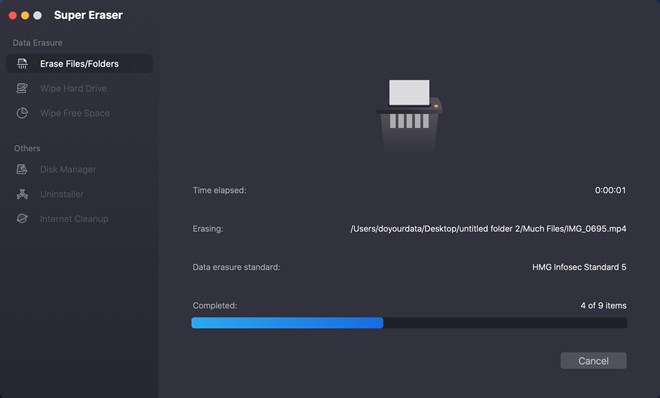 This method will successfully and permanently remove all the sensitive information including confidential data such as card details, browsing history, saved passwords, and all that.
Please note that once your data is erased by DoYourData Super Eraser for Mac , your data will be gone forever, can't be recovered by any data recovery software.
Conclusion
Mac has inbuilt erasing systems that enable the users to proceed with the deletion of files on Mac. However, most of the inbuilt methods of the Mac system do not provide permanent erasing solutions and the files may be recovered using third-party software systems.
It is due to this reason you should also consider taking the help of a secure file eraser tool that will allow you to destroy all the individual files permanently.
So it is particularly important to go for a safe and secure third-party file erasing tool when you are super concerned about the removal of the sensitive information and want to erase it beyond the scope of recovery.
DoYourData Super Eraser for Mac
Data erasure standards: HMG Infosec Standard 5 (1 pass), Peter Gutmann's algorithm 2 (2 passes), U.S. Army AR380-19 (3 passes), DoD 5220.22-M ECE (7 passes), Peter Gutmann's algorithm 35 (35 passes).
Permanently erase data from any type of HDD, SSD, USB drive, memory card, digital camera, etc.
Erase data on Apple Silicon chip Mac, T1/T2 chip Mac.