"Hi, I have ever stored more than 10 GB photos on my old Mac. I try to delete 1-2GB photos. But after deleting and emptying the trash bin, the photos still can be recovered by Mac data recovery software. I am going to sell this Mac on eBay, so I hope can permanently delete my private photos. I don't want to other people see any of my photos/traces when he or she gets this Mac. Is there any solution to permanently erase photos from my old Mac?" – Watson
Photos record our sensitive information. When you are going to give your Mac to other people, you'd better permanently erase your photos from your Mac. If you just simply delete your photos or format your hard drive, the photos can be easily recovered by other people intentionally or unintentionally. It would be terrible if your private photos fall in to the wrong hands. It is necessary to find a secure solution to permanently delete Mac photos or erase the hard drive before you resell, giveaway, donate or throw away your Mac device.
How to destroy and shred photos on your Mac? Here is an easy solution.
Erase Mac Photos with Super Eraser for Mac
DoYourData Super Eraser for Mac is a powerful Mac file shredder. It can help you shred, destroy and erase photos from your Mac hard drive. Why should use this software to permanently erase Mac photos? The reason is simple: it is powerful and easy-to-use. With certified data erasure methods, DoYourData Super Eraser for Mac will completely erase your Mac photos and overwrite the disk space to prevent the erased photos from being recovered. It means your Mac photos will be lost forever, can't be recovered by any software or method.
In addition, DoYourData Super Eraser for Mac is pretty simple to use. You don't have to worry about how to use it. Even the most newbie can use it to permanently destroy any kind of file on Mac hard drive. It offers three modes to help you securely erase photos from Mac.
Mode 1: Erase Selected Mac Photos
You just need select the photos or folders to the erasure list and hit "Erase Now" button, DoYourData Super Eraser for Mac will help you permanently erase selected photos from your Mac.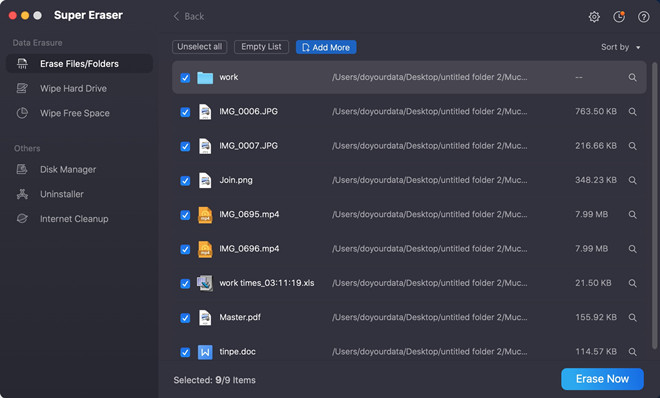 Mode 2: Erase Hard Drive
If you want to erase all the existing data and history data including your photos from your Mac hard drive, you can use this mode. It will help you completely erase all the data on the selected hard drive.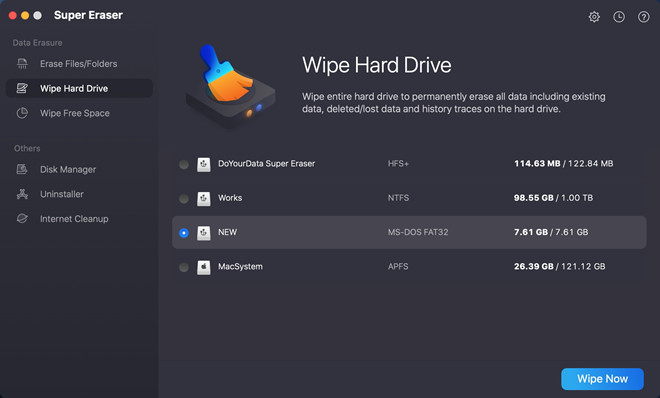 Mode 3: Erase Deleted/Lost Mac Photos
This mode is designed for erasing deleted/lost data on your Mac hard drive. So you can use this mode to permanently erase "already deleted/lost" photos on your Mac without affecting the existing data.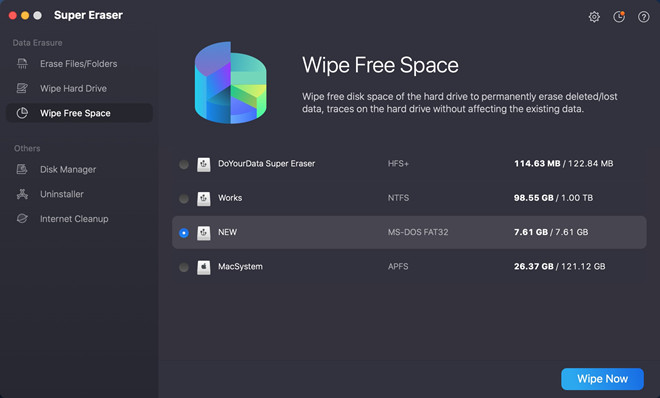 DoYourData Super Eraser for Mac also can help you destroy photos from external hard drive, USB flash drive, memory card, digital camera. You just need to connect your external device with your Mac, and run DoYourData Super Eraser for Mac to erase files from the connected device.