"Hi, I am going to sell my Mac. How can I permanently erase all my private files before I sell it to other people? I mean erasure not deletion, I know the deleted files can be recovered by data recovery software. I want to a Mac file eraser to permanently destroy my private files. I don't want to other people can recover my private files." – Marcos Banes
What is Mac file eraser or Mac hard drive data eraser? It is the tool to permanently destroy and erase data under Mac OS. If you think you can destroy your data by deleting or formatting, you are totally wrong. The deleted files can be easily recovered by free Mac data recovery software although you have emptied the trash bin. And the formatted files also can be recovered after you format your hard drive. In most cases, we don't need to permanently erase our files or data, but at special moments, it is very important for us too permanently destroy data to avoid the issue of privacy disclosure. For instance, we should make sure all the sensitive data has been permanently erased before we resell/donate/give away/lend our Mac or other devices.
Nowadays, cyber crime becomes more and more rampant. For all of us, the sensitive data should be destroyed before we give our device to other people. It may cause terrible issue if the sensitive data falls into the wrong hands. Mac file eraser or Mac hard drive eraser can permanently erase files, folders or all data from Mac hard drive, USB flash drive, digital camera or other storage media, 100% destroy the selected data, beyond the scope of data recovery. Once the data has been erased by Mac file eraser/ hard drive eraser, it will be lost forever, can't recovered by any data recovery software or manual data recovery method.
Free Download Mac File Eraser & Mac Hard Drive Eraser
DoYourData Super Eraser for Mac is the best Mac file eraser on the market. It is also a powerful Mac hard drive data eraser for completely wiping Mac hard drive. It can help users to permanently erase Mac files, wipe hard drive, destroy data from external device, and wipe unused disk space to erase deleted/lost data. It offers three modes for Mac users to destroy sensitive data.
Mode 1: Selectively Eraser Files or Folders
This mode will help Mac users to erase files and folders on Mac or other device. It will permanently erase the selected files and folders.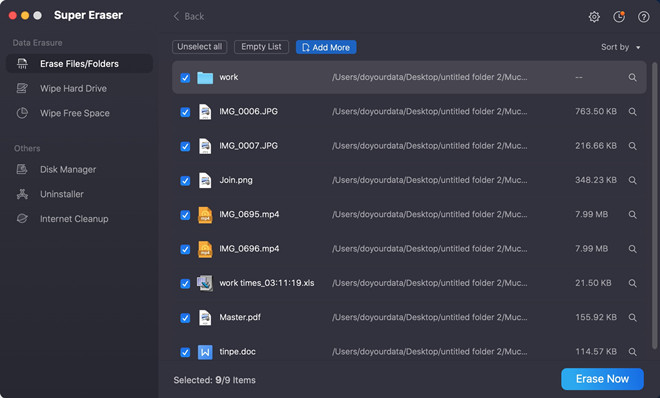 Mode 2: Wipe Entire Hard Drive
This mode will permanently erase all the data on the selected hard drive or device. It will permanently destroy all existing and history data.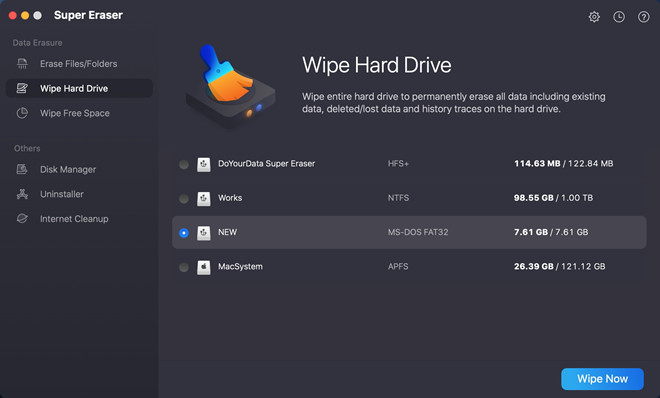 Mode 3: Wipe Free Disk Space
This mode can wipe unused disk space to permanently erase the "already deleted/lost" data on the Mac hard drive or device without affecting the existing data. It will erase the deleted/lost data and traces.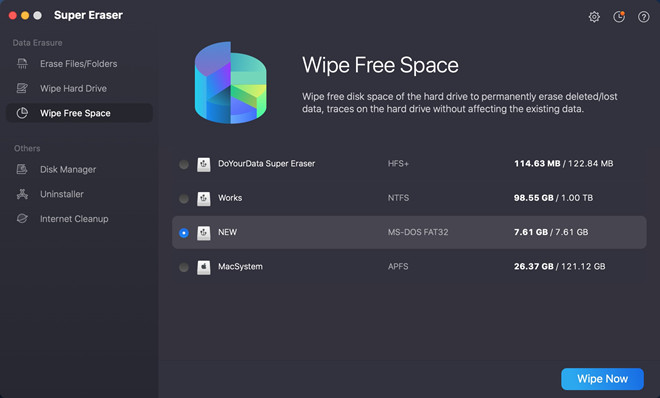 Mac file eraser is the best solution to erase data on Mac hard drive or other devices. DoYourData Super Eraser for Mac has three options to erase Mac data under different situations. So it can easily solve the issue like "How can I permanently destroy my private data before selling my old Mac".