Quick Navigation:
The newest version of Apple's Mac OS, macOS Sonoma, is available now. As the name implies, the update is inspired by Sonoma, a region in Northern California known as "Wine Country" for its abundance of vineyards.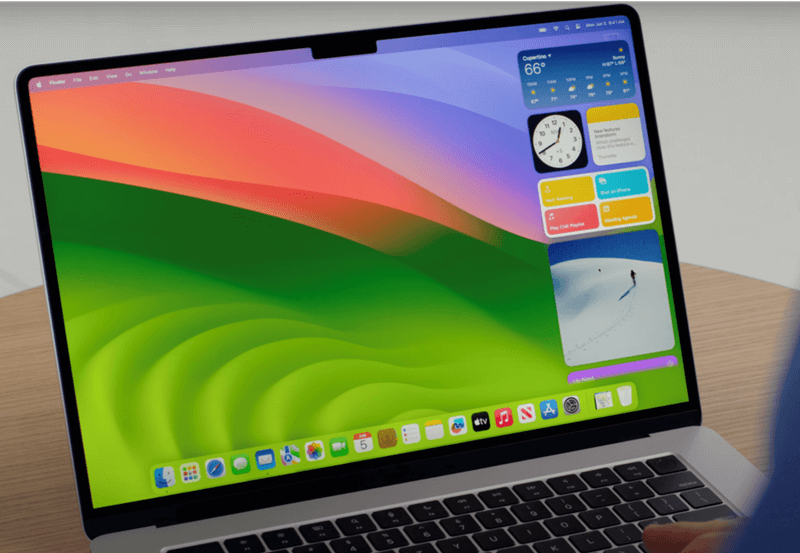 In Windows, the NTFS file system is the default. Microsoft developed it. However, it does not work flawlessly on macOS. The Mac OS including macOS Sonoma cannot modify an NTFS disk's contents without using third-party NTFS for Mac software. Using NTFS for Mac, it is possible to make this data accessible & writable. NTFS for Mac software for macOS Sonoma is provided below.
This article introduces reviews, and compares the best NTFS drivers for macOS Sonoma, allowing full read/write access to NTFS devices on a Mac.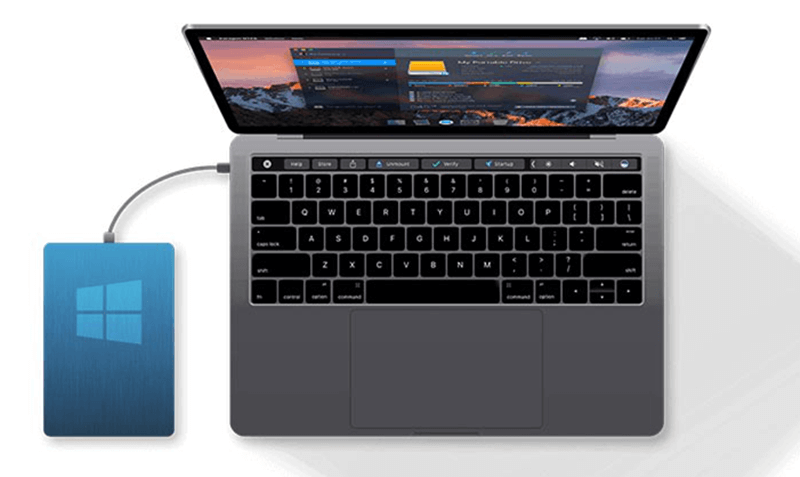 What is NTFS for Mac?
Microsoft NTFS for Mac is an app that lives in the menu bar. You can use it as a mounter for NTFS volumes on your Mac, accessing them through the Finder and Disk Utility. It functions as a Mac NTFS reader, permitting you to read and copy data from an external disk formatted in the NTFS file system. It's also an NTFS file system writer so you may use it on your Mac.
It allows you to use a Windows NTFS file system in a macOS environment without reformatting the drive with a file system compatible with macOS. In addition to its primary function as a file system, high-quality NTFS for Mac software lets you eject, repair, and format NTFS devices on your Mac.
Best NTFS for Mac tool for macOS Sonoma
Is there any NTFS for Mac software that is compatible with macOS Sonoma? Yes, there are multiple NTFS for Mac tools can be used on macOS Sonoma, Apple silicon supported.
#1 DoYourData NTFS for Mac
As a famous NTFS for Mac tool, DoYourData NTFS for Mac is trusted by 50K Mac users around the world. It offers the easiest way to enable writable for NTFS drives on Mac. After downloading and installing this software, just select the NTFS disk and click Enable writable button. Then it will remove all NTFS limitations on your Mac. You can use the NTFS hard drive as a local drive or just like you use it on a Windows PC without any limitation. No need to format the NTFS drive, you can write data to it or modify content stored on it.
DoYourData NTFS for Mac also can help you mount or unmount NTFS drive, USB flash drive, memory card on Mac. With disk management tool, it also can help you repair/format/eject external hard drive/storage device on Mac.
This NTFS for Mac tool is fully compatible with macOS Sonoma, Ventura, Monterey, Big Sur and other Mac operating systems (M1/M2 Mac supported).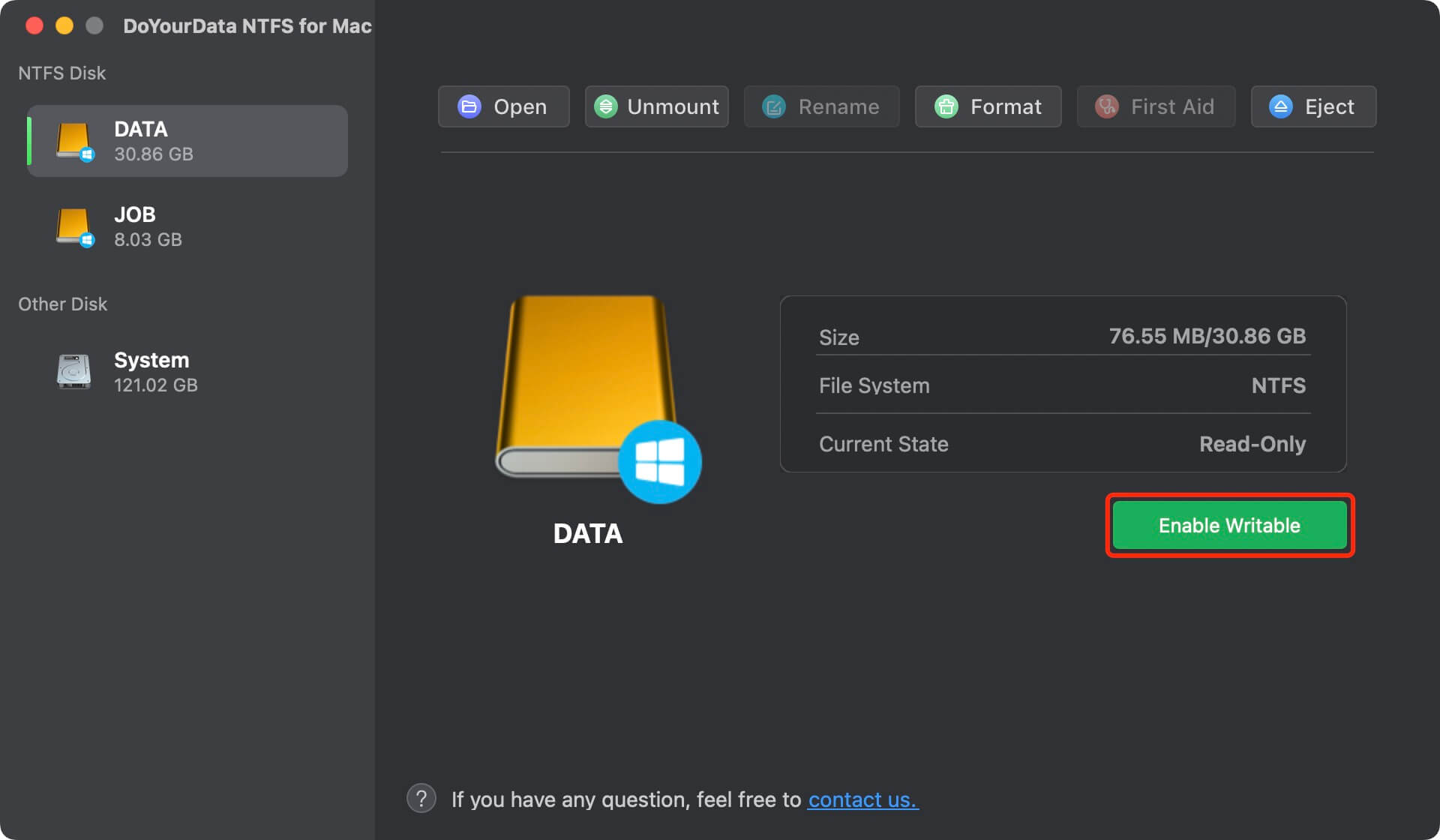 Mounty is a slick application that allows you to read/write to write-protected NTFS drives. Discerning which NTFS volumes have been prepared for remounting in read-write mode, it operates invisibly in the background.
The application will alert you through the Apple Notifications Center when an NTFS volume is detected. Mounty, on the other hand, lets you remount the volume from the Notifications tab.
Mounty Icon in the menu bar recolors the icon for your convenience. When no NTFS volume is available, the screen will be black and white; when one is, it will turn green. When an NTFS volume is writable, the icon turns blue. And if it fails, the Red Icon will be displayed. Last, but not least, it works with any version of macOS.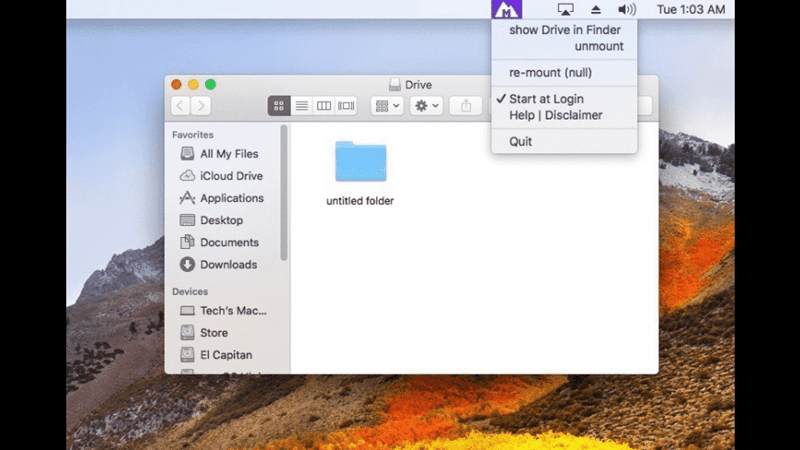 iBoysoft NTFS is widely regarded as the top NTFS for Mac program in 2022. iBoysoft NTFS for Mac has greater compatibility with macOS and Apple hardware than its rivals, including the most recent macOS Sonoma 13 Beta and Apple Silicon M2 and M1.
This NTFS software enables quick NTFS file transfers between PCs and Macs and automatically mounts NTFS drives. If you need to use the drive on a Windows computer, you can have the Mac format the disk to the NTFS file system.
When you connect an NTFS disk to a Mac after downloading and installing iBoysoft NTFS, you'll have instant access to any files stored on that disk.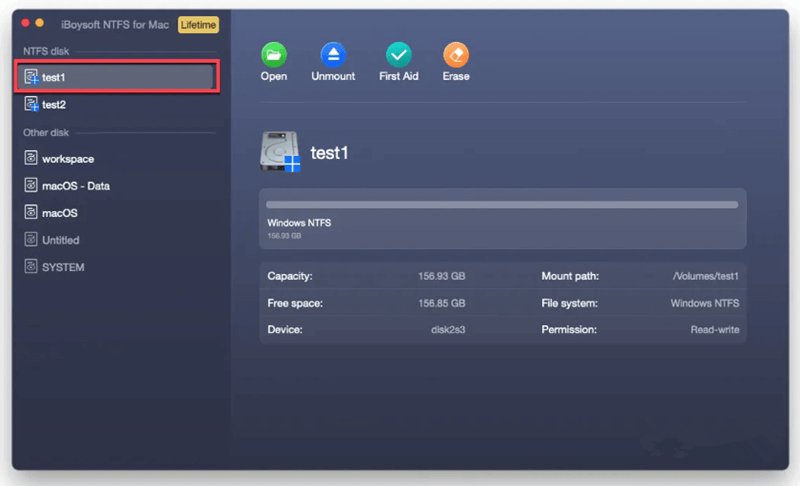 Although the programs above are free alternatives to commercial NTFS readers for Mac, they both have drawbacks. Instead, we're going to present a premium piece of software here. Paragon Software, a leading developer of file systems and disk management software, has released Paragon NTFS for Mac, a specialized application for reading and writing NTFS files on a Mac.
As a result, Paragon NTFS for Mac is more reliable and less buggy than similar programs. It now has enhanced compatibility with modern Macs and the macOS operating system. These are the main benefits as compared to other software solutions.
Paragon NTFS for Mac makes creating a new NTFS volume on a Mac a breeze. To begin, please download and run this application on your Mac. Launching Paragon NTFS for Mac will automatically scan all the hard disks on your machine and list them in a sidebar. After the NTFS drive has been mounted, you can access its contents with a single click. Okay, that's it!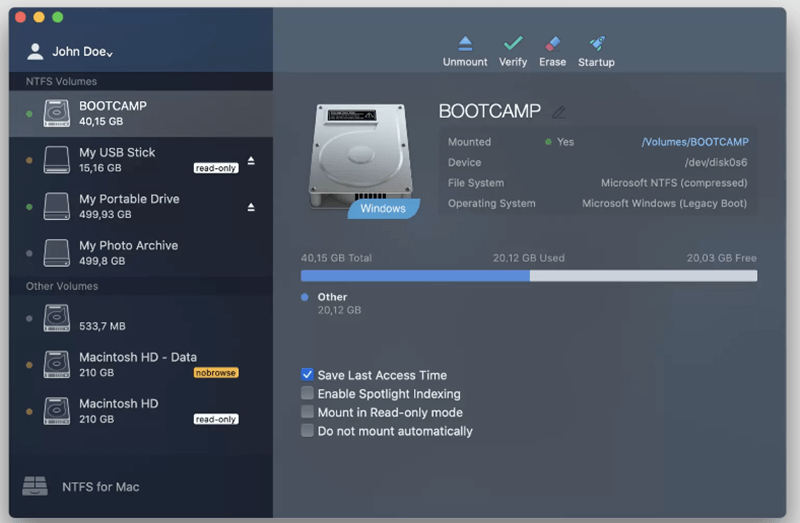 How to enable NTFS read-write support on macOS Sonoma?
DoYourData NTFS for Mac is a pretty simple to use NTFS for Mac tool. Download and install this NTFS for Mac, then open it.
Step 1. Connect the NTFS drive to your Mac, then open DoYourData NTFS for Mac. This software will list all NTFS drives and other drives on your Mac.
Step 2. Under NTFS Disk, select the NTFS drive, then click Enable Writable.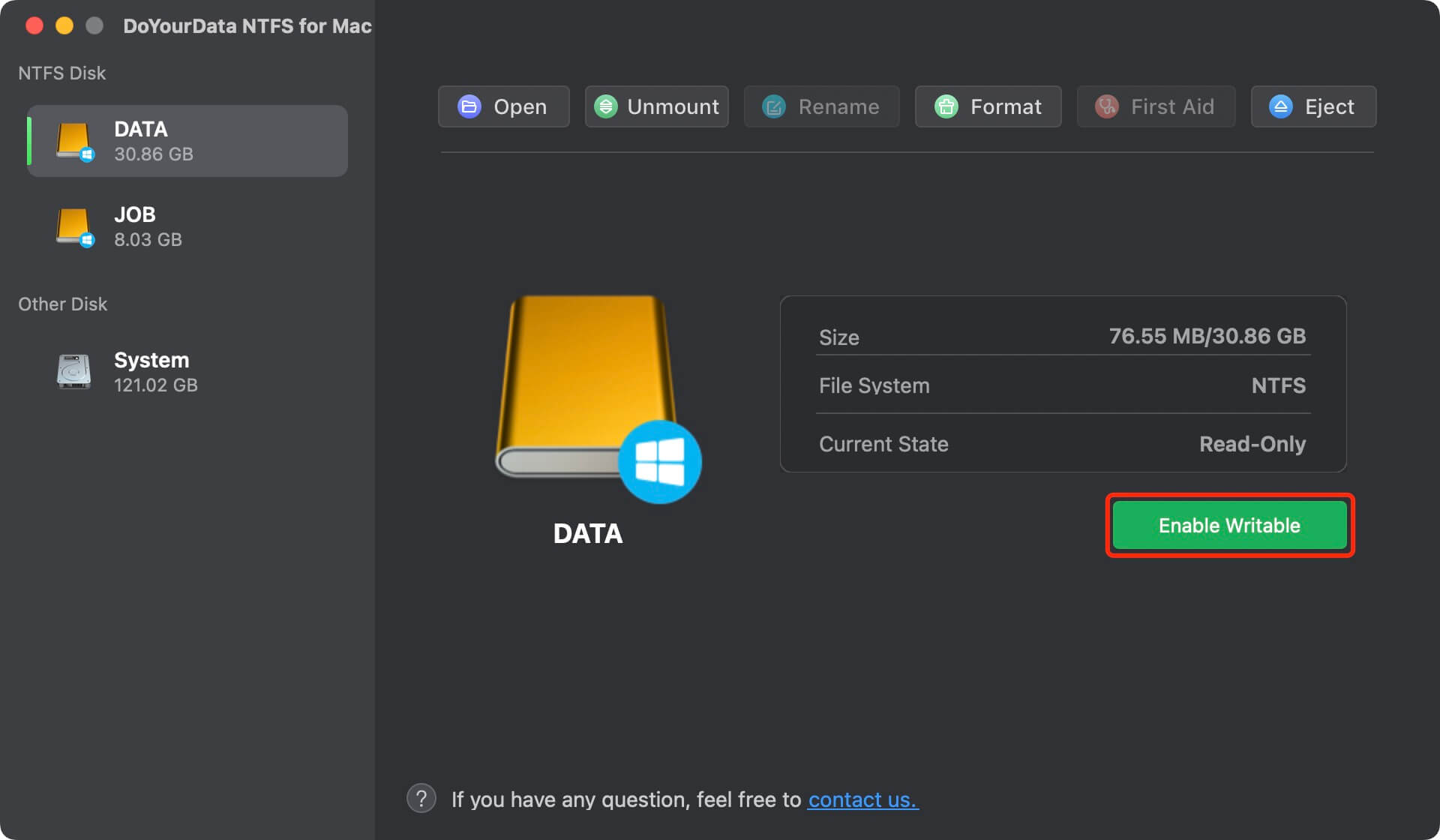 Now, you can write data to the NTFS drive without any limitation, it becomes Read-write now.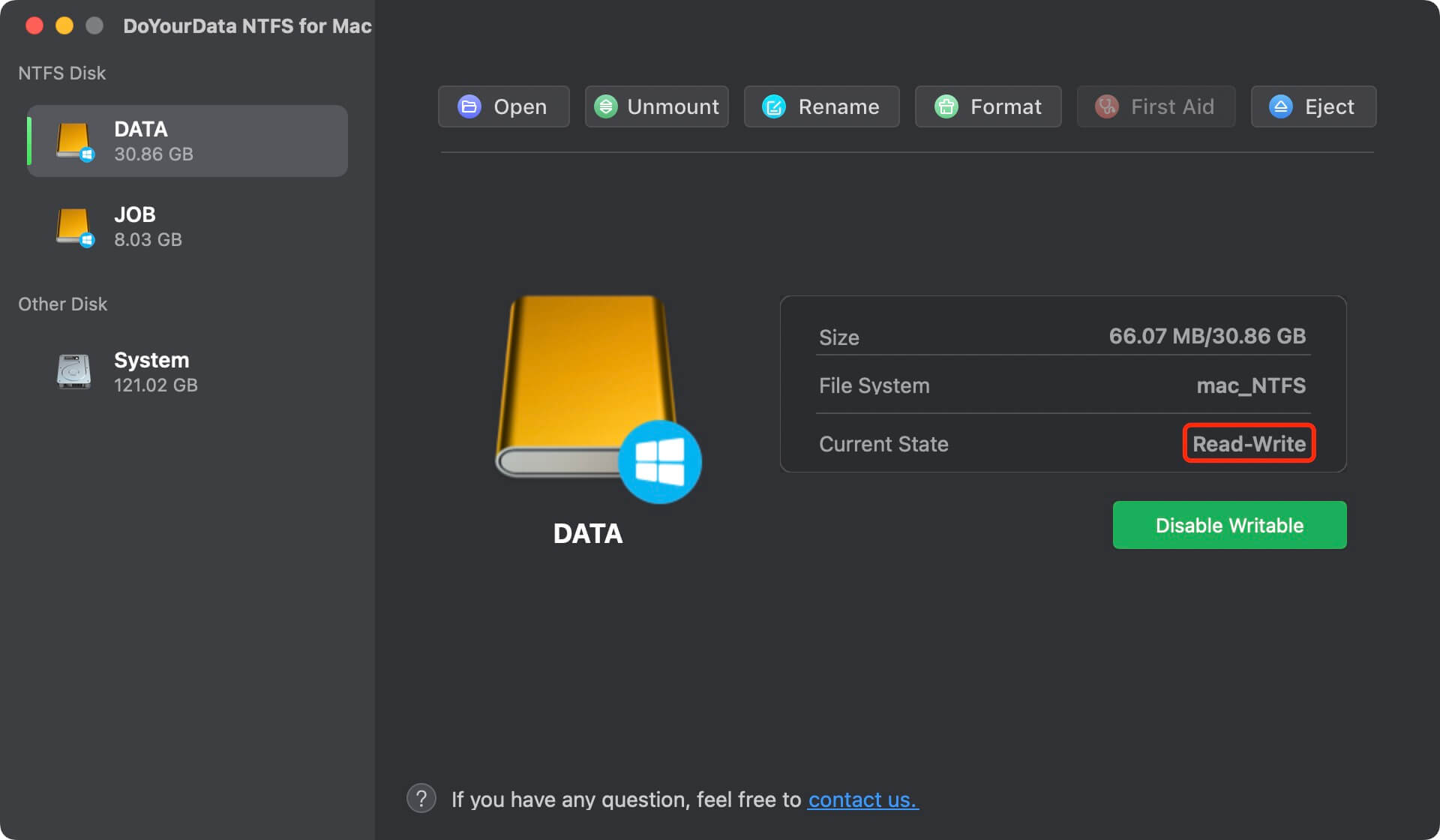 Conclusion:
All downloadable versions of NTFS for Mac are severely limited in some way, whether it be write performance, compatibility, or access to technical help. Some of the drawbacks may even endanger your information. DoYourData NTFS for macOS Sonoma is the best NTFS for Mac application and it is fully compatible with Apple silicon chips.
Few free NTFS for Mac drivers are fully compatible with macOS Big Sur, macOS Monterey, or the newest macOS Ventura, especially on Apple Silicon Macs, and most are designed for older macOS versions.
DoYourData NTFS for Mac, available reasonably priced, is a superior option to the free NTFS for Mac tools. As much dependability, stability, compatibility, and ease of use as you need is available. It can repair and format Microsoft NTFS, two features unavailable in the free NTFS for Mac application.