Quick Navigation:
After upgrading your computer, you may wonder how to transfer Windows OS (such as Windows 11, 10, 8, 7 or macOS) to the new storage medium. Getting Windows to recognize the new disk and migrate the operating system installation over could be challenging for novices, but it's not impossible.
You can accomplish this in a few different ways. You might generate a fresh system image to transfer data from one disk of equivalent size to another. You could also clone your hard drive and make an exact installation copy to avoid incompatibilities between disk sizes. What you need to do to get started is outlined below.
What is an operating system?
An operating system (OS) controls and coordinates a computer's various application programs. A boot software is required to install an operating system before it can be used.
Every app and program relies on the OS to communicate service requests through a predetermined API. In addition, the operating system can be interacted with either through a graphical user interface (GUI) or a command line.
The foundation of any software project should be the operating system. Without an operating system, each app would have to manage the low-level features of the underlying PC by executing its user interface and any necessary code.
Reasons to Move OS to A Fresh Hard Drive
Low disk space issues might arise when the computer's storage space is gradually reduced due to regular use. It is recommended that the operating system be relocated to a large drive or new SSD and the old disk be used as a secondary device to store user data.
The time and effort saved by not having to reinstall all the systems and applications and change the settings after a clean install is another compelling argument in favor of migrating an existing Windows OS. Using system migration software, you may safely move your OS and all your data to a new hard drive without losing a thing.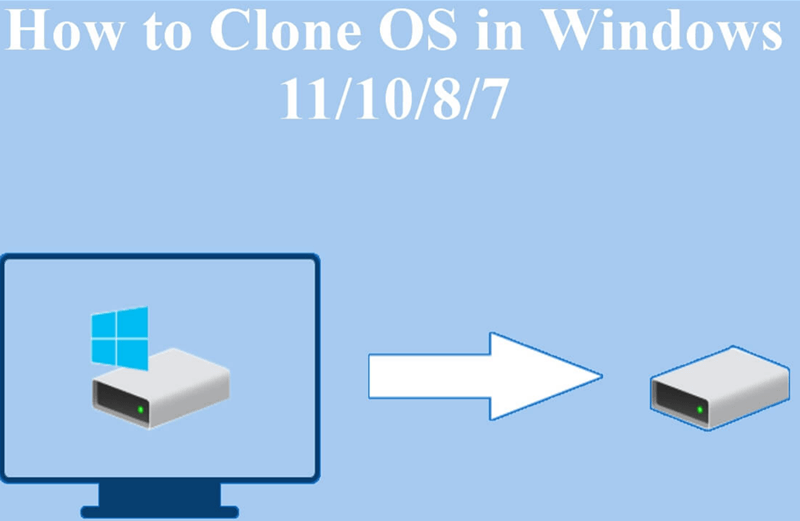 Move OS to An External Device Using DoYourClone
Whether you want to clone operating system to an internal hard drive or clone it to an external HDD, SSD, USB flash drive, you can try DoYourClone, one of the best disk cloning programs.
DoYourClone - Best Disk Cloning Software
Clone OS to external device on Windows or Mac OS.
Clone HDD, SSD and external storage device.
Step 1. Open DoYourClone on your computer, choose disk cloning mode - Disk Clone.
Step 2. Select the system disk as the source disk and select the external device as the destination disk. Tick "Sector by Sector clone." Then click Next.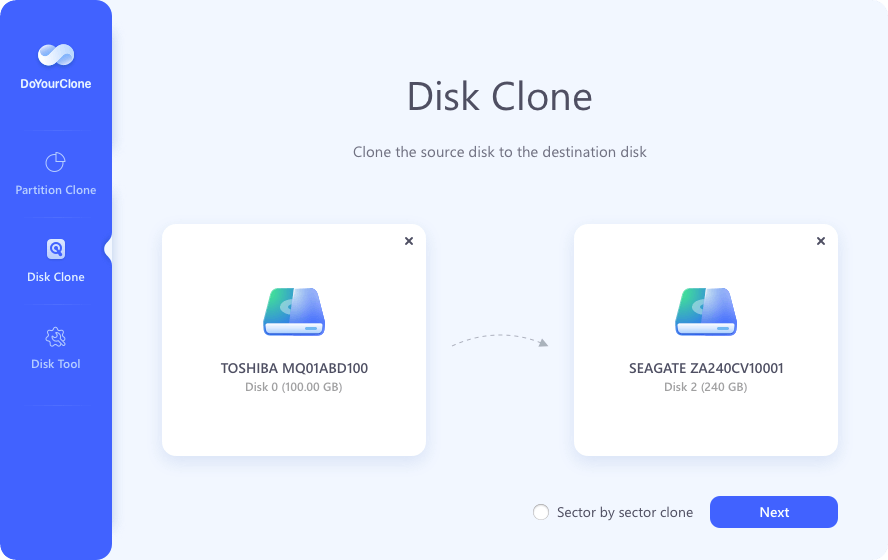 Step 3. Preview and edit the clone layout, if the external device is a SSD, tick "Check this if the destination is SSD" and then click on Clone button.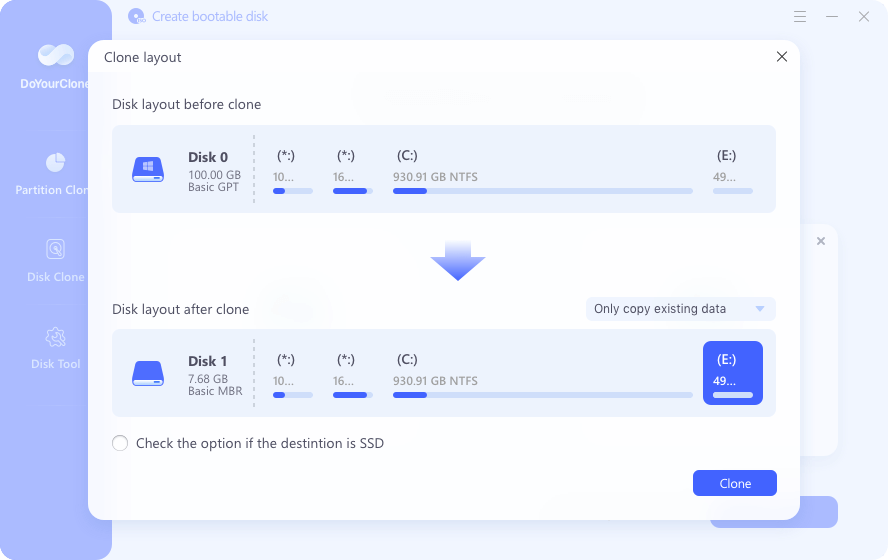 Then it will securely clone the Windows OS disk to the external HDD, SSD or USB flash drive. After cloning, you can use the external device as a bootable clone backup.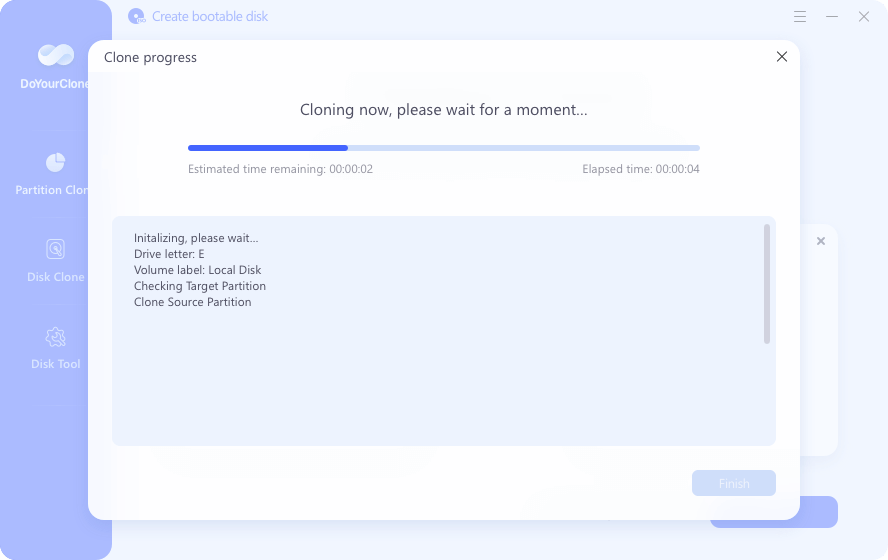 Some Tips:
Utilize all available storage space by expanding the size of your system partition into nearby unallocated space if you are cloning your operating system to a larger hard drive.
You may optimize speed and extend the life of your solid-state drive by doing an alignment check before moving your operating system to it.
When using Clone by Sector, all sectors, in use or not, are copied. Keep the default intelligent mode if you wish to move the operating system to a new drive while copying only the utilized sectors.
If you want to move macOS to an external hard drive, just use DoYourClone for Mac. The OS Clone mode can help in cloning Mac startup disk to the external hard drive, creating a bootable clone.
FAQs About Moving OS to External Device
1. How to transfer Windows OS to new hard drive?
First, get a copy of the DoYourClone from the Internet, install it, and launch it.
Select Disk Clone mode, choose source disk and the destination disk.
Click Next.
If the program asks to delete files from the destination disk, select "OK" to confirm.
Fourth, update and verify the disk's physical configuration.
Choose the appropriate checkbox if the target is a solid-state drive.
Click Clone to begin duplicating the hard drive.
2. How to boot from the new hard drive?
First, make sure your computer is turned off.
Second, using screwdrivers, set up the new hard drive in the same slot as the old one.
Third, reconnect the power cable and reattach the computer's back cover.
Fourth, when the computer has booted, press the key that is labeled "BIOS" on the opening screen.
Alter the new hard drive's position in the boot order by clicking the Boot tab. Next, you'll want to save your work and reboot to check if the computer uses the new drive.
3. How to move macOS to external hard drive?
Download and install DoYourClone for Mac, then open it from Launchpad.
Connect the external hard drive to your Mac.
Choose Clone OS mode, then select the external hard drive as the destination drive.
Click on Clone Now button to move everything including macOS, apps, settings, user files from the Mac startup disk to the external hard drive.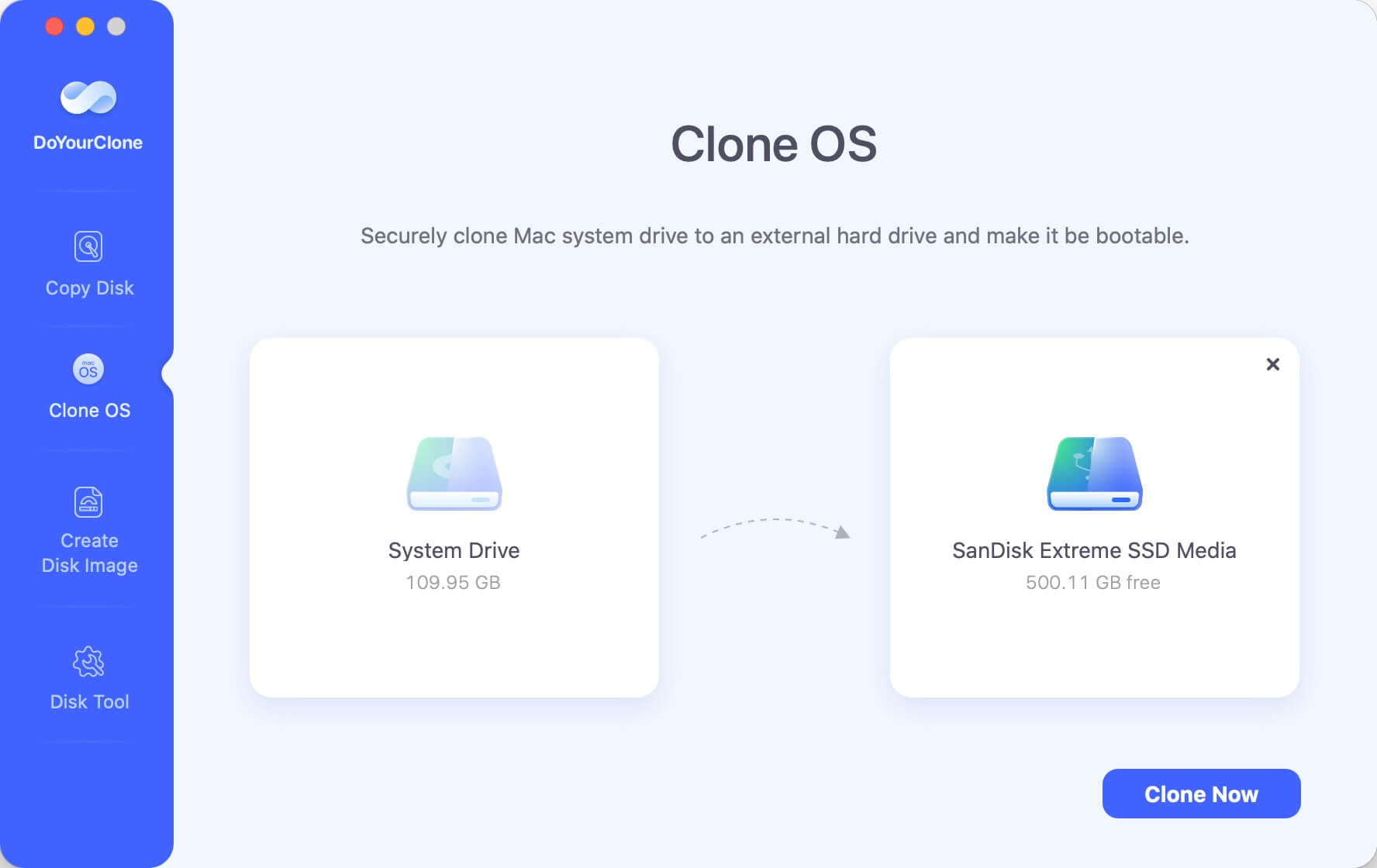 Conclusion:
In conclusion, this guide has shown you everything you need to know about moving Windows or macOS on a different hard drive. We've reviewed everything you need to know to get started, including how to clone your drive and what to do after that to ensure everything is up and running well. If you want to move OS to an external HDD, SSD and USB flash drive, you can try DoYourClone, an easy to use disk cloning program.