Through this guide, we will show you how to clone hard drive on iMac. Sometimes, the computer gets very slow and it is necessary to do something to fix this problem. Some people decide to clean it and so the hard drive. Formatting or permanently deletion could be good options, but it is important to make a data backup before taking such a drastic step.
Cloning is one of the best alternatives to protect stored data, but how can it be done? Well, you can use a professional data cloning software to help you carry out this task in a successful way. Here, we will recommend using DoYourClone for Mac, which is considered as one of the best programs targeted at cloning.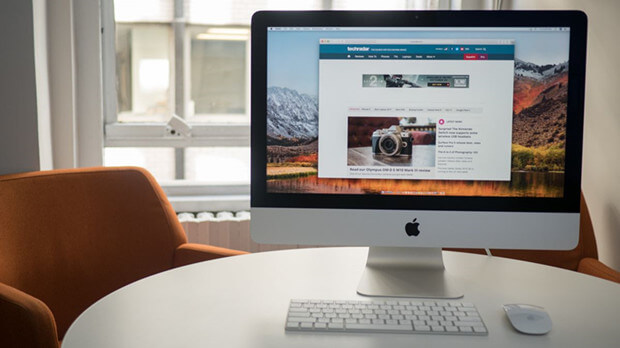 How to clone hard drive on iMac?
Are you interested in cloning hard drive on iMac? Here, we will offer some useful information about this topic. You can easily do it using a great software like DoYourClone for Mac. Just download this software. Then, install and run it on the computer to get started. It offers a series of advantages and features:
Clone any type of hard drive or storage device on iMac.
You can backup data to protect them from future inconveniences.
You can clone an entire hard drive or just some selected files.
It offers high performance and easy solutions.
Copy data from damaged hard drive to a good hard drive on iMac.
Cloning hard drive on iMac is an option diverse people take to protect their data. Maybe, the hard drive is not working well, or maybe they want to copy data on a better or bigger drive. Perhaps, users want to sell their computers and they need to permanently delete hard drive, but before doing it, they decide to make a data backup. No matter what the reason is, you can reach your purpose by using a good data cloning software.
Many users prefer using DoYourClone for Mac because it is very simple to use. After downloading and installing on the Mac computer, you can start to use it. You only need to follow some simple steps:
Step 1: Choose the source and destination hard drive.
First of all, select the source hard drive and the destination hard drive. It is important to be sure there is enough space on this secondary drive to succeed when cloning data.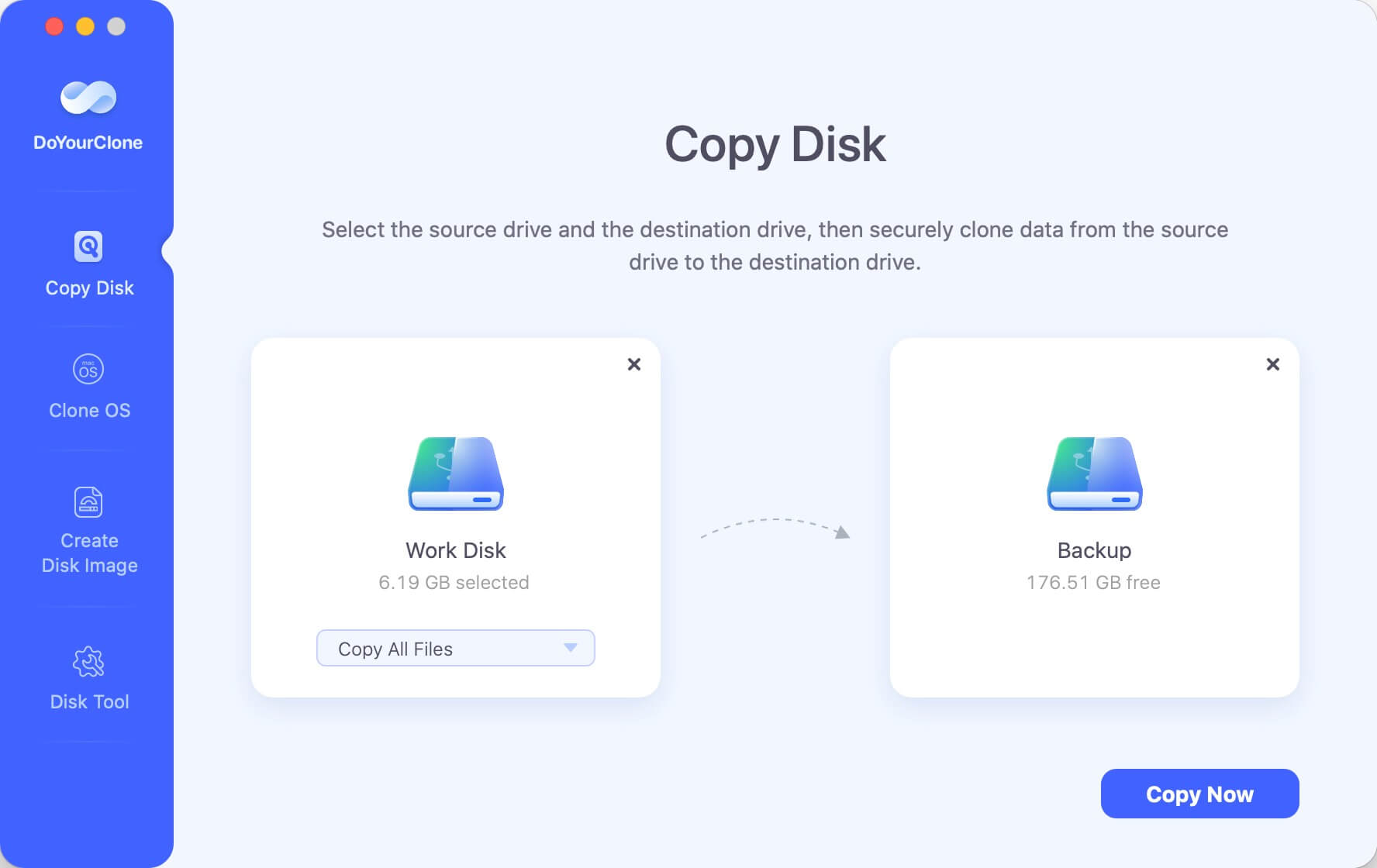 Step 2: Clone hard drive on iMac.
Once you have chosen source and destination hard drives, DoYourClone for Mac will clone data. It is possible to copy all the hard drive or only some particular files you have selected. Just click on the "Copy Now" button and wait until the copy is completed.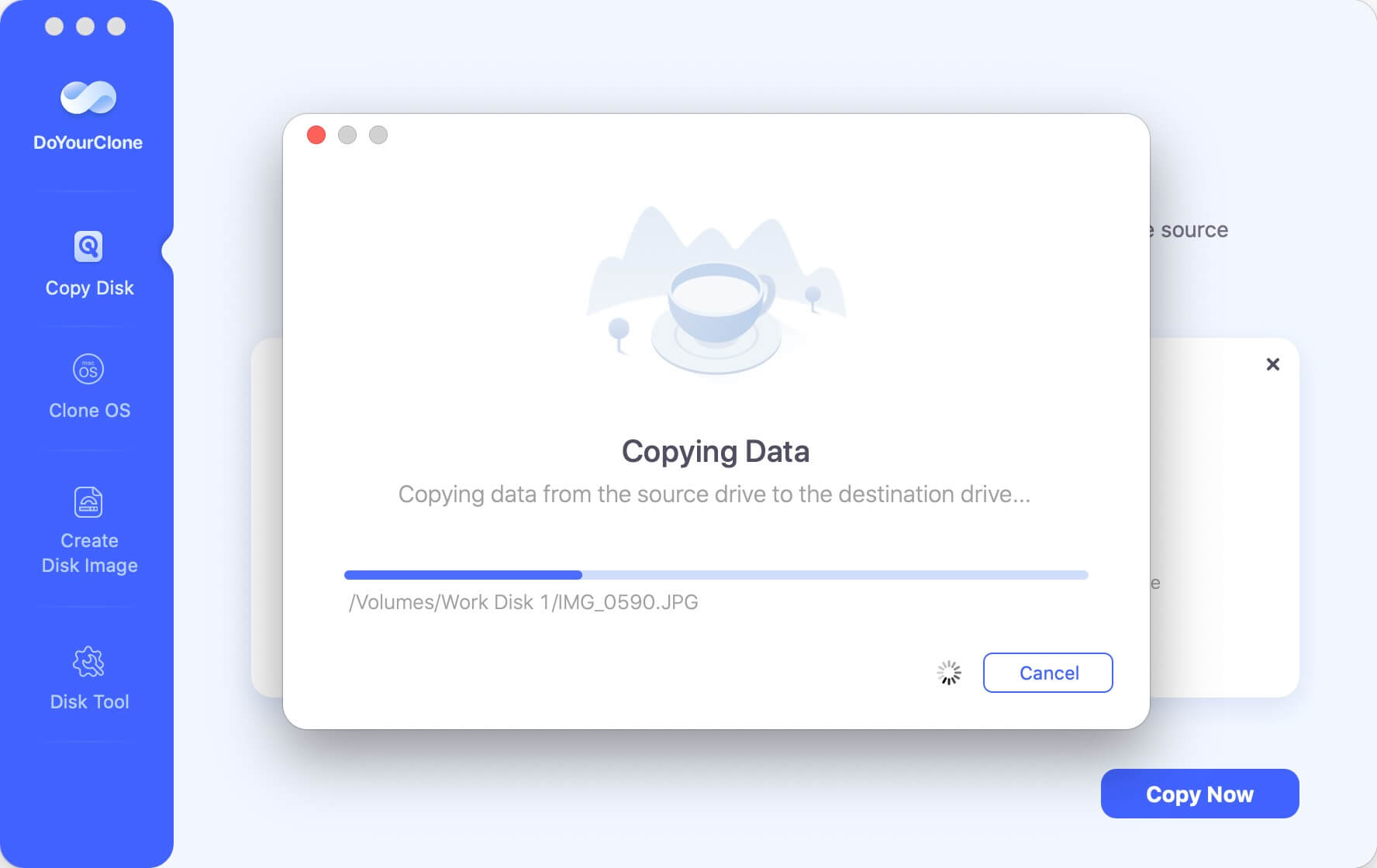 Step 3: Check cloned data on iMac.
When cloning is completed, you need to check cloned data on iMac, just to be sure the process was carried out successfully.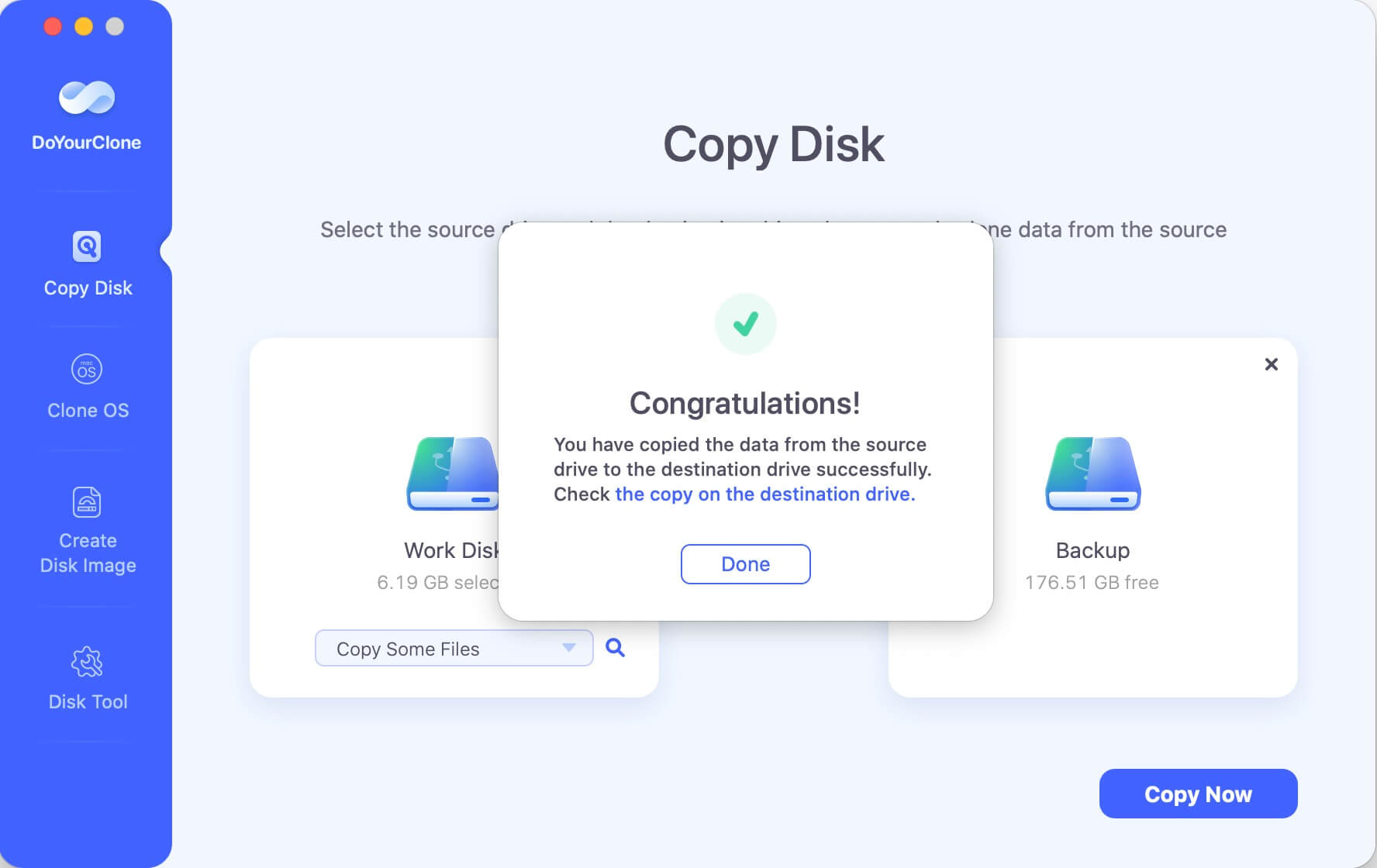 Create a bootable clone backup for iMac
Clone OS mode can help you cloning startup disk of your iMac to an external disk and make it be bootable. This is the best method to make a bootable backup for your iMac.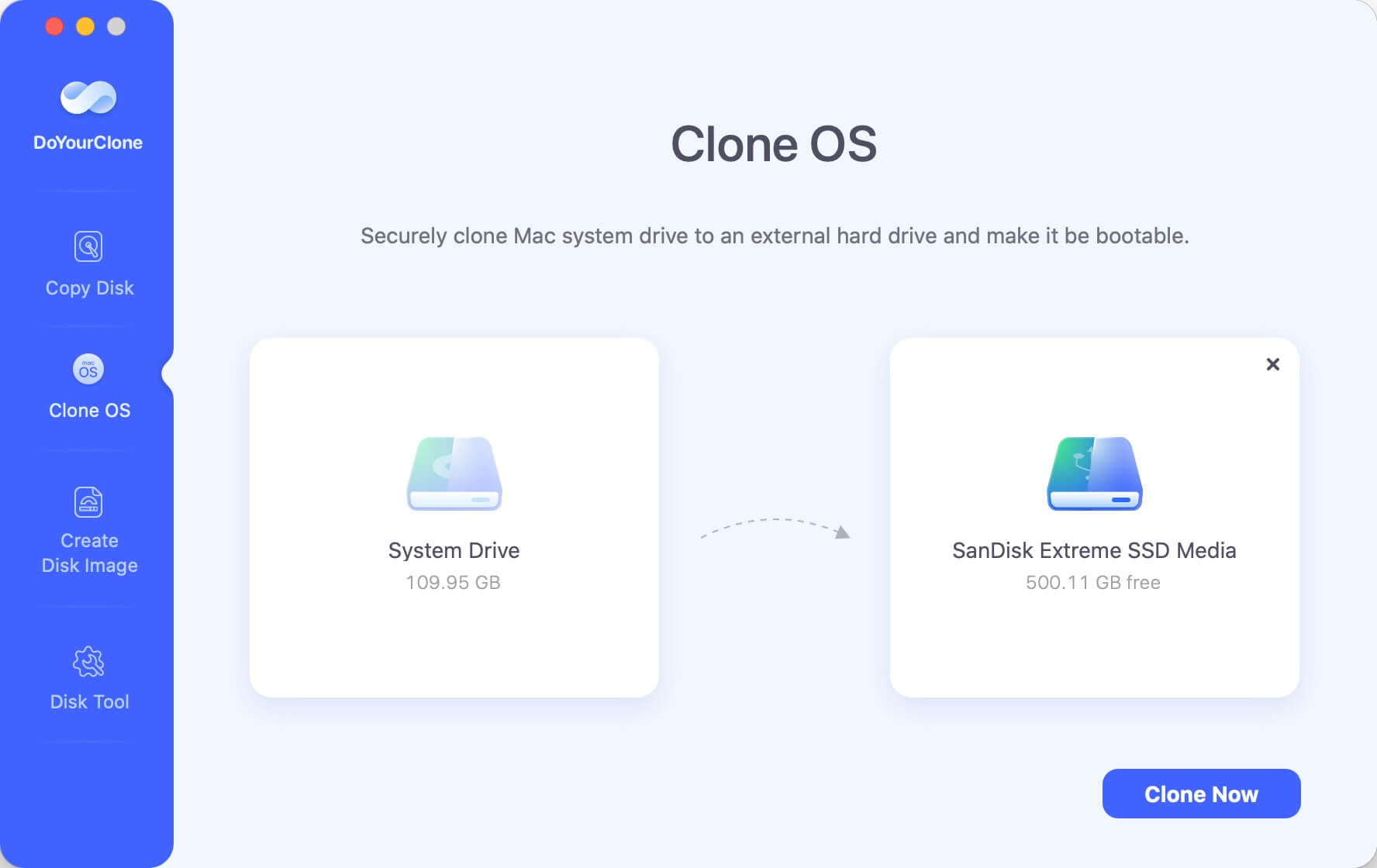 Create a disk image backup on iMac
Besides copying hard drive or cloning OS, DoYourClone for Mac also can help you create a disk image of hard drive on iMac. Just choose the mode "Create Disk Image", then select the source drive and destination drive. The software will create a disk image of the source drive and save it to the destination drive.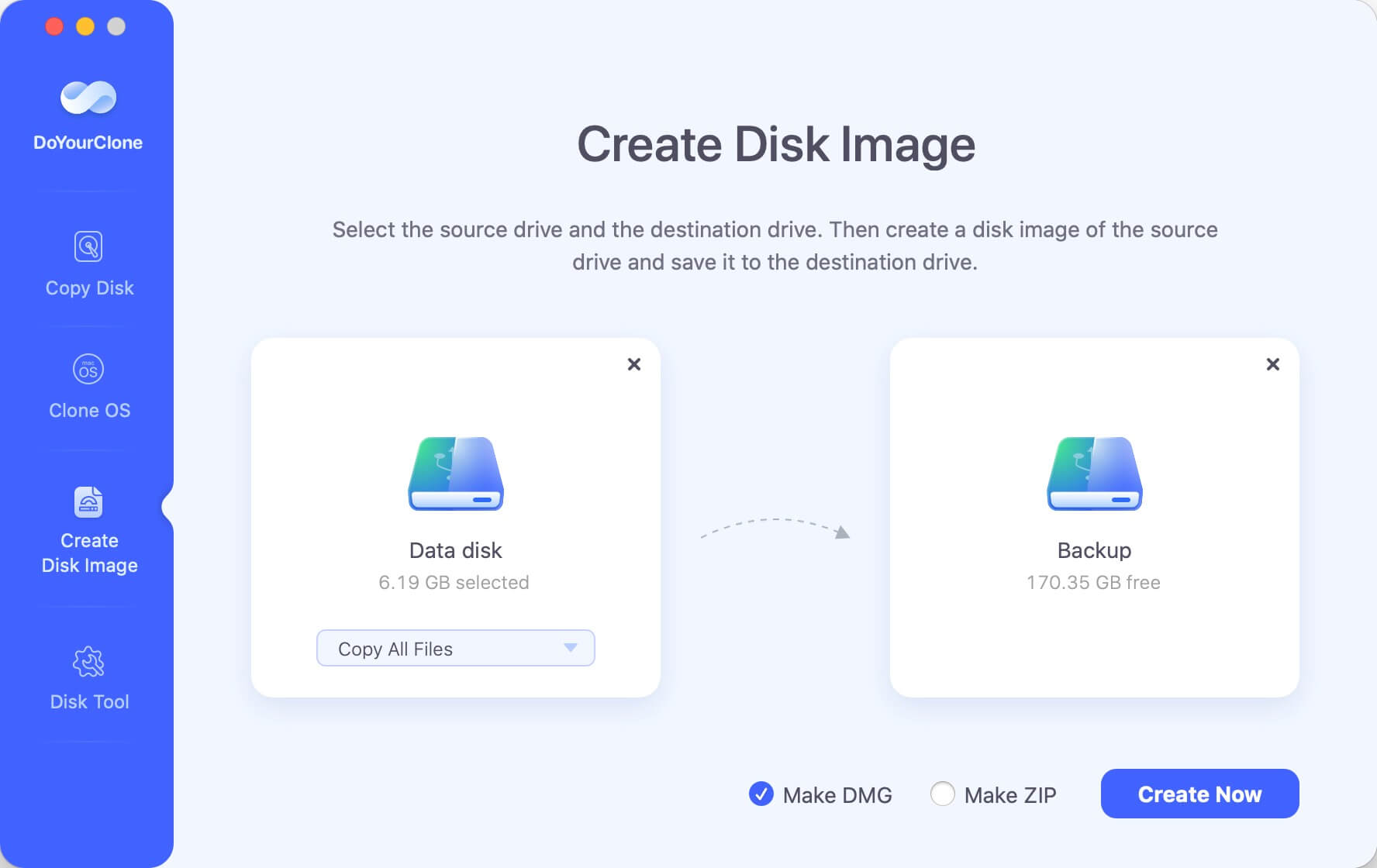 Cloning hard drive becomes easy on i Mac using DoYourClone for Mac. If you want to clone a hard drive to another hard drive or make a backup of iMac hard drive, just free download this Mac disk cloning software.