Best 6 Free Windows 11 Uninstaller:
Are you looking for the right uninstaller for Windows 11?
All of us may need an uninstaller at times, especially when we want to get rid of unwanted software or programs. It is important for the optimal working of Windows and to prevent the system from any kind of a mess.
Although the Windows comes with an option of adding or removing the programs, sometimes it fails to delete or remove the components and you may end up with the pop-up message saying uninstall has failed and some files folders and shortcuts are left.
Here comes the role of third-party uninstallers in the picture that makes it easy for you to proceed with the bulk removals without any obstacles.
Best 6 free Uninstallers for Windows 11 (DoYourData Uninstaller Included)
#1 IObit Uninstaller Free
It is an amazing uninstall of the deep scan that not only enhances the uninstall speed up to 50% but also removes all kinds of junk. The software is designed with a detailed scanned algorithm that provides 30% more detailed and efficient residual uninstallation.
Notable Features:
100% free to use.
Efficiently remove the junk files at a very high speed including broken shortcuts and caches.
Very easy and clear interface.
Installation takes only a few seconds.
Removes unnecessary plugins and speeds up your internet surfing.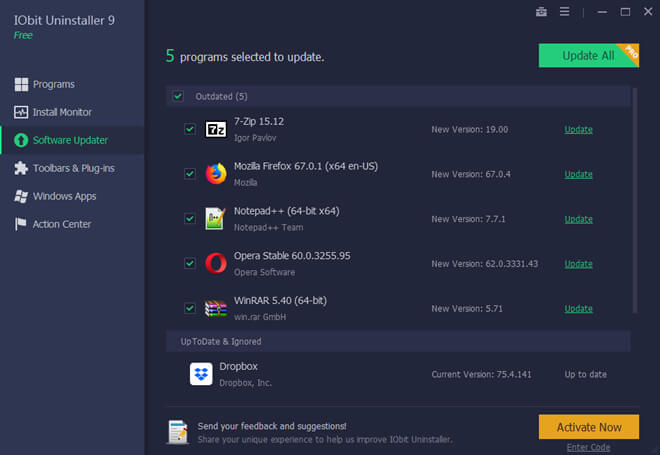 #2 Revo Uninstaller For Free
Revo is another safe uninstaller with various built-in security options that shows the installation of programs by dragging the icons onto a crosshair on your desktop. It is an extremely cultured free uninstaller that is perfect for beginners.
Notable Features:
The interface is quite simple, colorful, and stylish and is without any kind of distractions.
Creates System restore point.
Allows registry scanning.
100% compatible with Windows and Mac.
Drawback:
However, it is worth mentioning that this software comes up with unnecessary optimization tools and it may be a reason to avoid it.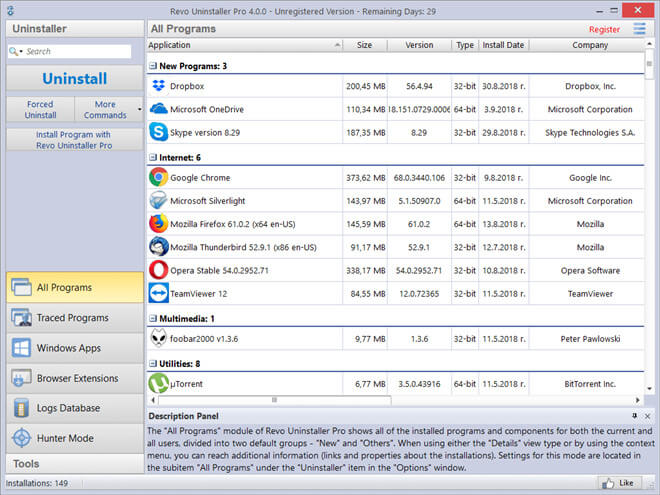 #3 Wise Program Uninstaller
This uninstaller keeps you on the safe side by providing you all the information about the files and broken registry entries that it is going to uninstall. In other words, we can say that it provides information about every program of files before deleting them. it is a small size software that will not take up much of your space and help you to remove unnecessary system tools as well.
Notable features:
Quick, smart & lean software.
Safe and forced options.
Immediately scans your whole system and provides you with information about the least used apps.
Removes all the junk files from the system without giving any useless popup messages.
Does not have any kind of unnecessary tools.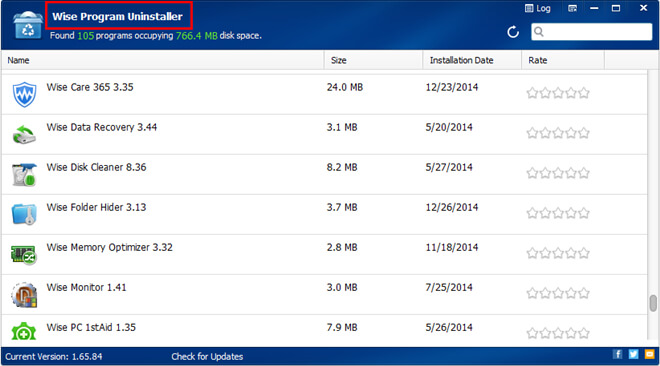 #4 Geek Uninstaller
If you are looking for a great portable Uninstaller app then this uninstaller can be perfect for you. Its pro version is also available if you want deep scanning. So you cannot expect the scanning with its free version.
Let's have a look at some of its notable features.
Notable Features:
A very speedy portable app.
Comes up with the "Google Identify" option which means that it is compatible with search engines including Google.
100% free tool with easy functionality.
Comes up with more than 30 languages which is a huge plus point of this amazing free uninstaller.
A very speedy system scanning option is available that immediately identifies the junk files.
Very easy and simple interface.
Drawbacks:
Does not allow deep scanning.
No monitoring for new installations.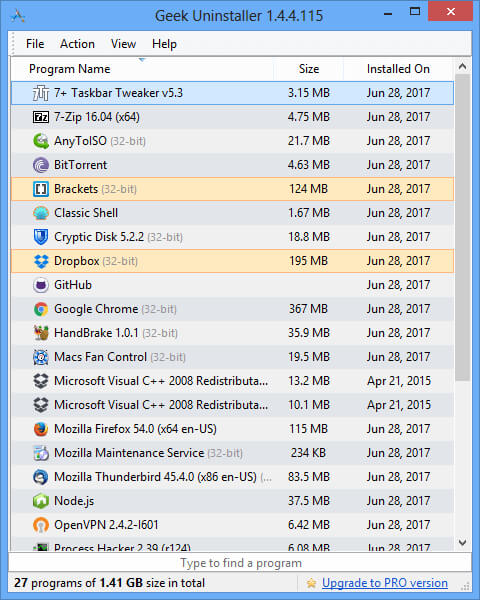 #5 Advanced Uninstaller Pro
It is a multi-featured free software uninstaller that comes up with a variety of unique features. The best part about this uninstaller is that it has extra toolkits that make it possible for you to proceed with deep scanning. It goes beyond expectations when it comes to removing the temporary files taking care of the PC's registry as well as proceeding with the deep scanning.
Notable Features:
Comes up with additional toolkits.
100% free to use, even the deep scanning is also free.
The premium version enables you to proceed with automatic installation of the various programs daily, thus it helps keep your PC optimized.
Portable, efficient, fast, and small tool.
Easy-to-use user interface.
Monitors of browsers extensions as well.
Comes up with virus detection features.
Makes recommendations on optimizing your PC.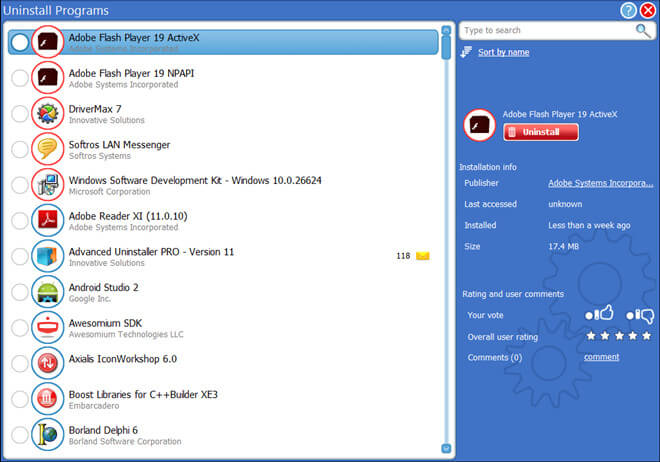 #6 The Best Uninstaller For Windows 11 - DoYourData Uninstaller Free
If you are looking for an extremely powerful and smart free uninstaller for your Windows 11 PC then you should proceed with DoYourData Uninstaller's Free version. it completely uninstalls all the unwanted and undesired programs from your Windows by accessing your Windows abs and plugins on your computer. The distinguishing trait of this uninstaller is that you can proceed with it to remove the most stubborn programs. so you can trust this amazing uninstaller to remove all kinds of related files including the junk files as well as the remnant files.
Notable Features:
Deeply uninstall all the programs and ensure the removal of all the related files and leftovers.
Helps in the removal of crashed applications, Windows apps, and plugins as well.
100% safe, clean and free to use.
Allows the step-by-step installation of the programs in just a few clicks.
Fully compatible with Windows 2000, XP, Vista, 7, 8/8.1, and Windows 10/11. Comes up without any kinds of bugs.
The standard uninstall option allows you to uninstall selected programs one by one or in batches.
You can access and utilize all the amazing features for one year for free.
Extremely easy and simple interface that makes it a bus software for beginners.
Find and removes all the junk files without leaving any stubborn programs.
& much more.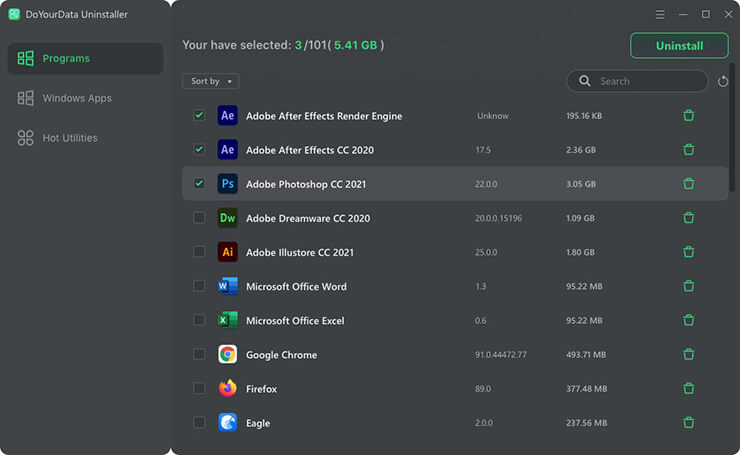 In this detailed and comprehensive guide, you have read about the best uninstaller for Windows 11. Among all of these uninstallers we recommend you use DoYourData Uninstaller which is not only free but has all the premium features that you can expect.
DoYourData Uninstaller Free
The best free uninstaller for Windows 11, Windows others, OS X and macOS.
Easily uninstall unwanted programs, Windows apps and software, deleting all leftovers including caches, registry files, app junk, logs, etc.
100% safe and free uninstaller.