Memory SD Card Recovery Software is a valuable tool for recovering lost video, photo, or music files. These applications allow you to recover data from various storage media devices, including SD cards.
The following is a handpicked list of the Top Free Memory SD Card Recovery Software, complete with popular features and website links.
Top 10 Memory Card Recovery Software:
Best free memory card software for Windows and Mac OS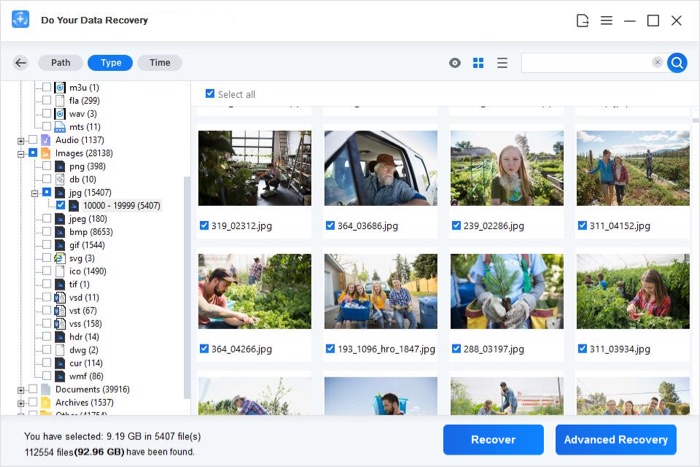 Do Your Data Recovery Free is a free memory card recovery program which supports to recover all file formats from all types of memory cards such as SD cards, multimedia cards, CF cards,XQD cards, etc. It also can help you recover lost data from PC, Mac, external hard drive, USB flash drive, digital camera, etc.
Pros:
Support to recover lost data from most of storage devices.
Recover all types of files including photos, videos, documents, audio, etc.
Freeware to recover lost data from memory card.
Recover deleted, formatted and lost files.
Export data from inaccessible SD card to your computer.
Easy-to-use and 100% safe.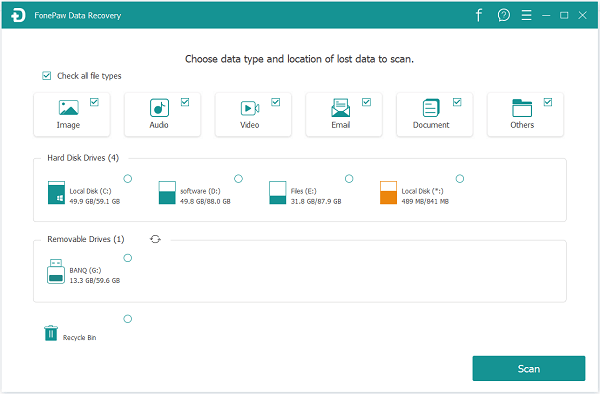 FonePaw Data Recovery is a powerful and user-friendly tool for recovering deleted data from SD cards. FAST scan speed makes it very simple to recover over 1000 file types. A high success rate allows for the recovery of photos, videos, audio, office files, emails, and other data. You don't need a backup because it can recover data from SD cards, HDDs, SSDs, and USB flash drives. Because it can scan files for free, you can install it on your PC/Mac and give it a shot.
Pros:
It is free and allows you to scan specific file types and hard disc drives.
It enables you to recover deleted files from SD cards, external drives, and flash drives (recycle bins included).
Images, videos, audio, office files, emails, compressed files, databases, and other data types can be quickly recovered.
Recover lost data with a single click.
There are two scanning modes: Deep scan and quick scan.
You can preview your file before recovering it and easily find it by using a filter.
It supports a variety of languages, including English, German, French, Spanish, Japanese, and Traditional Chinese, and it supports over 1000 file formats.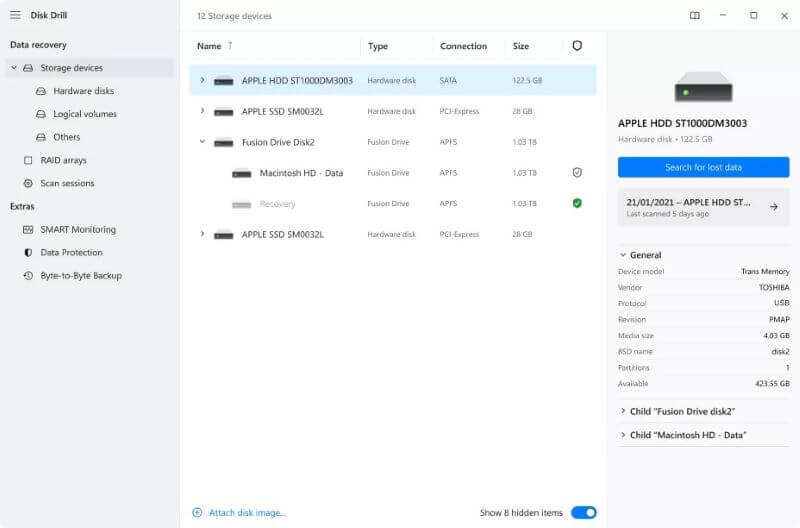 Disk Drill is a highly regarded data recovery program in the information technology industry. CleverFiles' application can scan external and internal storage devices, from your local disc drive to portable USB drives and SD cards. It works well on a Windows computer, making it one of the most competitive data recovery tools.
Pros:
Files discovered are organized by category.
Filters the results based on their size and data.
Multiple file systems are supported.
Data recovery requires only four steps.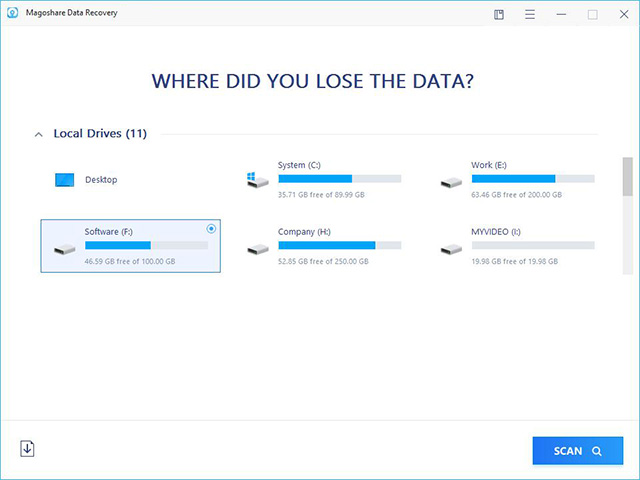 Magoshare accessible data recovery software is a dependable SD card data recovery tool that can help you recover deleted/lost data. It easily and quickly handles 100+ real-life data loss scenarios such as deletion, formatting, RAW, etc. It is a lifesaver for recovering lost data from memory cards, microSD cards, CF or SDHC cards, etc. If you want to recover your card, this is a must-have tool.
Pros:
Simple to use. It has a simple interface, and the recovery procedure is only three steps long.
All file systems are supported, including FAT, exFAT, NTFS, NTFS5, ext2/ext3, HFS+, and ReFS.
Most devices are supported, including PC/laptops, internal/external hard drives, USB drives, Micro cards, Camcorder, Digital Camera, Music Player, Video Player, RAID, CF/SD card, pen drive, and others.
Following the scanning process, look for files by extension or name.
Repairs damaged JPEG/JPG photos and MP4/MOV camera videos.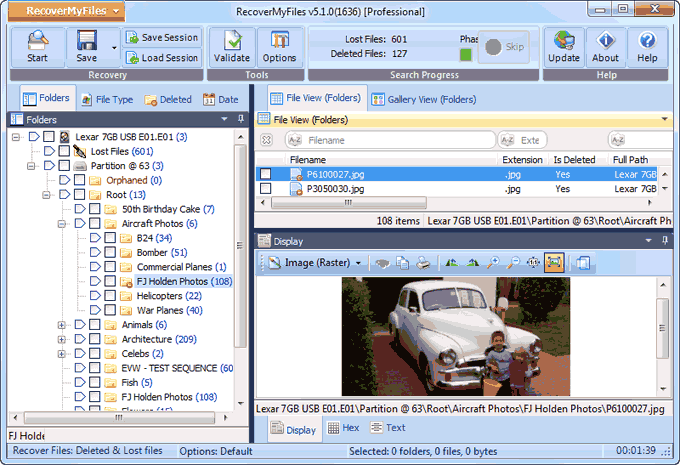 Recover My Files recovers deleted files that have been emptied from the Windows Recycle Bin, files that have been lost due to a hard drive format or re-install, files that a virus has removed, Trojan infection, unexpected system shutdown, or software failure. It enables users to recover data from hard drives, SD cards, USB Zip drives, floppy discs, iPods, and other storage devices.
Pros:
Scan a partition's backup (image file).
Files are sorted by date.
Change the layout of the items being viewed.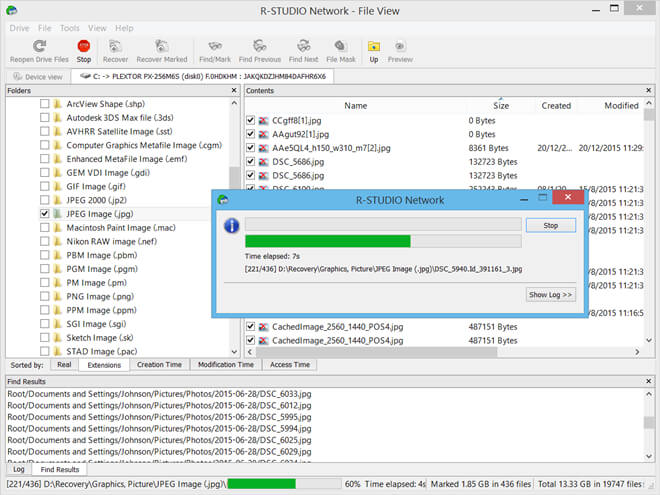 R-Studio is the most comprehensive data recovery solution for NTFS, NTFS5, ReFS, FAT12/16/32, exFAT, HFS/HFS+, and APFS file systems. It also scans heavily damaged and unknown file systems for known file types. This software also supports data recovery from network drives, surpassing most of its competitors.
Pros:
Data recovery from network drives is supported.
Multiple file systems are supported.
Allows you to create image files and recover files from image files.
To estimate recovery chances, the advanced hexadecimal editor File previewer can be used to view and edit file or disc content.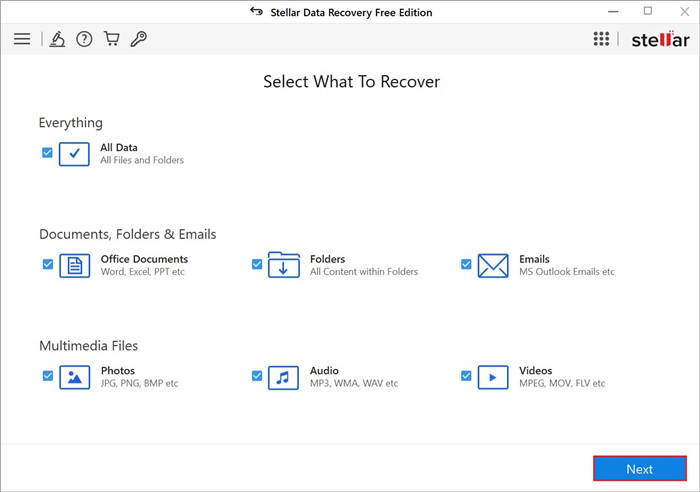 Stellar Data Recovery software is an easy-to-use Windows program for recovering lost documents, emails, photos, videos, and other files from HDDs, USB drives, memory cards, and other storage devices. If you regret deleting recent files, the Stellar Data Recovery tool can assist you effectively. Its user-friendly interface and powerful data recovery capabilities pique users' interest and earn their trust.
Pros:
A four-step recovery procedure.
Scans a specific folder and searches for files based on the scanning results.
Recovers deleted files from all Windows devices.
It has a simple recovery guide and a straightforward interface.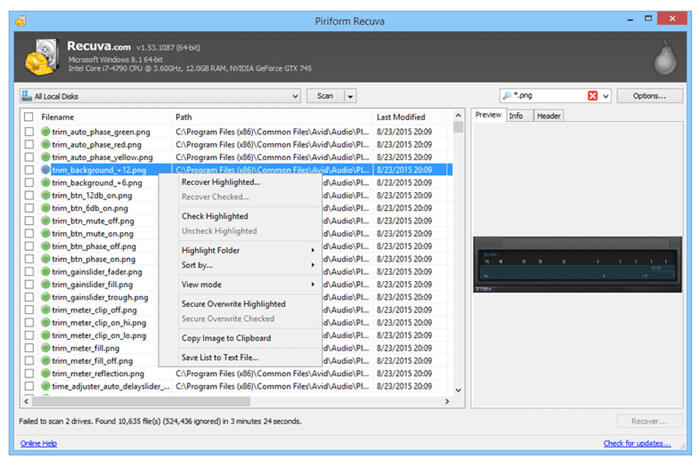 Piriform Recuva is a free SD card recovery program. It aids in the recovery of data from Windows storage media. Its wizard-like interface speeds up deleted file/folder recovery and is compatible with Windows 10 and earlier versions.
Pros:
Simple User Interface.
Before the final recovery, preview the files.
It is compatible with both FAT and NTFS file systems.
Supports Thunderbird, Outlook Express, Windows Mail, and Microsoft Outlook email recovery.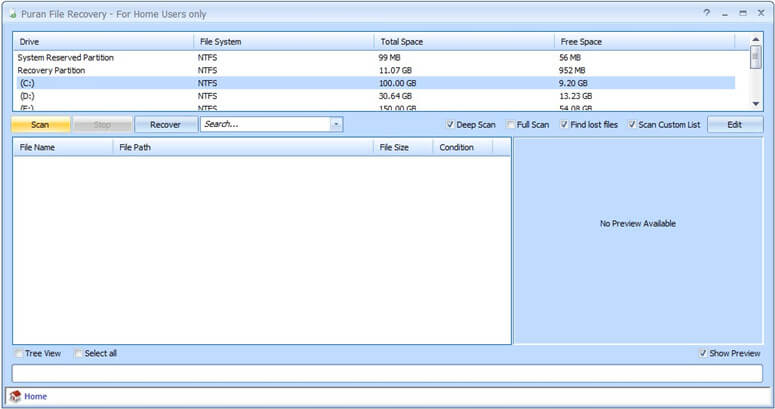 Puran Data Recovery is a free utility that can assist you in recovering as much data as possible from damaged media such as scratched CDs, DVDs, Blu Rays, damaged pen drives, memory cards, and so on. Data recovery can recover files if you see a list of files on any media. It ignores any bad sectors that appear while copying data from a file and continues to copy until the file's end. As a result, the maximum amount of undamaged data is recovered.
Pros:
While recovering files, it automatically skips bad sectors.
CD, DVD, and Blu-ray drives are all supported.
Drag and drop is enabled.
Completely free.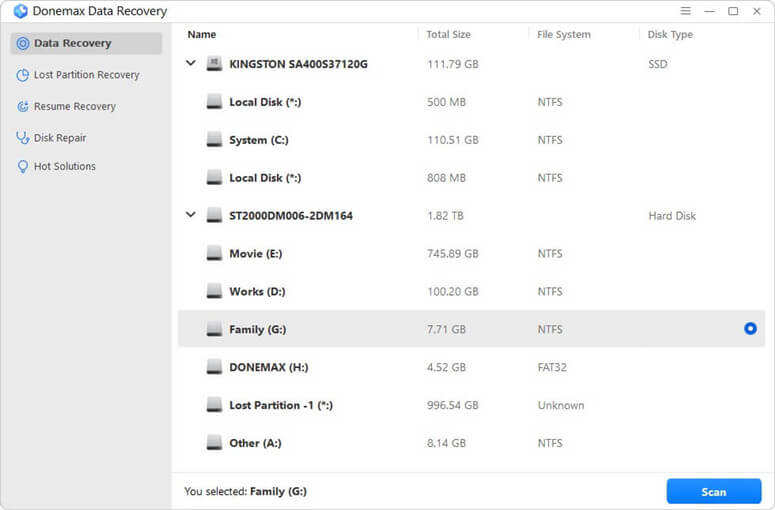 If you wanna recover lost from a SD card, Donemax Data Recovery is a great choice. It offers deep scan mode to ensure finding every recoverable file from SD card. It even can recover lost files from a corrupted SD card.
Pros:
Support data recovery and lost partition recovery.
Pretty simple to use.
Recovery all file formats.
Advanced recovery modes.
Guide: Three Steps to Recover Lost Data from Memory Card
Now, follow the steps below to recover lost data from a memory card.
Step 1. Download and install Do Your Data Recovery Free on your computer.
Do Your Data Recovery Free
Unformat SD card or memory card.
Recover deleted and lost files.
Recover corrupted or inaccessible data.
Then insert the memory card into your computer. Open Do Your Data Recovery Free and select the memory card to start data recovery.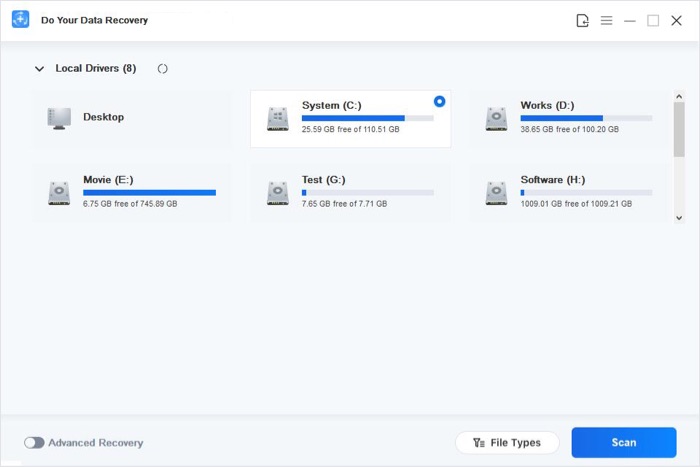 Step 2. Click on Scan button. Do Your Data Recovery Free offers two scan modes: quick scan and deep scan. If the quick scan can't find all lost files, just click on Advanced Recovery mode to enter deep scan mode.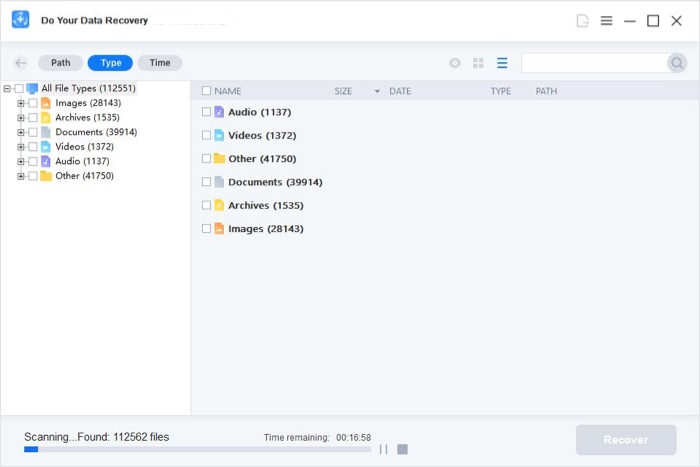 Step 3. Once the process gets finished, you can preview all recoverable files. Then select the wanted files and save them.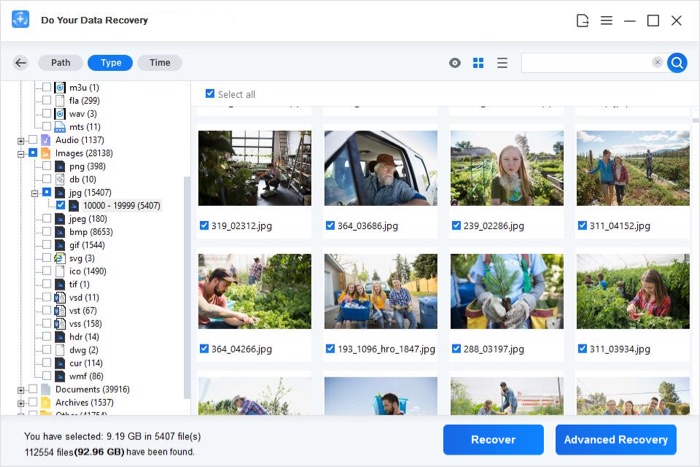 Conclusion: Tips for a Successful Memory Card Recovery Free
Data recovery from a memory card is similar to recovering data from any other device. The same principle applies: you lose data and then retrieve it. Make no changes to the storage card from which you want to recover files. You may write new data to the device, causing the old or deleted files to be damaged or overwritten, resulting in permanent data loss. That is to say, the sooner you begin SD card recovery, the better your chances of recovering your photos, media files, and image files.
Furthermore, do not use any free SD card recovery software that you find online, primarily if it does not ensure the safety and security of your essential files. Utilize the best SD card recovery software, which makes memory card recovery as simple as a few mouse clicks.