When it comes to reading text on the screen, there is an accessibility function in macOS that may make things a lot easier, particularly if it's in small, hard-to-read characters. Those who are visually handicapped are not the only ones who may benefit from this function, which is termed Hover Text.
What Is Hover Text?
If despite your best efforts to focus on the teeny-tiny zigzags on the digital screen of the Mac, you are unable to figure out what is written, you will need to get up from the chair and search for the magnifying glass. That is so tiresome.
Reading assistance available called Hover Text might assist you in getting out of problems. Hover Text is an adjustable glass that allows you to zoom in on little text or material on your Mac display for macOS Monterey, macOS Catalina, macOS Big Sur, and later macOS versions.
This magical Hover Text is helpful for those who are visually impaired, but it also has a place in the lives of sighted people and plays an important part in their everyday lives. When you are typing in the Pages app, the text size is consistently tiny in this software. Mac Hover Text, on the other hand, has the ability to enlarge the word size to improve readability.
Additionally, Mac Hover Text makes it easier to see program names and menu items in your Mac's Dock and the top right-hand corner of your screen. Also, you may use Mac Hover Text to enlarge buttons in apps and websites. You may use Hover Text to get over poor-eyesight concerns on Mac with such ease.
How to Enable Hover Text?
By following these simple instructions, you may start this great application on Mac:
Click the Apple symbol at the upper left of the screen.
Select System References.
Choose Accessibility.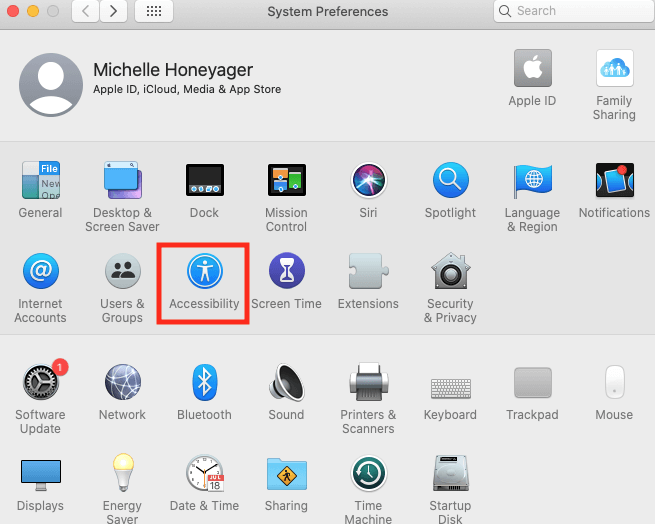 Click Zoom.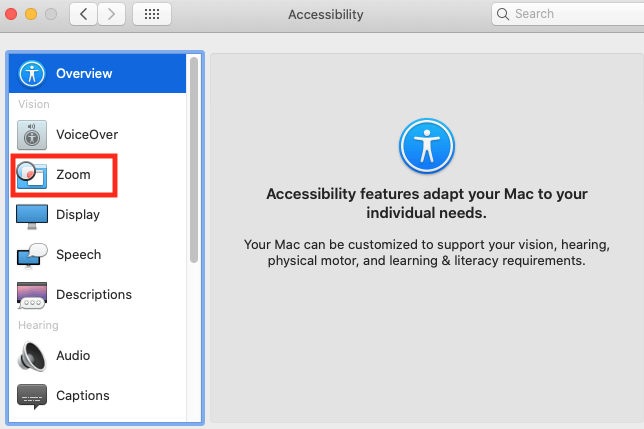 Enable Hover Text is checked by clicking on the checkbox.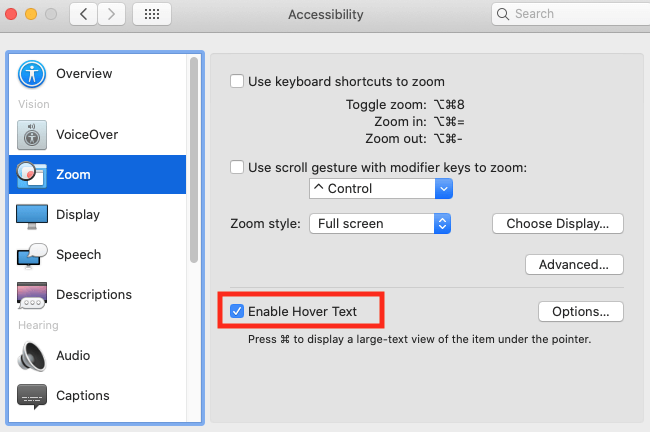 Hover Text's typeface and activation key are just a few of the many options available by selecting Options from the drop-down menu.
Use the Command button (or whichever activation modifier you selected) to activate hover text by holding your arrow icon over an object and clicking it.
Hover Text will always appear while your mouse icon is over anything if you press the activation key (typically Command by default) three times. This might be useful for persons with visual impairments or to explain what specific computer buttons perform.
How Can I Alter the Settings for Mac's Hover Text?
You have complete control over the configuration of Hover Text on your Mac, and all options may be altered to suit your preferences better.
Hover Text Options
Hover Text Options include the text size, text style, the position of the text box, and buttons to enable this feature on your Mac. You may make a change by clicking the Options button on the right side of the Enable Hover Text button.
Text Size:
The default text size for the enlarged letters is 60 pt, but you may modify it by clicking the blue icon and then selecting a preset number or manually entering a new value in the text size field that pops up.
Text Font:
To modify the enlarged text's look, you may choose a font different than what comes preinstalled.
Text-Entry Location:
This option allows you to see your typing in a box and at the place you choose while using Mac's text-entry feature.
Activation Modifier:
The shortcuts for turning on and off Hover Text may be modified in this item using the activation modifier.
Activation Lock:
If you choose the Triple-press to lock option, the Mac Hover Text may be locked by hitting the activation modifier key three times. To unlock the Hover Text, repeat the process.
Colors
In the Colors box, you may choose several shades of gray for the background, insertion point, background color, border color, and element highlight color from the usual black on a light grey backdrop.
How to Disable Hover Text?
The capability may be disabled by simply following these instructions:
Click the Apple symbol at the upper left of the screen.
Select System References.
Choose Accessibility.
Click Zoom.
Uncheck the option next to Enable Hover Text to complete the process.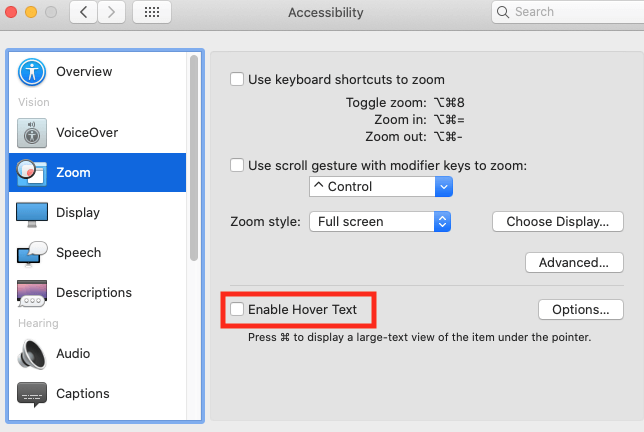 When you run your cursor over anything, the boxes should not display since it should instantly switch off.
Conclusion
If you have trouble focusing as a result of macular hole surgery, suffer from astigmatism, or have any disease that impairs your vision in any way. Hover Text is an excellent feature that may assist you in recognizing the label of a radio button that is printed in extremely tiny type, text that is written in very small font, and other similar things.
DoYourData Products
Clone HDD, SSD, Mac OS, external disk, USB drive, and more under Mac OS.
Free Trial