First of all, please make sure you scan the right hard drive where the data is lost. If you can't find your lost data after quick scan, you can try advanced recovery mode, it will find much more lost files. If the data recovery software still can't find the lost files or the recovered files can't be opened, you can follow these guides to recover more recoverable files.
1. Restart your computer, then run the data recovery software to rescan your hard drive (advanced recovery scan). In some cases, restart the computer will help you initialize the hard drive. Please don't stop the deep scan, just let it finish the full scanning.
2. In most cases, the structure of the lost folder will be destroyed. And the file name of the lost files may be changed after loss. For example, you lose a video called GameofThrones.rmvb, the file name may become FILE788.rmvb after deletion or format.
So please preview the files by File Type and save the files have the same file name with your lost files. For example, if you lose some .PNG files, just save all the .PNG files to your computer and check them one by one to find your lost files.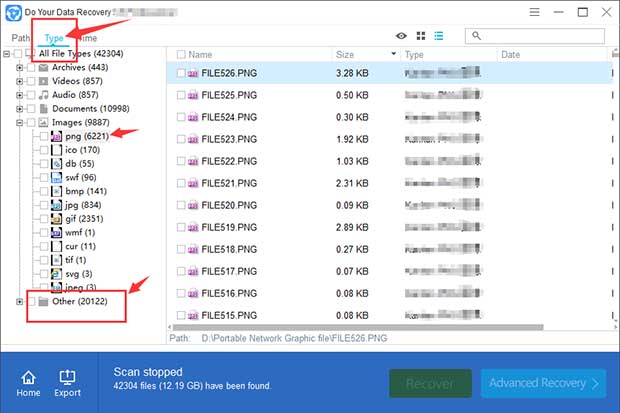 If you still can't find your lost files or the recovered files can't be opened, just find more recoverable files from Others.
Why the recovered files can't be opened?
If you have tried all the solutions above but still can't find your lost files that can be opened. You can try the following solutions:
First of all, check if you have the application can open the recovered files. For example, if you want to open PDF files, you should install PDF reader or similar applications.
If the files still can't be opened, they may be damaged or overwritten. You can try to deep scan your hard drive later (1-2 days later). Or, just find file repair software on the internet to help you repair the recovered files. There are many free file repair software that can help you repair the pictures, documents, etc. (The premise is that the files are not o KB files.)
If your data has been stored on different device, you can try to recover it from another device.
You can also send your device to a data recovery lab. Manual data recovery service can help you recover and repair damaged files to some extent.
Please note that all the data recovery software can't help you repair files, they can only recover the files.
If you have any question, feel free to contact us by sending an email to support@doyourdata.com.