>
Erase Data
> Shred and Permanently Delete Videos
Shred and Permanently Delete Videos
by Shirly Chen, 2016-09-19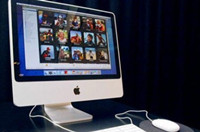 "I am going to send my household computer to be repaired. However, I have once stored hundreds of very private videos on the hard drive. These videos mustn't be seen by other people because they are very private. I want to permanently shred these videos before sending the computer to local computer repair store. How to do that? I don't want to other people recover the deleted videos by data recovery software or any method. In a word: I want to permanently destroy these videos without any chance of data recovery." – Kanic
Nowadays, many of us have known how to recover deleted of formatted files with data recovery software or other technical methods. So when you delete a video file or format the partition in which videos are stored, you can't permanently let the video be lost for good. In order to permanently shred and delete video files, you need professional data erasing tool.
Permanently Delete Videos with Super Eraser
Super Eraser is a powerful data erasing application. It will permanently shred, destroy and wipe the selected files from hard drive or storage media without any chance of data recovery. Why it can permanently deleted video files? Cause it will shred and wipe the selected video files and overwrite the disk space of deleted videos to make data recovery impossible. It can destroy and permanently delete videos from PC/Mac, hard drive, USB flash drive, digital camera, digital camcorder, memory card, etc. It offers three convenient options to permanently wipe video files or other files.
Option 1: Permanently shred and delete video files.
In order to delete some private videos and make data recovery impossible, you should permanently erase these videos. This option allows you to selectively shred and wipe videos on your hard drive or storage media. It is very useful when you only want to erase several videos.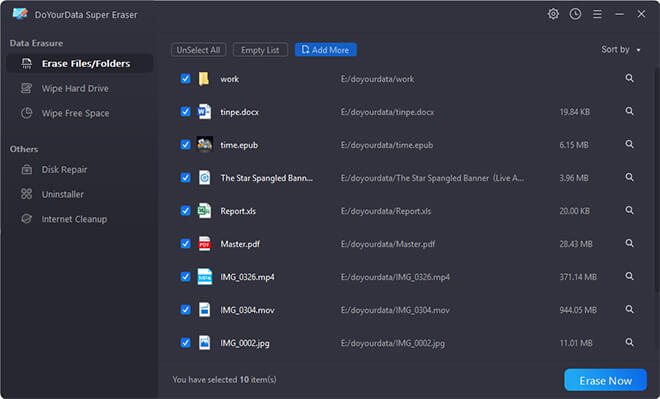 Option 2: Wipe entire partition to destroy all videos files.
If you have stored all your videos in a partition or device, this mode can help you wipe the entire hard drive partition to destroy all videos. Please note that this option will permanently wipe all the existing and deleted/lost data on the selected hard drive partition or device.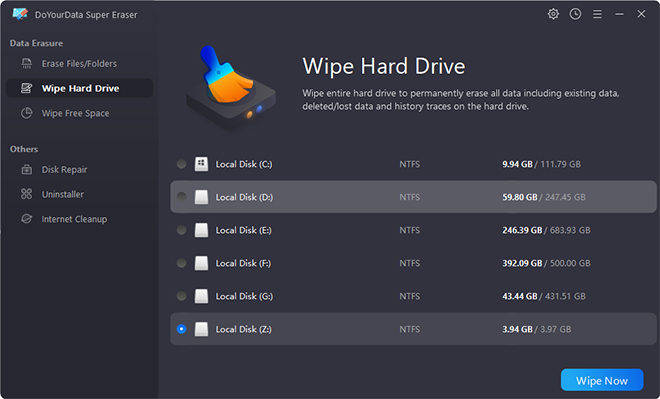 Option 3: Wipe unused disk space to destroy deleted/lost videos.
If the videos have been deleted or formatted by you, you can use this option to wipe the unused disk space to permanently erase the deleted/lost videos on the hard drive partition so that other people can't recover your deleted or lost videos any more.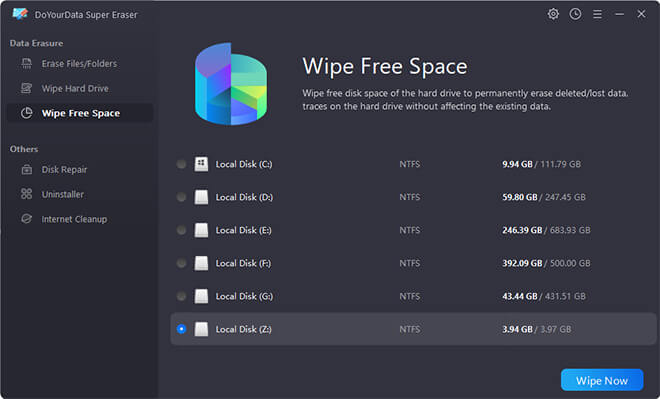 The videos that contain sensitive information should be permanently deleted before you resell, donate or give away your old computer/device. You do not want to your videos fall into wrong hands. So just download and install Super Eraser and run it to permanently shred/delete videos from your hard drive or storage media under Windows and Mac. It will permanently destroy the videos that you don't want to other people see. It also supports to permanently delete other files like photos, emails, documents, archives, audio, etc.