"How to restore lost files from virus infected USB drive? My USB drive was seriously attacked by some unknown virus, all my files were gone. Is there any way to recover my files back?" – Kinlina Jimoe
Virus infection is one of the biggest threats to USB drive data security. When the USB drive gets virus infected, the files on the hard drive may be removed. It is the worst time because you may lose all your important data. If you are facing the following problems, just read on to find the solution to restore lost files from virus infected USB drive.
The files or folders are changed to shortcuts.
There are some shortcuts with same name present there and that points to some weird files (usually .scr).
When open the USB drive, it asks "The device is not formatted, do you want to format it now?"
All/partial the files are gone due to virus infection.
Can.t access to the USB drive or the folders on the USB drive.
The computer can.t recognize the USB drive when they are connected.
All the symptoms above imply that your USB drive has been infected by virus/malware/Trojan. When it happens to your USB drive, don't panic, there must be a solution for you to remove the virus and restore lost files.
Step 1: Remove the virus
Before doing file recovery from your virus infected USB drive, you.d better remove the virus from it immediately. Just connect your USB drive to a PC or Mac that is protected with antivirus software. Run the antivirus software to scan your USB drive, find and remove the virus.
Step 2: Restore lost files from virus infected USB drive with data recovery software
When you find your files are disappeared from your USB drive, they are not permanently lost or destroyed. Data recovery software can easily help you restore lost files from virus infected USB drive. But finding the right software is the key point. There are a lot of data recovery programs on the market, but most all them are very difficult to use.
Do Your Data Recovery is a very simple to use program that can completely restore lost files from virus infected USB drive. Just install it on your computer, then run it to scan your virus infected USB drive to find lost files. The wizard-based interface makes data recovery easy for you. Please don't save the recovered files to your USB drive in case that the files will overwrite the disk space of lost files. Save them to another place.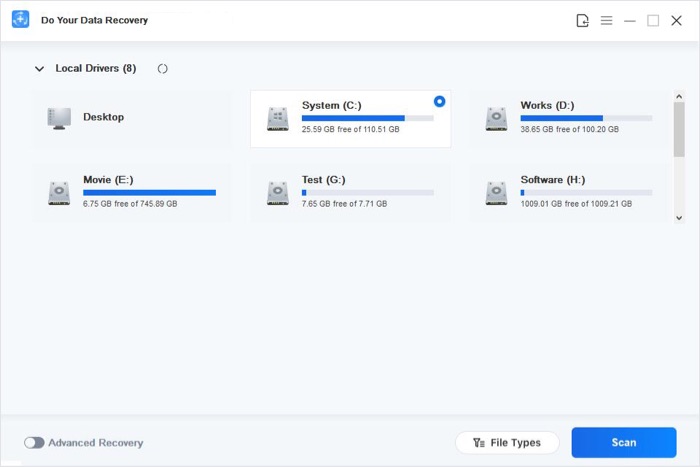 If you frequently use USB drive to transfer data between different computers, your USB drive can be easily attacked by virus. You must be careful, don't use the USB drive on the computer which has no antivirus protection. It is recommended to regularly scan your USB drive with antivirus software and back up your USB drive files. When you find that your USB drive is infected by virus, don't use it any more. Just use Do Your Data Recovery to restore your files.
Format virus-infected USB flash drive
After recovery of your data, you can try to format the virus-infected USB flash drive to remove all useless traces and virus infected files on your USB flash drive. DoYourData Super Eraser can help you securely and easily format virus-infected USB flash drive.