Quick Navigation:
You might think that all your deleted files are gone for good after you empty the trash or reformat the hard drive. That, however, is not the case. These files are only transferred to different locations on the hard drive. If you're looking into how to wipe a hard drive, remember that you'll have to delete every trace of the files that were there before.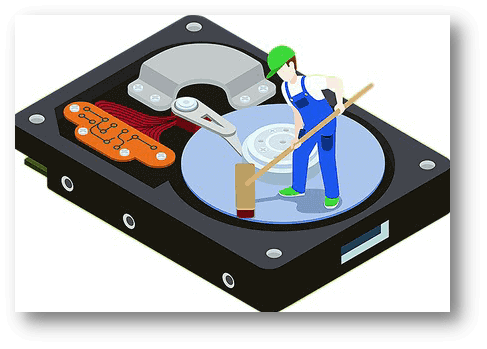 Anything that has ever lived on your hard drive, from bank records to private photos, may remain there. Those who want to completely delete their data usually sell their hard drive/PC, replace their hard disk, upgrade, or start over.
If you plan on selling, trading, or recycling your old gadget, you should erase all of the information stored on its hard drive to prevent any sensitive data from being exposed or stolen. Keep reading if you want to know how to wipe a hard drive to prevent viruses, identity theft, and other threats.
Quickly Format External Hard Drive on Windows and Mac OS
Windows and Mac OS include a built-in format option to delete all data from an external storage device and reformat the file system.
Formatting external devices on Mac OS:
To launch Disk Utility, navigate to the Applications folder, then choose the Utilities tab.
Select the external hard drive you wish to format in the left-hand sidebar, and then select Erase in the main menu.
Name the drive in the corresponding drop-down menu.
Pick a file type to see it in. It is suggested that ExFAT be used for external drives. Use this Format if you intend to share the drive with Windows computers.
A GUID Partition Map (GPT) scheme will automatically be chosen.
Click Erase again, when it completes, click Done.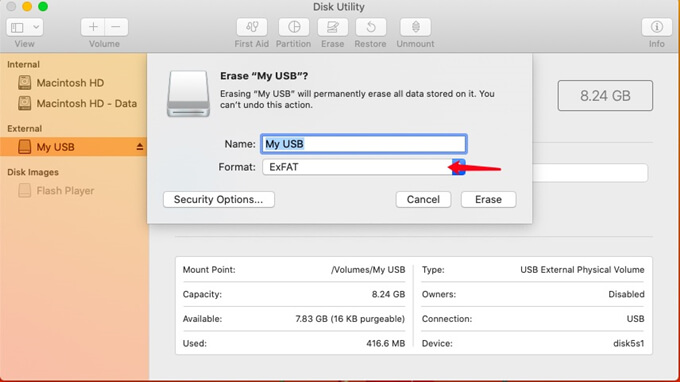 Formatting an external device on Windows:
Here's how to use Windows to reformat a USB drive:
Go to This PC.
Select the drive you want to format with a right-click.
Select Format from the context menu.
Deactivate the Quick Formatting option. A fast format deletes data without checking to ensure everything has been removed. A full format will take more time, but it will scan for files and delete them thoroughly.
Click Start.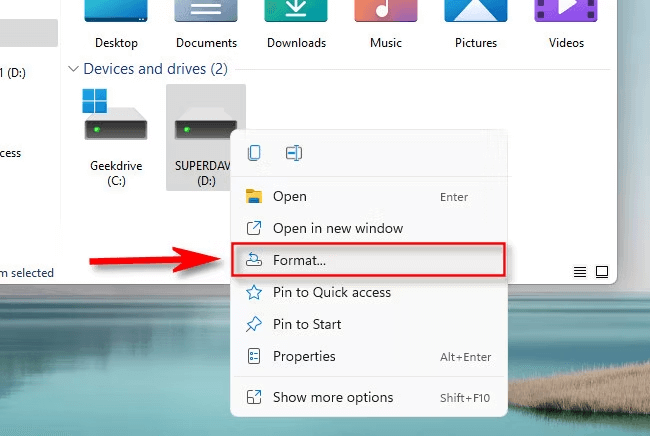 After the "Format Successful" window has appeared, you can safely eject the device.
Use CMD DiskPart to Clean External Disks:
To clean an external hard disk with CMD commands, follow these steps.
First, press the Windows key plus the letter S on your keyboard and then type Command Prompt. Go to File > Run > Run as Administrator.
Second, when the black command prompt appears, type diskpart and press Enter.
Third, enter "list disk" and hit the Enter key. The external hard drive you want to clean will be displayed in the list appearing when you respond to the query.
Disk A, the removable storage medium, is used. By typing "select disk A," you can make Disk A the active Disk.
Clear all text and press Enter. After DiskPart finishes wiping the Disk, you should get a notice saying so. The CMD DiskPart command prompt window can be closed by typing Exit and hitting Enter.
Note: The formatted data is not lost forever and can be recovered by data recovery software. If your external hard drive is formatted on Windows or macOS, you can download a free data recovery software to scan the formatted hard drive and it will find all lost files.
Securely Reset and Wipe External Hard Drive with Data Eraser
Before you sell, donate or dispose of your external hard drive, you should factory reset it and permanently wipe all sensitive data off to prevent potential data recovery. As you have know that whether you delete all files from the external hard drive or reformat it, the data stored on it is not lost forever and can be easily recovered by data recovery software. To permanently wipe all data from the external hard drive, you should use data erasure method.
DoYourData Super Eraser is an easy to use and 100% safe data erasure program which offers certified data erasure standards to erase data from local hard drive or external storage device. To wipe an external hard drive clean for sale, donating, just follow the steps below:
Step 1. Download and install DoYourData Super Eraser on your computer and connect the target external hard drive to your computer.
Step 2. Open DoYourData Super Eraser, select data erasure mode - Wipe Hard Drive. This mode will securely and permanently format and wipe the hard drive, permanently erase all data including existing data, deleted/formatted/lost data on the hard drive.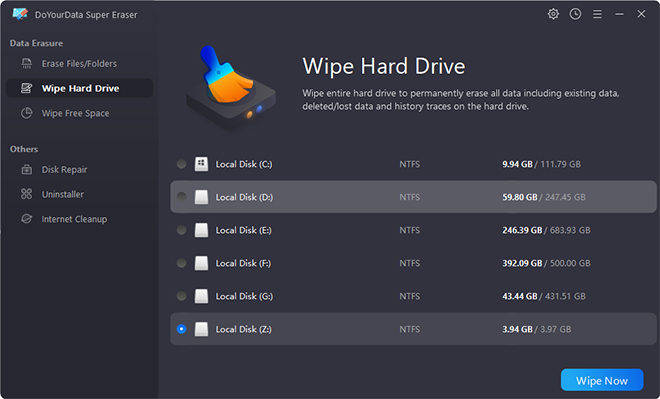 Step 3. Select the external hard drive and click on Wipe Now button. Then all data stored on the external hard drive will be permanently erased.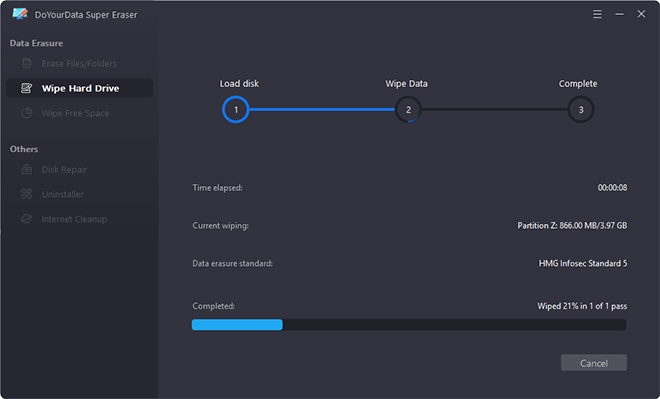 Please note that once the data is erased by DoYourData Super Eraser, it is gone forever, can not be recovered by any method. So, you should make a backup of the external hard drive before you wipe it with DoYourData Super Eraser.
Conclusion:
The best technique to erase an external hard drive of personal information before selling it to a stranger is to wipe (or erase) it. You can change the drive's file system by formatting it when necessary.
While it's true that any drive can be made to work with both Windows and macOS with the right formatting, most drives on the market are shipped in a Windows-specific format. However, you may need to reformat the drive before using it with Windows if you purchase it or intend to switch operating systems. The need to reformat the drive is more likely to occur with a Mac. However, an alarm is not necessary; it's a straightforward procedure.