A bootable macOS Ventura USB installer is frequently helpful. For instance, without constantly downloading the massive 12 GB file to each Mac, you may utilize the drive to install a new copy of macOS on as many Macs as you wish. Additionally, it will assist you in reinstalling macOS and fixing your Mac if it malfunctions.
This tutorial will demonstrate using macOS Ventura to create a bootable installation disk.
What is Cloning?
You can use Cloning to generate an exact clone of your Mac's hard drive and its contents. You clone bootable operating system folders and files in addition to replicating the content.
The main advantage of Cloning is that it works flawlessly while backing up, transferring, or upgrading your drive. Furthermore, Cloning can let you transfer data from one drive to another.
What is a bootable USB or external drive?
Let's define a bootable macOS Ventura USB drive to ensure we're all on the same page. A bootable USB (also known as an external drive) is a disc used to boot up a system to install an operating system.
What is the need for Cloning?
You may read the arguments that encourage you to choose Cloning below, so there is no danger in relying on it.
By backing up your drive, you can store the essential data.
Cloning assists you in achieving your goal if you wish to relocate data from one drive to another drive.
When switching from your hard drive to an SSD, you can move the data around using Cloning.
Mac is a powerful system but tends to deteriorate a little over time. So that you can transfer the data when necessary, you should use a cloned hard drive to generate a backup of your vital files.
Requirement for bootable USB
If you wish to generate a bootable USB of macOS Ventura, you should first check a few things. You will need two things to create a bootable USB.
A USB device with at least 16 GB of storage space is required.
You will need an Internet connection because you will download many files later.
Ascertain that you have a fast and stable internet connection as well as backup power for your Mac. Because downloading and creating the bootable may take some time. Don't forget to back up all data on the USB, as it will be destroyed after the bootable USB is created.
Now that you have a pen drive and a stable internet connection let's proceed with the method.
How to format your USB flash drive?
It will erase the drive. Therefore, if your Mac has any, transfer any crucial files there first.
Format your drive as Mac OS Extended as shown below to create a macOS bootable installer.
Connect your USB drive to your Mac. Launch Disk Utility and select Mac OS X Extended (in the Finder, click Go > Utilities > Disk Utility).
After changing the name to Installer, click Erase.
How to create a bootable macOS Ventura USB drive in one click?
Now that you have your USB drive and the macOS dmg file, you may create a bootable USB drive.
Let's begin with the most straightforward technique. Now, we'll use Disk Drill to build a bootable installation drive. There is virtually little room for error because you are not dealing with commands. Furthermore, the Disk Drill program can be used for disc cloning, file recovery, data backup, and other purposes.
So, here's a step-by-step guide to creating a bootable macOS Ventura USB drive on a Mac:
Launch Setapp and search for "Disk Drill" in the search field.
Locate Disk Drill in the search results and press the Install button.
Open the app once it has been installed.
Connect your external drive.
In Disk Drill, choose macOS Installer in the sidebar.
Check a short how-to video or get right to it.
To add a macOS installation, click.
Then decide on a location (your external drive).
Create macOS installer.
Create a bootable Ventura USB drive using Terminal
The createinstallmedia command in Terminal provides another way to create a bootable USB stick.
Insert the USB stick after starting Terminal on your Mac (in the Finder, select Go > Utilities > Terminal).
Now type the following command into the Terminal window: sudo /Applications/Install\ macOS\ 13\ beta.app/Contents/Resources/createinstallmedia –volume /Volumes/MyVolume –nointeraction
Press the Return key on the keyboard.
You must wait for the confirmation message to show in Terminal before entering your Mac's password.
So you currently have a USB stick with the macOS Ventura installer. Let's look at how to boot your Mac from a USB disk.
How to boot your Mac from an external drive?
You can now utilize the bootable USB installer for macOS Ventura. We present instructions for each processor separately depending on whether the Mac has an M1/M2/M3 chip or an Intel chip.
For Intel Macs:
Connect your Mac to the bootable USB disk.
Start your Mac. Then, hold down Option.
When you see the startup options screen, press the Release button.
Select the drive containing a bootable Ventura installer, press the Return key, and then select the language.
Select Install macOS and click Continue in the utility window.
For M1/M2/M3 Macs:
Connect your Mac to the bootable USB disk.
Switch on your Mac while holding down the power button.
When the startup options box appears, select the driver holding a bootable installer, then click Continue.
Create a bootable clone backup for macOS Ventura
If you want to make a full backup of your Mac, just try disk cloning application. DoYourClone for Mac is a powerful disk cloning application which can help you clone hard drive or back up Mac data.
Just connect an external hard drive to your Mac, then follow the steps below to create a bootable clone backup for macOS Ventura.
Step 1. Open DoYourClone for Mac, then choose disk cloning mode - Clone OS. This mode will help you clone all data from the Mac disk to the external hard drive and make it be bootable.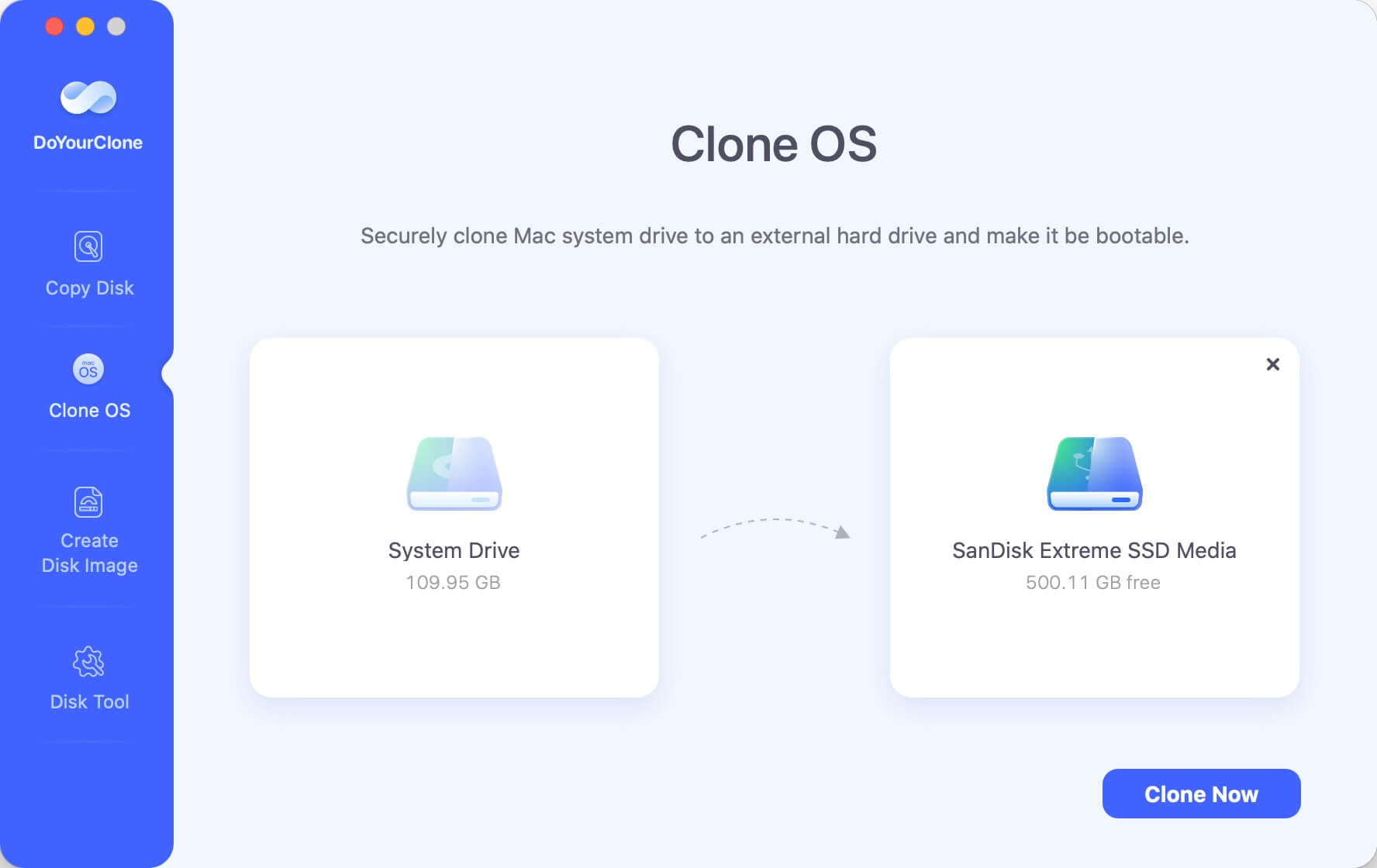 Step 2. Click on Clone Now button. It will clone all data including system data, apps, settings, files to the external hard drive.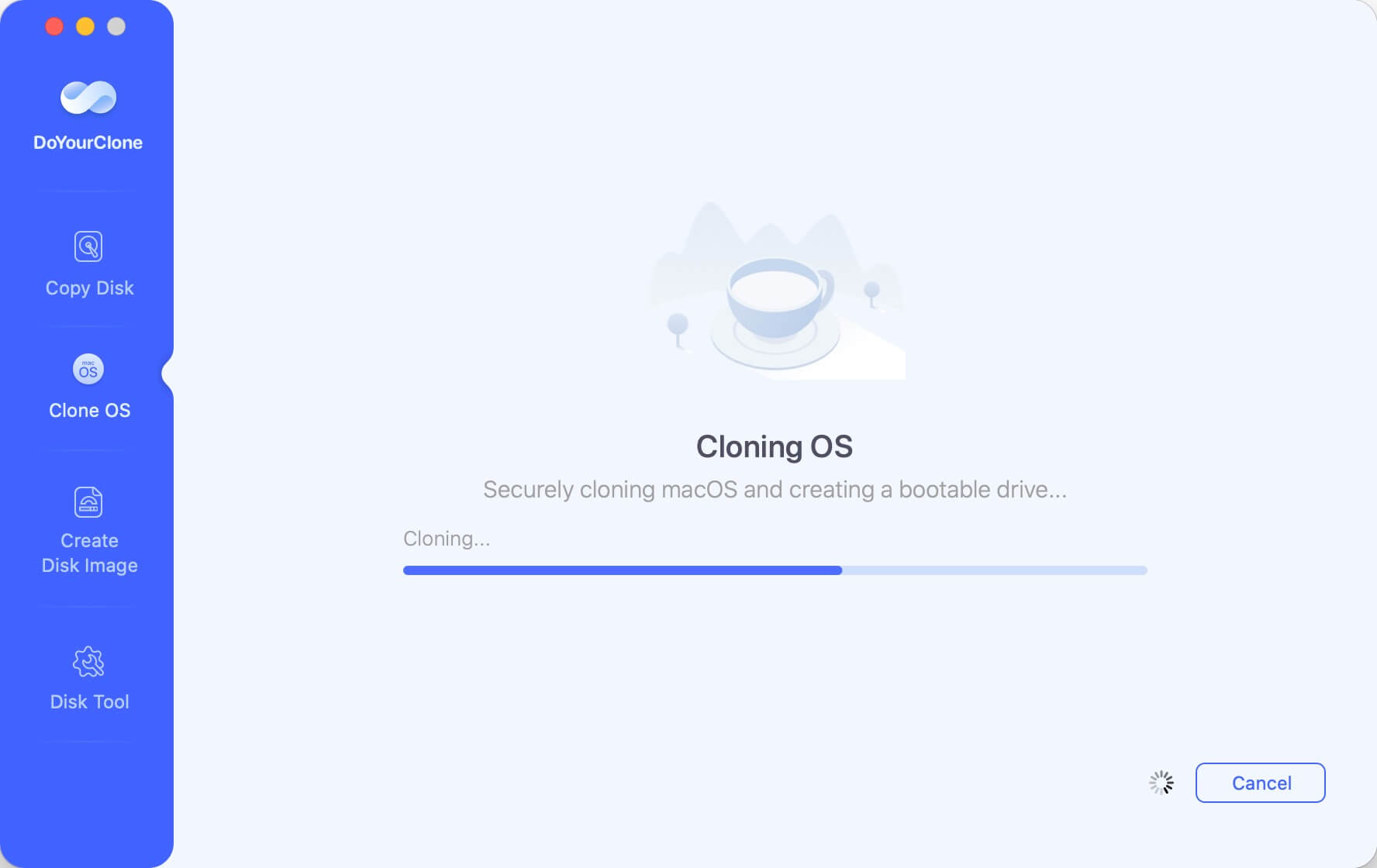 Once the process gets finished, you can use the external hard drive as a bootable disk on any Mac.