Before Data Erasure
DoYourData Super Eraser for Mac can permanently destroy and erase data from hard drive or storage media under Mac OS. Once the data is erased by DoYourData Super Eraser for Mac, the data will be permanently lost from your hard drive or storage device, and can't be recovered by any data recovery software or manual data recovery service.
So please think carefully before you use DoYourData Super Eraser for Mac to erase your data. It is recommended to back up your important or useful data to other place before you wipe your Mac hard drive or storage device.
Before you sell, donate your Mac or even before you lend your device to other people, you'd better permanently remove all your sensitive data from your Mac/device to prevent data leakage.
Download & Activation
You can download DoYourData Super Eraser for Mac by clicking on Download button or download link. Then find the .dmg file and double click it to start installation.

Drag the software icon to Applications folders to complete installation.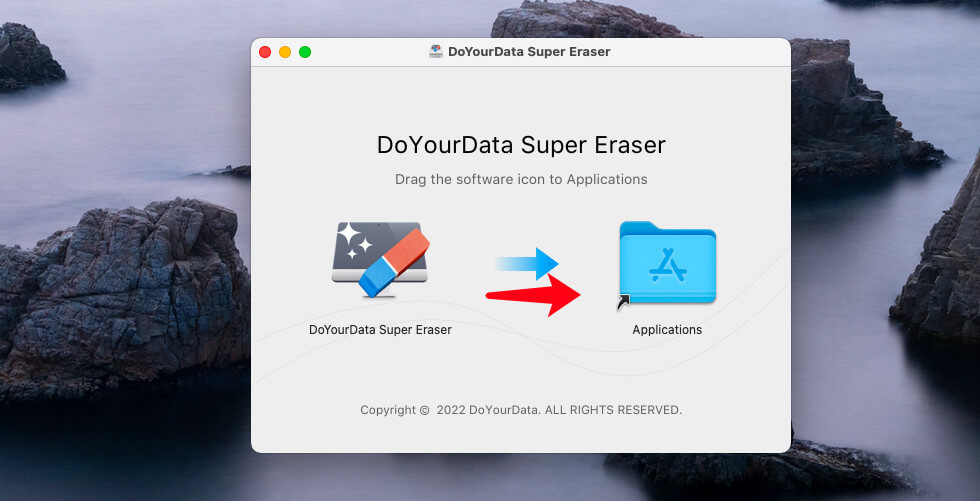 Open Launchpad, find DoYourData Super Eraser, click to open it on your Mac.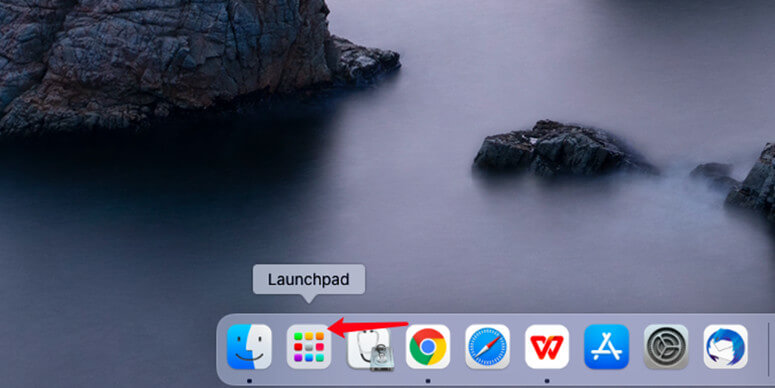 Click on Unlock Full Version button > Enter a valid license code > Click on Activate button.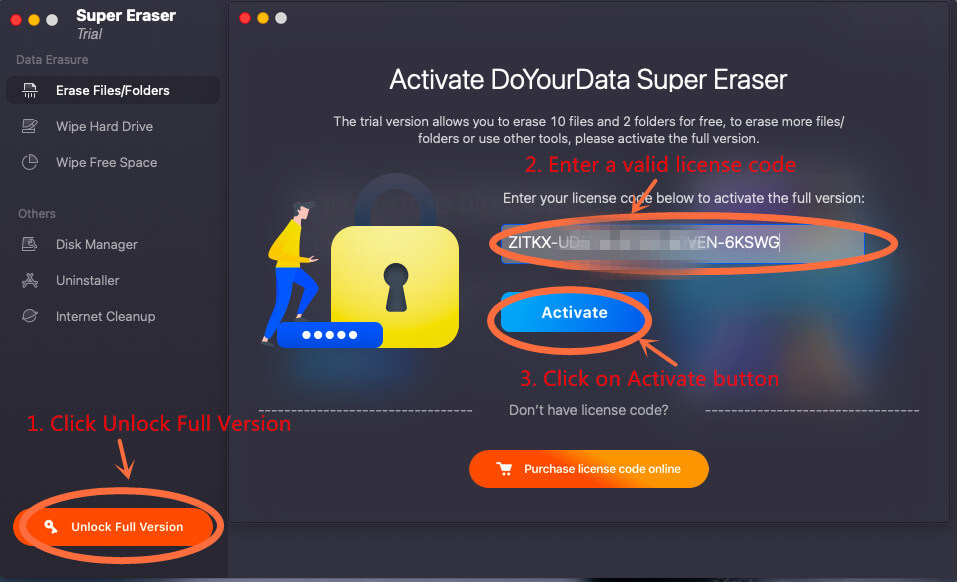 Then the software will be activated.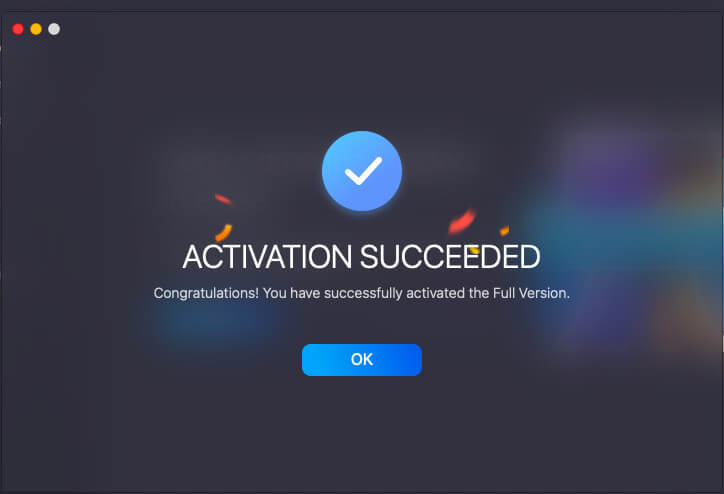 Note: the activation requires network connection. And if you are using VPN, just turn it off when you are activating this software.
Erase Files
Erase Files mode can help you selectively erase files and folders. Just click Add button to add files/folders to erase, you also can directly drag-drop the files/folders to the erasure area.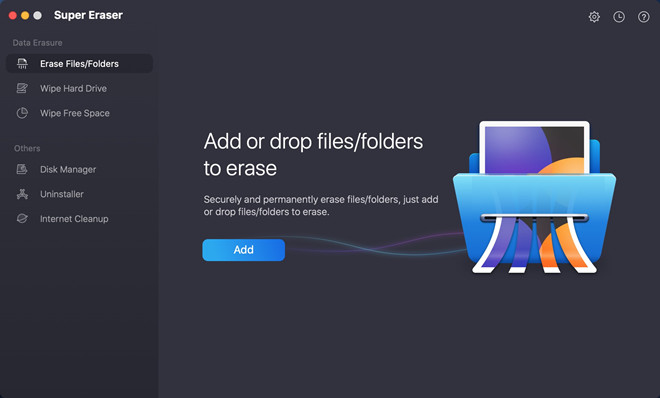 You can check all the selected files and folders. Then click on Erase Now button to permanently erase all the selected files and folders.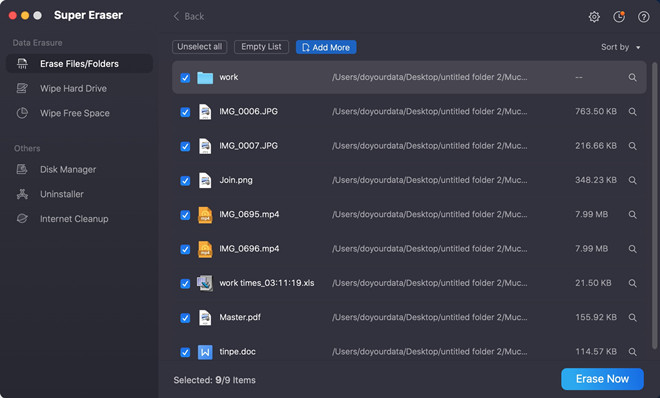 Wipe Hard Drive
This mode can help you erase all data on a hard drive partition or external device. It means all data including existing data, deleted/lost data on the partition/device will be permanently erased.
Steps: Choose data erasure mode "Wipe Hard Drive" -> Select the hard drive partition or device -> Click on Wipe Now button -> All data on the hard drive partition/device will be permanently erased.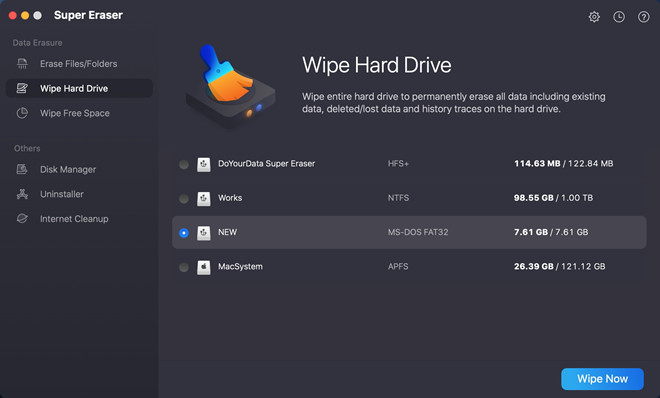 Please note:
Once the process gets started, all data on the selected hard drive/device will be permanently erased, can't be recovered by any method.
It doesn't support to wipe the startup disk. If you want to wipe data from the startup disk, check this guide: wipe system disk on Mac >>
Wipe Free Space
The deleted or lost files are still stored on the free disk space. This data erasure mode can permanently wipe the free space of the disk/storage device to permanently wipe the deleted/lost files and traces. It will not erase the existing files on your hard drive/device.
Steps: select mode "Wipe Free Space" --> select the disk or device --> click on "Wipe Now" button to wipe the free space of the selected disk/device.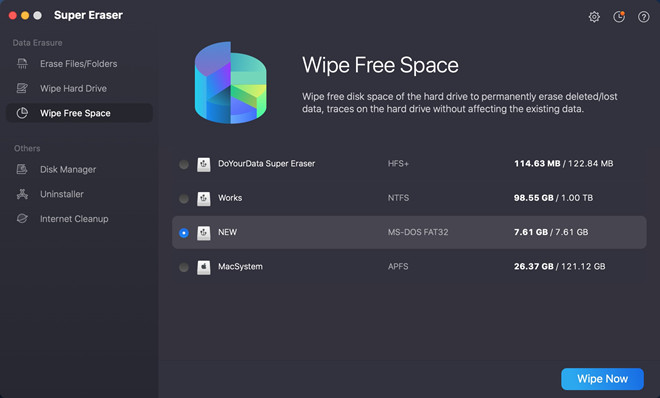 Select Data Erasure Standards
DoYourData Super Eraser is equipped with military & government data erasure methods based on different algorithms.
HMG Infosec Standard 5 (1 Overwriting round)
Peter Gutmann's algorithm 2 (2 Overwriting rounds)
U.S. Army AR380-19 (3 Overwriting rounds)
DoD 5220.22-M ECE (7 Overwriting rounds)
Peter Gutmann's algorithm 35 (35 Overwriting rounds)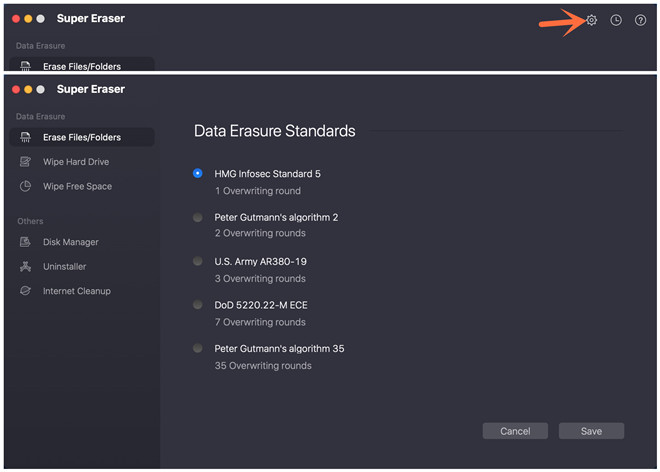 Check Erasure Report
DoYourData Super Eraser allows you to view, empty or export erasure history.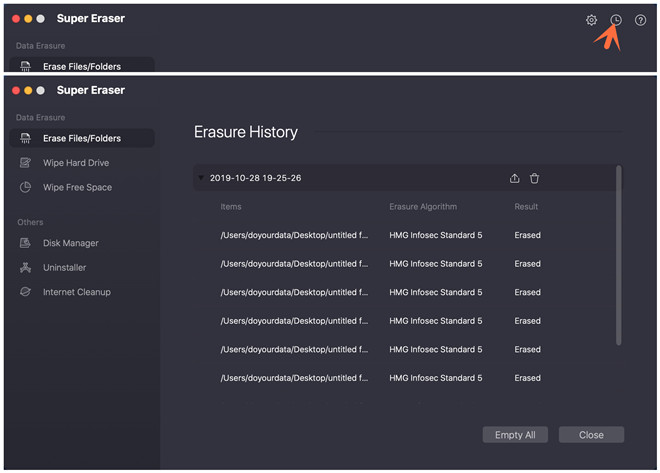 Disk Manager
This tool can help you manage local disks and external devices on your Mac, including renaming disk, formatting disk, securely ejecting external drive, etc.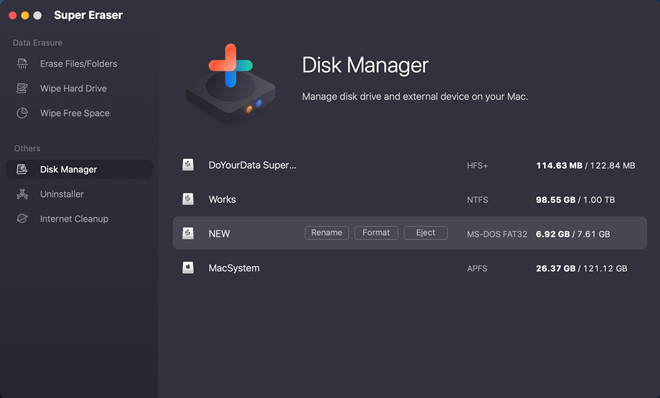 Uninstaller
Select the applications you want to uninstall, then click on "Uninstall" button. The uninstaller will help you securely uninstall the selected applications and clean up all associated file including app junk, registry files, caches, etc.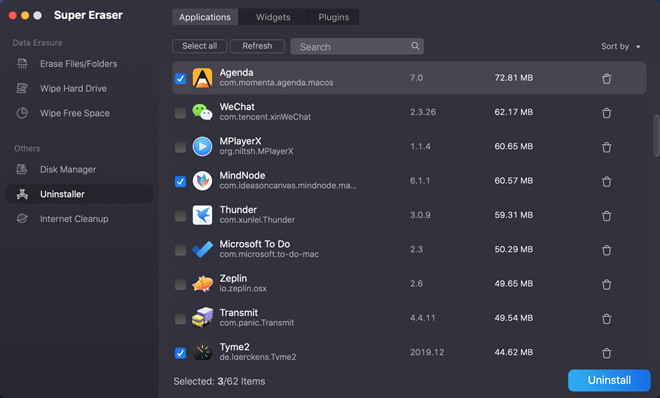 Internet Cleanup
This is a Internet Browser cleanup tool. It can help you clean up browsers' (such as Chrome, Safari, Firefox) visit histories, cookies, caches, passwords, downloads, etc.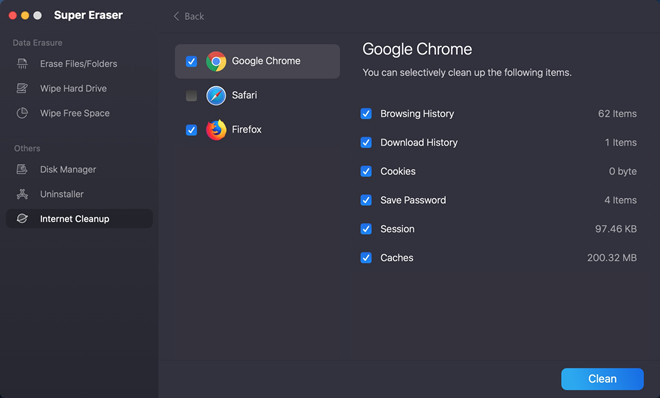 Tech Specification
System Requirements: macOS 12 (Monterey), macOS 11 (Big Sur), macOS 10.15 (Catalina), macOS 10.14 (Mojave), macOS 10.13 (High Sierra), macOS 10.12 (Sierra) and Mac OS X 10.11 (El Capitan), 10.10 (Yosemite), 10.9 (Mavericks), 10.8 (Mountain Lion), 10.7 (Lion), 10.6 (Snow Leopard) and Mac OS Server.
Supported Devices: You can erase data from Mac Desktop/Laptop/Server computer, HDD, SSD, memory card, digital camera, USB flash drive, external hard drive, RAID and other storage media device. (All T1/T2/M1/M1 Max/M1 Pro Chip machines are supported.)
Supported File Formats: You can erase all types of files including emails, images, videos, audio files, documents, archives, folders, raw files, etc.
File System: FAT 12/16/32, exFAT, HFS, HFS +, NTFS/NTFS +, ext 2/3/4, APFS and more.
Disk Space: at least 100 MB.
Please feel free to contact us by sending an email to [email protected] if you have any question.